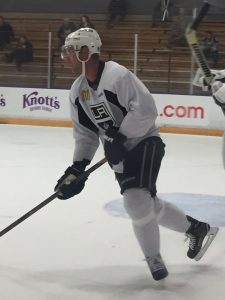 TRAINING CAMP, SESSION ONE
Group A took the ice shortly before 10:00 a.m. Friday to kick off the club's training camp, and the first player on the ice was Jeff Carter, who was unable to participate in the World Cup for Team Canada. Carter, who dealt with a lower-body injury suffered during off-ice training, had been participating in the player-led conditioning skates prior to training camp, but was deemed to be a "full go" for training camp by a member of the club's hockey operations staff on Thursday. Though alignment isn't particularly important in training camp and before the team receives its World Cup contingent back, he did skate alongside Tanner Pearson and Tyler Toffoli in five-on-five drills on Friday morning.
Paul LaDue, who took a pair of maintenance days and missed the rookie games against Arizona, also took the ice in what appeared to be a full capacity. Kale Clague, who suffered a lower-body injury in the second period of the second game against the Coyotes, did not skate, so those who'd like to witness the team's highest pick (second round, 51st overall) from the 2016 draft skate in person will have to wait.
BROWN'S AROUND
Dustin Brown was also among the players to take the ice early on Friday, putting an end to one of the more complicated off-seasons experienced by any player in recent team history.
"Today, I think in a way you just need a little bit more structure than what we've had in the last few weeks. We could always skate together. We're doing some drills and scrimmaging, but it's good to have a little bit of structure," he said of the transition from the player-led skates to the detail of skates led by the team's coaching staff.
There shouldn't be any rift or awkwardness between Brown and Kopitar, who becomes the 14th captain in franchise history. The two, who have piloted the club through the dregs of a concerted rebuild before reaching the NHL's zenith twice in two seasons, are close friends.
"I mean, the most important thing is on the ice he needs to be the player that he is, and I think the off-ice stuff will take care of itself," Brown said. Kopitar remains in Toronto with Team Europe, which will face Sweden at 10:00 a.m. PT Sunday in one of the tournament's semifinals.
In past interactions with Brown, and Darryl Sutter, and other members of a team that currently boasts 12 players on the roster who have won multiple Stanley Cups, there is the belief that during the team's peaks that leadership emanated from many areas within the team's dressing room, not only the players who wore letters on their jerseys. So, has the league-wide conversation on the captaincy's transition from early in the summer been a worthwhile discussion, or mere prattle?
"I don't think really much has changed inside this room," Brown said. "I mean, like I said, that's all I really care about. People are going to write and think what they what they want to think outside of this room, but coming back into this room, it's all just the same group of guys, and we've been through a lot worse. This is a minor hiccup, really, in the grand scheme of things."
Brown came into camp in very good shape last season – by his own account, as well as those from the outside – and assessed that he felt "pretty close" to equaling last September's fitness levels. Baseline testing took place at Toyota Sports Center on Thursday.
He'll have the opportunity to put that off-season training into game situations and continue the preparation for the newest chapter in his career when the preseason schedule begins on Monday.
"I mean, you look at the preseason games, for a lot of us guys in here, it's just getting ourselves ready for the real thing, and the young guys get a taste of what it's like at this level, so it's just about preparation," he said.
TOFFOLEAVING THE YARD
Tyler Toffoli elected to remain in Southern California to train for the second consecutive off-season, and used some of the muscle he banked in his training to crank a ball over the left-center fence at Dodger Stadium during a Kings promotional night in August.
"It was pretty funny to see it go out and have the guys there to be cheering and for everybody trying so hard to get one out and finally someone got it," he said.
"Carts was actually joking – he was saying that this is the time for somebody to actually go and hit [a homerun]. A couple of guys got close, but I was lucky enough to get one out."
Legend has it that Carter, a good baseball player in his youth, hit a ball off the wall during a similar event last summer.
More important than socking dingers is the production the young sniper hopes to generate in a year in which the team will need a committee of players to off-set some of the production lost by Milan Lucic's departure. After potting 31 goals in his 23-year-old season, Toffoli will command a new contract in the coming nine months that will provide more capital than his current deal, which carries a $3.25-million average annual value.
"I'm more focused on the season getting going," Toffoli said. "I mean, after an early exit last year, I think the most important thing is to get right back into it. Our team, we've got some new faces in the locker room, so we've got to find a way to get our chemistry going right away, and like I said, just get our legs under us right away and have some really good games in the preseason and go into the season feeling good about ourselves."
Don't expect Toffoli – or Tanner Pearson, who will also be playing for a new contract – to sign a new deal wrapped up in a neat little bow anytime soon. The Kings are strapped for cap space, and both players will be playing to prove that they deserve lucrative extensions.
For Toffoli, the focus is as it is for many young players – keep improving, keep adding detail to his game, and weather the ebbs and flows of a long season.
"Just to continue to take another step forward and try to get better," he said of his goals. "I worked hard in the summer, stayed here all summer, and [I want to] just kind of be consistent. I was a little inconsistent last year, so I've got to find a way to stay on my game and just keep doing what I was doing last year."
He's referring to a winter spell in which he went from January 19 to March 14 without an even strength goal, though that slump was somewhat less about his own particular play as it was partially a reflection of a market correction after a torrid first half of the season.
"There's no pressure. I just want to play my game and find a way to be consistent, like I said, and just do what my role is on the team – just be offensive, make the right plays, play good in my own zone and help the team win," he said.
Though the end of last season was seen as premature to a lot of players in the dressing room, it's difficult to clearly reference a difficult and quick loss to a divisional rival in the playoffs as the pure source of the team's motivation heading into 2016-17.
"I think motivation for us is not winning the Stanley Cup the last two or three years or whatever it's been," Toffoli said. "I think we're disappointed every single season that we don't win, and I think that's the mentality that everybody has in this dressing room."
Group B, which will feature veterans such as Matt Greene and Kyle Clifford, and younger players looking to make a particular impact in training camp, such as Adrian Kempe and Derek Forbort, will take the ice at 2:00 p.m. More to come from Toyota Sports Center…