There's probably a correlation between a high degree of pre-camp practice coverage and mid-February burnout, but hey, it's September 12, and content is content is content. The Kings (and a few interlopers) have held informal skates for over a month, and on Monday, with rookie camp rapidly approaching, the regular group was joined by several players who will suit up this season in Ontario. See: Budaj (if not claimed on waivers), Backman, LoVerde, Campbell, Leslie, Bjorkstrand.
For more hockey-centric Instagram coverage and visuals of your favorite Munters units across North America, follow the brand new LA Kings Insider account.
South Bay resident Jarret Stoll remains in town and continues to skate with many of his ex-teammates, though he's still practicing in his Minnesota gear. By this time last year, he had already picked up some Rangers threads. Maybe it's because he's attending camp on a PTO and hasn't signed a one-year contract, but COME ON, LUMBUS. Let's get Stolly some of your (highly underrated) jerseys and equipment.
Speaking of players wearing their former team's gear, Jeff Zatkoff remains equipped in his Penguins mask. I suspect that will change soon. Other goaltenders on the ice were Budaj and Jack Campbell.
Jeff Carter (lower-body) skated during flow drills and rushes but didn't stay on for the entire scrimmage-type workout that followed.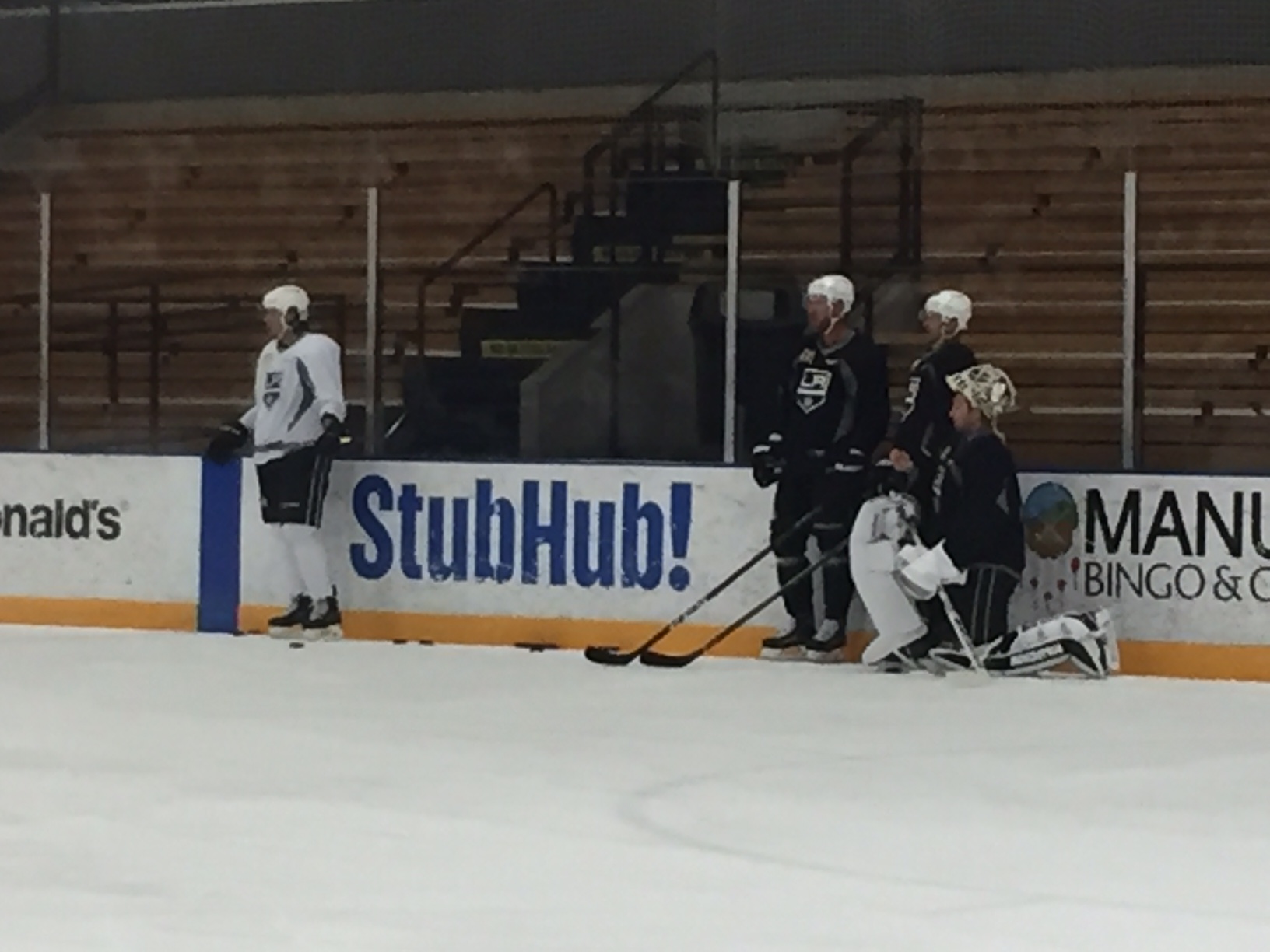 This was noted in July, but for those who didn't catch it, Zach Trotman (who was present) wore a #5 on his helmet, and Purcell (ditto) wore #9.
Stories to expect in the coming days: a Jordan Nolan update, a story on FOX Sports West's broadcast schedule and how the team plans on utilizing its broadcasters with Bob Miller expected to reduce his travel schedule, and a rookie camp schedule and roster. Until then, enjoy several (low-quality) shots from today's semi-formal skate: