When the afternoon began, Drew Doughty had a Zen-like approach towards the awarding of the 2015-16 James Norris Memorial Trophy.
"No matter what happens, I'm just honored to be a part of those top three guys this year, and whatever happens, happens," he said.
A finalist twice previously, Doughty won this year's Norris, presented annually to "the defenseman who demonstrates throughout the season the greatest all-round ability in the position." Arriving on stage, he became emotional when he looked down and saw his family in the audience.
"That was just because I looked at my mom, and she was friggin' crying," Doughty said. "That kind of made me tear up, because I know how proud my mom is of me and how much they've done for me throughout my whole career. The sacrifices they made mean a lot."
He became the first King to win a Norris since Rob Blake in 1998, and only the second King ever. Voting, conducted by the Professional Hockey Writers Association, was moderately close (though not as close as second-place finish a year ago). Jake Muzzin also garnered a fifth-place vote.
Norris voting pic.twitter.com/uhvqPeDuYK

— Sean Leahy (@Sean_Leahy) June 23, 2016
In an ascension towards becoming among the most elite defensemen in the game, Doughty's physicality and play away from the puck has improved in recent years, as have the leadership credentials referenced multiple times by his teammates and club executives.
"I think I finally completed my entire game," the 26-year-old said. "Early in my career I was putting up a lot of points. I wasn't very good at playing responsibly defensively, and I kind of really worked on that and kind of let the offense go away for a little bit and wasn't putting up the same numbers that I had put up in the past. This year I kind of put it all together, and I think that made me have a better season, but I think the biggest change this season for me was that I just matured as a player, as a person, and just became a better leader, and that made me play better as a whole."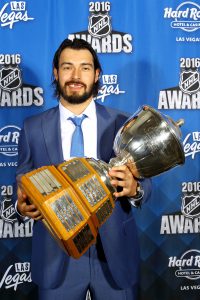 He's also a First Team All-Star, joining Erik Karlsson, Jamie Benn, Patrick Kane, Sidney Crosby and Braden Holtby. Karlsson, who has drawn focus alongside Doughty in the tightly contested Norris over the last two seasons, has won the trophy twice and spoke highly of this year's winner. San Jose's Brent Burns was also a Norris finalist.
"I think he's an elite player, and he has been for the number of years that he's been in this league," the Ottawa defenseman told LA Kings Insider. "I think year in and year out he always has good years. I think that he keeps progressing and getting better and better, and to be able to play at his standard at all times, it's [impressive]. He's been able to be one of the few guys that's been able to do it since day one when he came in here. That's probably his biggest strength."
The emotion was well articulated after the presentation by Doughty, who noted that he draws his fiery on-ice disposition from his mother.
"I obviously planned to thank my family, and then I looked over there, and that was the wrong move for me because it choked me up a little bit. My mom was crying the whole awards with the stories going on and stuff like that. That's just how she is, and I guess I kind of got that emotional side a little bit from her," he said."
"My mom was always the one who pushed me. Every time I finished playing, my dad would basically say, 'you know, you couldn't done a few things differently, but you played well.' My mom, she was the one [who would say], 'you're wasting my damn money. We're taking out a mortgage on our house to make you play hockey,' so she was the one who always kind of gave it to me."
Among Doughty's credentials are a 58.9% raw Corsi rating, the highest of his career and a rate of 25.6 shots against per 60 minutes of five-on-five play, which ranked eighth amongst defensemen – impressive numbers given his tendency to see the ice against the opposition's best players – while his 1.65 goals against per 60 minutes of five-on-five play was tied for seventh in the league. For a full evaluation of Doughty's season, click here. For more on the competition between Doughty, Karlsson and Burns, click here.
Drew Doughty, on what it means to win the Norris Trophy:
It means a lot to me. I've been so close twice, and getting a sniff at it but not finishing the deal kind of sucked, but it feels great just to win that award after the history of it – Nick Lidstrom winning it, guys like that that I looked up to as a young kid – yeah, it's really special to me.
Doughty, on his approach towards this year's award presentation:
Yeah. I just kind of approached it the same way as the other ones. I might win it, and if not, it's not the end of the world. I'll be back next year and just try to play even better. Now that I've won it, it's something off my back. It feels good to win it, and now I just go win another Stanley Cup.
Doughty, on a "golden age" for NHL defensemen:
The two guys that I was up against – Brent Burns and Erik Karlsson – having a point a game as a defenseman in the NHL and then putting up 27 goals as a defenseman in the NHL, that's just ridiculous, and I can almost guarantee I'll never do that. Yeah, like you said, there are guys who haven't won it. The guy who first comes to mind for me is Shea Weber. I was actually talking with him about it today, and I was like, When is it your turn to win the award?" because he's one of the most complete defensemen in the NHL, and he just happens to play in Nashvile, where maybe people don't see him play as much. There are a ton of great defensemen in this league right now, and that makes it even more of an honor to win it.
2015-2016 NHL First All-Star Team
G Braden Holtby, Washington Capitals
D Drew Doughty, Los Angeles Kings
D Erik Karlsson, Ottawa Senators
C Sidney Crosby, Pittsburgh Penguins
RW Patrick Kane, Chicago Blackhawks
LW Jamie Benn, Dallas Stars
2015-2016 NHL Second All-Star Team
G Ben Bishop, Tampa Bay Lightning
D Brent Burns, San Jose Sharks
D Kris Letang, Pittsburgh Penguins
C Joe Thornton, San Jose Sharks
RW Vladimir Tarasenko, St. Louis Blues
LW Alex Ovechkin, Washington Capitals