Reign exit interviews were held on Tuesday, May 31 and the media present had the opportunity to speak with NINETEEN players. This is the sixth entry of "Exit Entries," where what was discussed will be noted player by player. Veterans Jeff Schultz and Brett Sutter are the only two players on the team who are set to be unrestricted free agents.
JEFF SCHULTZ
Jeff Schultz made it very clear the direction he wants his career to go in next: back to the top.
"I still believe that I can play in the NHL at any sort of role if need be," he said. "That's the direction I'm heading. I would like to do that but if the opportunity arises for another role that I played this year, either this team or another team, I'd be for it. But, trying to get back to the NHL is the number one priority."
Schultz came to the Kings organization in the 2013-14 season after seven seasons with the Washington Capitals. With the Kings he played mostly with their AHL affiliate — be it in then-Manchester or this past season in Ontario.
A new dad himself, the 30-year-old played the father-figure role in the Reign locker room.
"Being a new dad too I guess it's a double-whammy," he said. "I enjoyed it. I can use what I did in the locker room hopefully with my son now."
Schultz played alongside developing defensemen Nick Ebert, Zach Leslie and Kevin Raine all season long, tasked with the role of pushing them along while providing a steady net-front presence on the back end.
"I liked it," Schultz said of his role. "I got to know a lot of the young guys and help them out as much as I [could] and hopefully they can take what I taught them or what they saw me do out there and kind of help with their careers and move on."
Schultz, on what went wrong in the Western Conference finals loss to Lake Erie:
I think maybe — not using this as an excuse — maybe not playing them throughout the year we didn't know what to expect and maybe found that hard for us. You can watch a team as much as you want on film but not playing them and knowing their tendencies physically, maybe kind of made it hard for us. We kind of had just spurts throughout each game where kind of got down a goal or two, were never able to bounce back.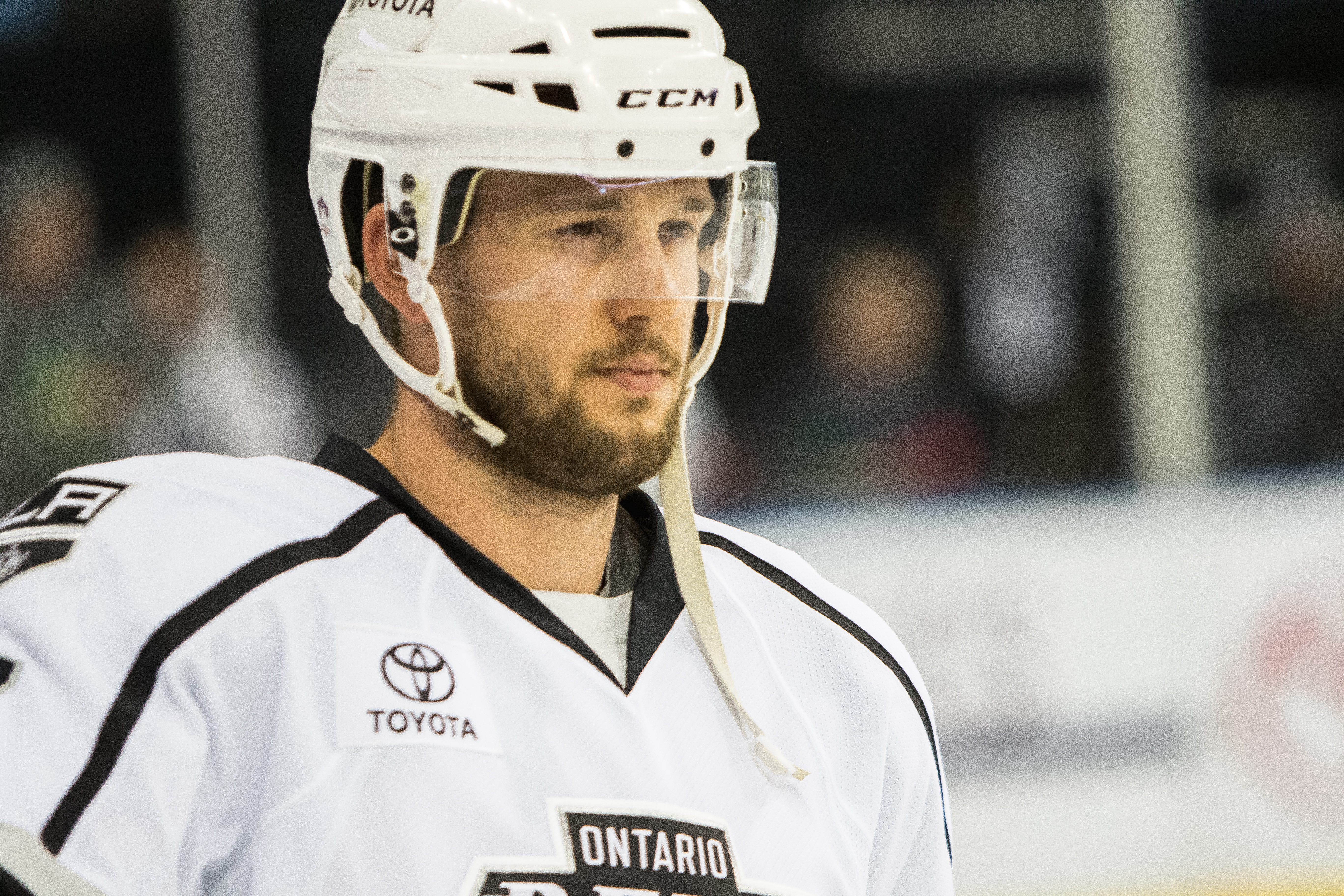 BRETT SUTTER
When the Kings organization acquired Brett Sutter at the NHL trade deadline from the Minnesota Wild in exchange for Scott Sabourin, the center with a familiar name instantly stabilized the middle of the ice for Ontario.
"I will say that the standards are very high with this organization," he said of the switch. "They expect a lot from their players, they're held accountable. They're expected to come to work every day and give it their all, lay it on the table. Just the way they're treated here and the way they approach every day, they expect excellence."
Sutter jumped in right away with the Reign. He was key on faceoffs, helped boost the production of others like Jonny Brodzinski, and joined the penalty kill.
He had 5 goals and 2 assists in 17 regular season games with Ontario but then was limited in the Calder Cup Playoffs due to injury.
Sutter admitted he was trying to play through a fracture in his pelvis.
"I don't even really know," said Sutter when asked how and when the injury happened. "Just kind of an awkward hit. Just something that I think with the swelling and stuff kind of just slowly built and got worse. Not really a specific event."
He didn't play a single game in the second-round series against San Diego but came back for Games 2 and 3 against Lake Erie despite the injury.
"That's playoffs. You do whatever you can to help the team and would have no problem doing it again," he said.
Sutter, whose father is of course the Kings' head coach, enjoyed the perks of Southern California — being close to his family.
"It was awesome," he said. "It was the first time in my career that [I] was able to spend an off day with family or just drive down and have a dinner with the family. It was definitely really cool."
As far as the hockey part goes he added: "I'd definitely come back. Myself and my family really liked it here. Obviously I think this is a team that's going to be good and try to compete every year. Where I am in my career I wanted to try win. I think this is a good place to want to come to so we'll just see what the summer holds."