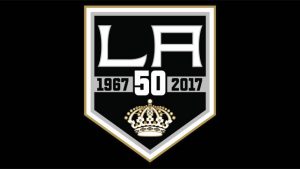 The NHL announced each team's home opener on Monday, and as previously reported by LAKI, the Kings will open the season on the road in San Jose on Wednesday, October 12, before returning to Staples Center for their own home opener on Friday, October 14, where they'll face Philadelphia and wear their gold vintage jerseys.
The home game against the Flyers will take place 49 years to the day of the first game in franchise history, a 4-2 win over Philadelphia at Long Beach Arena. The Kings, Flyers, Blues and Penguins will all take part in celebrations in 2016-17 to commemorate 50 years of permanence following 1967 NHL expansion.
The game on October 12 will be the third consecutive Los Angeles – San Jose season opener. The Sharks won 4-0 to kick off 2014-15 and 5-1 to open 2015-16; both games took place at Staples Center. The Kings raised a pair of banners prior to the 2014 opener, and the Sharks will raise a Western Conference championship banner prior to the upcoming year's season opener.
Los Angeles will be one of eight teams to play on the first official day of the 2016-17 season. In addition to the game in San Jose, Chicago will host St. Louis, Ottawa will host Toronto and Edmonton will officially open Rogers Place by hosting Calgary.
The entire NHL schedule will be released on Tuesday at 10:00 a.m. PT.
When the Kings return home to face the Flyers, they will do so after hosting a pre-game ceremony honoring a collection of members of the 1967-68 inaugural team, part of a celebration that will last much of the opening weekend of the season. Similar celebrations and commemorative puck drops will take place throughout the season as Kings alumni and former All-Stars will be honored prior to games in addition to the team's Legends Night celebrations, which will also continue. The commemoration of the club's 50th anniversary will continue through All-Star Weekend, which will take place in downtown Los Angeles January 28-29.
Though the Kings will wear their gold jerseys on opening night, they'll also introduce a special, 50th anniversary jersey closer to the season. A commemorative logo, viewable in the upper-right body of this story, will be worn on jerseys as a patch throughout the season and will represent the team's center ice logo at Staples Center this coming season. Jerseys from prior eras in franchise history will also be worn during warm-ups, with proceeds benefiting Kings Care Foundation.
Los Angeles will also unveil the details of its Forever 50 legacy initiatives later this summer, which will see the club team up with a variety of local community institutions while reinforcing their partnership with Children's Hospital Los Angeles.
A new monument will also be erected outside Staples Center. From the press release:
Opening Night will also include the unveiling of a new storied monument that will exist amongst the other legendary statues outside STAPLES Center. This monument — made of bronze, granite, and glass — will serve to commemorate 50 seasons of Kings hockey and will feature a tribute to our franchise's greatest moments and greatest players. Spanning more than 35 feet, the monument will also provide Kings Season Ticket Members the unique opportunity to have their name etched in stone by making a contribution to the Kings Care Foundation. Donors will receive their name engraved in the wall and a commemorative gift recognizing their contribution to the Kings and the Kings Care Foundation. Limited space is available.
After a pair of rookie games in Glendale, Arizona, on September 20 and 21, training camp will officially open at Toyota Sports Center in El Segundo on September 23. The team will play a "Kings vs. Kings" exhibition game at Citizens Business Bank Arena in Ontario, Calif. on September 25 (packages available here), followed by an eight-game preseason schedule.
Tickets for the 2016-17 regular season will go on sale at a later date.