Reign exit interviews were held on Tuesday, May 31 and the media present had the opportunity to speak with NINETEEN players. This is the fifth entry of "Exit Entries," where what was discussed will be noted player by player. Popular veterans Paul Bissonnette and Sean Backman aren't sure if they will be back with the team, but they're hoping to be.
PAUL BISSONNETTE
Likable veteran Paul Bissonnette was the butt-end to nearly every joke coming out of the mouth of head coach Mike Stothers all season.
So given the chance during his exit media session did he run with the opportunity to get Stothers back?
"I'll do it after I sign my deal," said the 31-year-old forward. "He's good, he's great. He's a great coach and I think the guys really respect him. He gets hard on us sometimes but ultimately because he wants us all to win. He kind of walks that fine line and gets the best out of his players."
All kidding aside, Bissonnette played a pivotal role — that of a on-ice pest, that of an off-ice locker-room ice breaker with his light personality.
Bissonnette's been with the Los Angeles organization for two seasons now and is hoping to return for a third.
"I'd love to come back. … I love it here, the Kings organization's been great to me," he said.
Bissonnette, who became popular in hockey circles via his active Twitter early in his career, seems to be settling down a bit off the ice but said he's still hoping to play "at least a few more" seasons.
"At this point in my career I'm fine with it," he said of the one-season AHL contracts. "Earlier on it was nice where I was getting deals in Phoenix where I had some stability and I knew where I was going to be the next year. Luckily I had the chance to play in the NHL so financially it set me up. It's not as stressful as you would think. I don't mind the year-to-years as long as I'm coming back where I'd like to, right?"
Bissonnette battled various injuries during the regular season and was limited to playing in 35 of 68 available games. Once healthy, he dressed in all 13 playoff games and scored his first pro playoff goal — "Eleven years it took me," he joked — in Game 2 against Lake Erie.
"It kind of came to a weird end," he said of the season-ending sweep by eventual champion Lake Erie. "I thought we'd give them more of a fight than that, it just … seems they were very good at capitalizing on their opportunities and we couldn't rebound from those little lapses in the games early on. Once you get down two games it's hard to get back."
Bissonnette, on the team's first season in Ontario:
It's great. Our facility's amazing. It's kind of nice having [the] development [staff] and the team close enough to keep an eye on the guys. As far as the games are concerned, it was nice not playing as many, especially as I'm older now. … Less 3-in-3s is better on the body. It was good, I really enjoyed it out here.
Bissonnette, on his offseason plans:
I'm going to spend a couple weeks in Phoenix and then go up to Vancouver for a few weddings and hang out with my friends. I have a place there and then I'll probably come back down to Arizona and start skating if I were to re-sign here and be ready to go. It's not far, it's five hours, that would be nice.
Bissonnette, on the roles of players in the locker room:
I would say Schultzy's kind of like the father, he doesn't really say much but he kind of keeps the younger guys on their toes. I would say usually it's me, Vinny, Backman and probably Newbs, who kind of just banter and the other guys just kind of fill in. We had a good mix. You don't want too many of the same thing.
Bissonnette, on Tucson having an AHL franchise next season:
They've got a team now, it's good. It's a similar situation to us where now they can keep an eye on their guys. Tucson's probably a 6-hour drive from here, so it's good. It give us another team to play, you don't get sick of the same teams playing them every weekend. [By the] 12th time we'd be killing each other, us and San Diego a couple years down the road.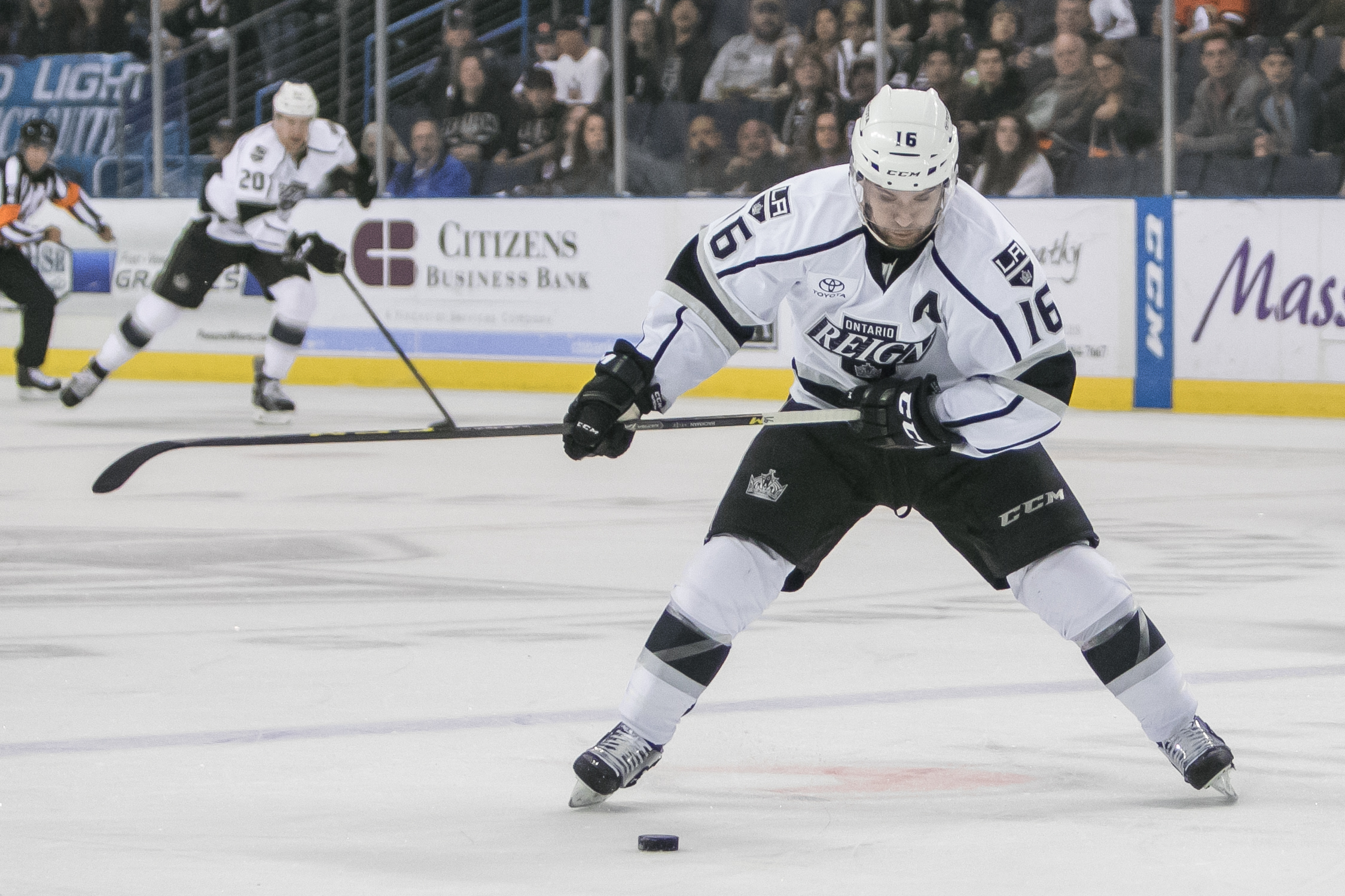 SEAN BACKMAN
Like Bissonnette, Sean Backman is hoping to be back with the organization.
"Yeah. I would like it. I have friends and family out in California. This organization's treated me really well, so I'm happy with the way things are here," said Backman, donning a hat that he said was a hand-me-down from brother-in-law Jonathan Quick.
Backman, an AHL regular who represented the team at the All-Star festivities and led the team in scoring (21G-34A=55), is content in the leadership role that he plays with the Kings' minor-league affiliate.
"I enjoy it a lot. This is my sixth year in the league and there's a lot of younger guys in that dressing room and the coaching staff expects me to help them along and lead them," said the top-6 forward. "I take a lot of pride in that role. The Kings might not have plans for me, but I think what I do down here is really important."
As one of the Reign's alternate captains, Backman took the sweep in the Western Conference finals especially hard. He was held to just one goal in the playoffs.
"I love these guys, playing with them," Backman said. "This is my third year in this organization and it's been nothing short of spectacular. I love these guys. Coming to the rink every day, joking around in the locker room and stuff like that, it was a good ride but in the end we fell shorter than we wanted to."
Backman, on what went wrong against Lake Erie:
I'm not sure it was one thing. They were a great team that was clicking at the right time I think. You want to be playing your best hockey in the playoffs and they seemed to be.
Backman, on the first season in Ontario versus Manchester:
Well, the weather's certainly nicer. You're not getting blasted with snow on the way into the dressing room. So, that's one thing for sure. I think it was pretty close to the same, like I said before, the Kings treated us great and whatever we need they give us. In terms of stuff like that it wasn't much different. The travel and stuff might be a little more, the bus rides are a little longer out here in California and obviously we played the shorter schedule, but for the most part things weren't that different.