Reign game breakdown
The Reign can't take back a 2:36 span from the second period of their 4-3 opening loss on Saturday night against Lake Erie in the Western Conference Finals. A defense-first Ontario team surrendered an uncharacteristic three goals in those 156 seconds and it was stamped as the difference. "We had a lull. It hurt us," head coach Mike Stothers said. The Reign rallied valiantly in the third period but eventually lost on a game-winner from Alex Broadhurst just 19 seconds after they had fought to tie it. Adrian Kempe had a wide-open look in the final minute but his attempt to even it up hit the post. These two teams did not face one another in the regular season and the first period/feeling out period finished scoreless and saw Ontario outshoot the Monsters 16-11. Sean Backman scored the first goal 4:23 into the second on a power play one-time slap shot from the left point off a pass from Kevin Gravel. Then, the roar of the Monsters. Lake Erie tied the game on a Lukas Sedlak goal after he trailed the play on a rush and was fed at the top of the circles by Markus Hannikainen at 7:10. The Reign's Vincent LoVerde picked up a roughing penalty 23 seconds later and the Monsters, who failed twice on the man advantage in the first period, quickly turned the chance into a 2-1 lead. A rebound of a Ryan Craig shot left a puck that was whacked many times in front of goalie Peter Budaj before Josh Anderson put it home at 8:23. Craig himself made it 3-1 just 1:23 later when he slid away unattended after a Monsters faceoff win and buried a rebound by Budaj, who had little chance on the play. Throughout the time of the three goals and most of the second period, the Reign were outskated by a Lake Erie that that they knew could skate. They were also outshot 14-7 and had lost their home crowd advantage. "Just mistakes that we made," Backman said. "You make mistakes in a playoff game, they're probably going to score goals, especially in our own end like that." But the Reign, the defending champions, showed up in the third period and used a Nic Dowd goal, his fourth of the playoffs at 1:38, to cut Lake Erie's lead to 3-2. Dowd got the puck inside the left circle and patiently held it before shooting over Monsters goalie Anton Forsberg glove. Joel Lowry made it 3-3 on a turnaround shot, also inside the left circle, after a feed from Backman at 8:16. Citizens Business Bank Arena was rocking … that was until the Monsters went up 19 seconds later when a Zach Werenski shot from left side went off Gravel's skate and right to Broadhurst on the back door with an empty net to shoot into. "It's an unfortunate bounce but you've got to block shots, you've got to front pucks," Gravel said. With less than two minutes to play Budaj, who finished with 30 saves, came off for an extra attacker and in turn the Reign had three quality chances, but none better than Kempe's. Mike Amadio sent the puck from the left circle and through the slot to Kempe, who waited and picked his spot and did beat Forsberg, but did not beat the left post. That was followed later by a chance from Dowd that was gobbled up by Forsberg and another bid in the final seconds by Gravel, who fired wide. "Urgency was great, made a lot of good plays and I think it was just too little, too late," said Dowd. "You have to be like that the whole game in a playoff game and take advantage of situations and score big goals. Maybe it hits a post and goes in and we've got a whole nother game."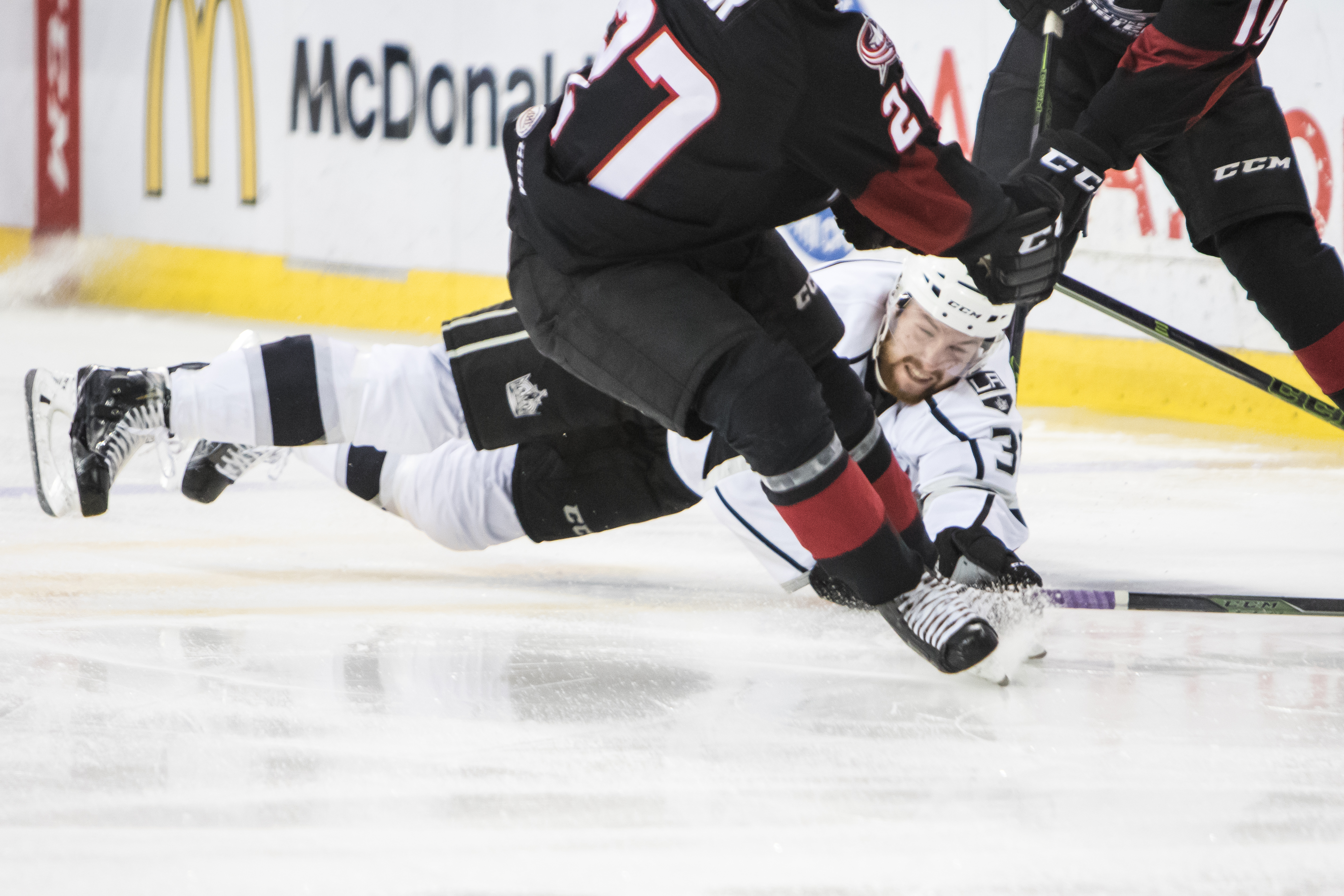 Best quote
Stothers, on the final sequence and what he would have said to Kempe: "Good job, kid. What else are you gonna say? It was a great play from Amadio and it was to the guy you wanted. It was Kempe. Everything was perfect except it hit the post. It didn't hit the post and go in, it hit the post and went back out. That's another thing I draw a lot of positives from. We had the goalie out, we had some real good chances, we had some real good looks. Again, it's a situation where ideally you'd like to win every game you play, but when you're into the final four, it's four good teams. Nothing's going to be easy. Nothing worth winning is easy."
Three stars
–Ryan Craig – The Monsters' 34-year-old captain finished with a goal and an assist, factoring in on two of the three goals in his team's dominating second period. First, he got his shot through on the power play that led to Anderson's rebound goal. And for his own goal he faded away into a space where no one thought to cover him to score his third of the playoffs. "It's nice to help out the team," he told reporters afterwards.
–Sean Backman – The Reign's leading scorer from the regular season (21-34=55) arrived in game 10 of the postseason. Backman's goal was a rifling one-timer that beat Forsberg's glove and his feed set up Lowry's. "Yup," he responded when asked if it felt good to finally find the back of the net. "That's an understatement." It was his first goal since March 25 of the regular season.
–Anton Forsberg – Believe it or not, this was Forsberg's first start of the postseason in his team's 10th game. He stood tall in stopping all 16 shots he faced in the first period and made 27 overall. Forsberg came off the bench the last two games against Grand Rapids in the Monsters' previous series after Joonas Korpisalo lost his way. "He was great," Monsters coach Jared Bednar told the media afterwards. "You don't have to look any further than the last couple minutes."
Turning point
Lowry's goal was still being announced when Broadhurst buried the eventual game-winner. In a moment's time where the Reign had spun the game back around in their favor, they quickly lost it.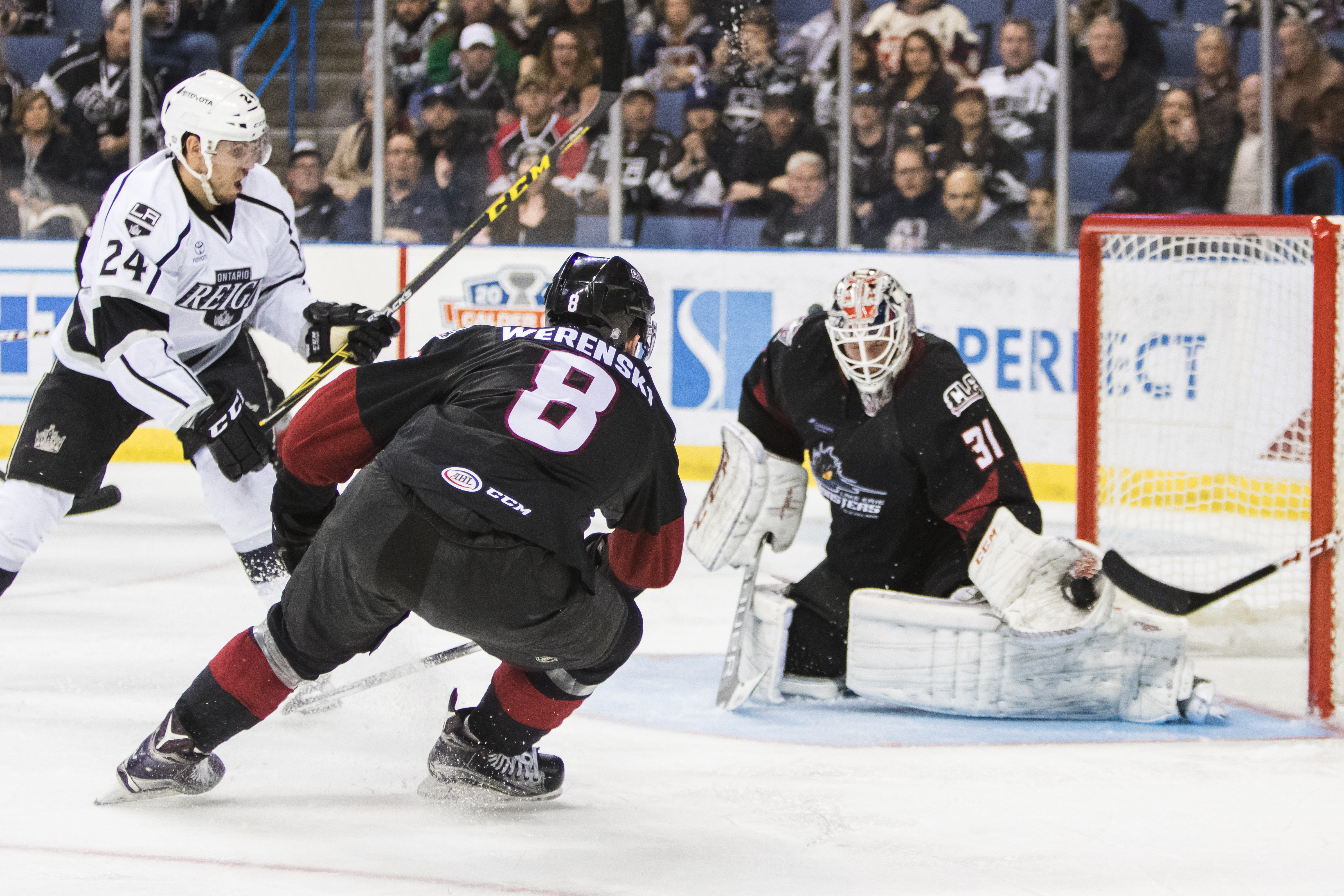 Lineups and injuries
Jonny Brodzinski, Brett Sutter and Kevin Raine remain out for Ontario due to injury.
Stat fact
–4 – Goals given up by the Reign, the most they've allowed this postseason.
This and that off-ice
The ice was uncovered and freshened up literally just in time for warmups as the arena was flipped from hosting a graduation earlier in the day. Backman noted that the ice felt "slow." … Kings goalie Jonathan Quick was in attendance, as noted by Frozen Royalty, presumably so to see his brother-in-law Backman play.
Next up
Game 2 is right away on Sunday night at 7 p.m. in Ontario. The Reign will then travel the next morning to Cleveland as Game 3 is set for Tuesday at 4 p.m. PT.