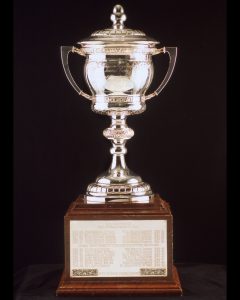 Los Angeles Kings center Anze Kopitar, Boston Bruins forward Loui Eriksson and Florida Panthers center Alexsander Barkov were announced as finalists for the 2016 Lady Byng Memorial Trophy, awarded annually "to the player adjudged to have exhibited the best type of sportsmanship and gentlemanly conduct combined with a high standard of playing ability." The trophy, which will be presented to the winner on June 22 at the 2016 NHL Awards in Las Vegas, is determined by a vote amongst members of the Professional Hockey Writers' Association. With Kopitar's nod, Kings have been announced as finalists for the Vezina (Jonathan Quick), Selke (Kopitar), Norris (Drew Doughty) and Lady Byng trophies on consecutive days.
It is Kopitar's second nomination (also 2015, when he finished third), Eriksson's second (also 2011, when he finished third) and Barkov's first.
There isn't really a ton of evidence to list for an award with highly subjective criteria, but here are some of the numbers produced by the three finalists:
Anze Kopitar: 81 GP, 25-49=74, +34, 16 PIM, 20:52 TOI
Loui Eriksson: 82 GP, 30-33=63, +13, 12 PIM, 19:28 TOI
Alexsander Barkov: 66 GP, 28-31=59, +18, 8 PIM, 19:25 TOI
All three players were workhorses for their team, though Kopitar finished third in the league with an ice time average of 20:52. Kopitar also tied for third in the league with a +16 penalty plus-minus during five-on-five play, while Barkov tied for sixth with a +14, and Eriksson, who drew only seven penalties in five-on-five play, was a +4. Kopitar's roughing call in a game in Chicago in November was his first roughing call since January, 2014. After taking five tripping calls last season as part of a career-low 10 penalty minutes, Kopitar was whistled for three trips, a hold, a holding the stick infraction, a high stick, a faceoff violation and a rough in his 81 games.
Barkov, by the way, received a ringing endorsement from Willie Mitchell, who told LA Kings Insider in November,"He's Kopitar. Watch him out there tonight. What is he, 20? He's Kopi. He dominates the game through the middle of the ice, he's so smart for a 20-year-old and he's well coached, so what do you do? You talk about things that a great player like Kopi has accomplished and talk about what's made him great."
It's a wide open field this year, as none of the five different players to have won the award since 2006 (Ryan O'Reilly, Martin St. Louis, Bryan Campbell, Pavel Datsyuk and Jiri Hudler) were nominated. The high in penalty minutes in any of those individual seasons was 22, established by Datsyuk in 2006 and 2009.
Kings to have previously won the Lady Byng were Marcel Dionne (1977), Butch Goring (1978) and Wayne Gretzky (1991, 1992, 1994). The trophy was first awarded in 1925 but has never been presented to a goaltender. In 2012, Brian Campbell became only the third defensemen in league history to have won the trophy.
Via the NHL:
Kopitar (25-49—74 in 81 GP) led the Kings in scoring for the ninth consecutive season, the longest active such streak in the NHL, to help the team set a franchise record for wins (48). He also ranked second in the League with a +34 rating, matching a career high established in 2013-14. Kopitar totaled only 16 penalty minutes despite pacing NHL forwards in total time on ice (1,690:12) – an average of 20:52 per game. He is a Lady Byng finalist for the second straight campaign after finishing third in voting in 2014-15. Kopitar, who also was announced as a finalist for the Frank J. Selke Trophy, is attempting to become the first Los Angeles player to win the Lady Byng since 1993-94 (Wayne Gretzky).