It's an awkward and uncomfortable feeling when the daily regimen and routine is pulled out like a rug from underneath a hockey team that has either been eliminated from the Stanley Cup Playoffs or battled until the final days of the regular season before succumbing to Freedom, Horrible, Horrible Freedom.
"You kind of try to forget about it as quick as you possible can," Milan Lucic said. "For the first week, it's definitely a tough pill to swallow. You kind of go over in your mind of what happened, what you could have done and all that type of stuff."
There are memories that, as Lucic noted, need to be forgotten, lest they fester and rot in the minds of a team that set a franchise record for the widest divisional lead in team history when they were 12 points clear of second place on January 2, but ultimately finished one point behind the Pacific Division champion Anaheim Ducks in a season in which they won 48 games, also a franchise best. So he'll venture to forget about third period leads that slipped away in home losses to San Jose, Winnipeg, Colorado, Ottawa and Dallas.
Meeting with the media at the team's El Segundo facility on Sunday, Lucic, though he was still frustrated at the season's abrupt end, did not speak with many tinges of regret. To the contrary, he sounded like a player who very strongly wants to sign an extension to continue his career in Los Angeles.
"Obviously there are two months until July 1, so hopefully something can get done here so that I can remain a King moving forward into the future," he said. "That's something that I've expressed that I really want to happen. Like I said, I really enjoy being an L.A. King and everything that it has to offer, and hopefully it can get done here in the near, near future."
Los Angeles is a cap-strapped team, and while the team is plugging away with Lucic's representation to ensure that he remains a King – the forward conceded that the teams are in the same "area code" when asked – there is mutual sentiment that he would remain a viable fit, and early stages of negotiations began midway through the season. Lucic's preference is to get something done quickly.
"The sooner the better," he said. "To be honest, I really don't have much interest into hitting the open market or even hearing what's out there, because in my mind this is where I want to be. Why flirt with something when you know what you want? That's the case for me moving forward."
There are, of course, some complications, but none that should prove too wide of obstacles to move around. According to financials provided by General Fanager and with the understanding that Vincent Lecavalier is expected to file retirement papers, the Kings have roughly $64.15-million of contracts allotted to 18 players for next season. Unrestricted free agents include Kris Versteeg, Trevor Lewis, Luke Schenn, Jamie McBain and Jhonas Enroth, while restricted free agents include Brayden McNabb, Nic Dowd and Derek Forbort. In 81 games this year, Lucic totaled 20 goals and 55 points with a +26 rating. He ranked second on the team with 2.04 even strength points per 60 minutes and third with a 59.3% Corsi-for rating, forming a +4.0% possession rate relative to his teammates, who led the league in possession metrics by a significant margin. He registered three assists in the team's first round series defeat to the Sharks.
While earning a handsome salary is important for the forward who provides both offense and hard minutes for a Kings team that benefited from the marriage of Lucic's rugged style and their own heavy efforts, there are other factors that appeal to the Vancouver native, who has enjoyed playing on the West Coast and sees the decision as one that impacts his entire family, including his two young daughters.
"As important as it is, my decision – and where I want to be and being happy and all that type of stuff – I think [my kids] being happy and being in a place where it's a great spot for them to grow up and go to school and stuff like that is really, really important as well. Obviously down here has so much to offer as far as all how that goes. One of the best places to raise your children here is in the South Bay area, so that definitely plays into a big part of why I want to remain here, as well."
While the team and player vie to close a gap on his contract, he'll spend the springtime taking his family to Disneyland, to Clippers playoff games, to Dodgers games – much like he did when supporting the Red Sox at Fenway Park as a Boston Bruin.
"No reason to go on a beach vacation when it's a couple blocks down the road," he said.
And despite the sour end to a season that showed so much promise, the impression that was left by the players, coaches and management – not to mention the lifestyle – was profound.
"Obviously it didn't finish the way we were hoping, but when you look at the season as a whole, and for myself, I really enjoyed it. I really enjoyed the move to LA and living here and being a part of this organization. I think the way the management and the coaches and the training staff treat the players is definitely first class, and I enjoyed being the new guy on the block and getting to play with all brand new teammates and stuff like that, so it's a really great, special group to be a part of, and I really enjoyed it for this season."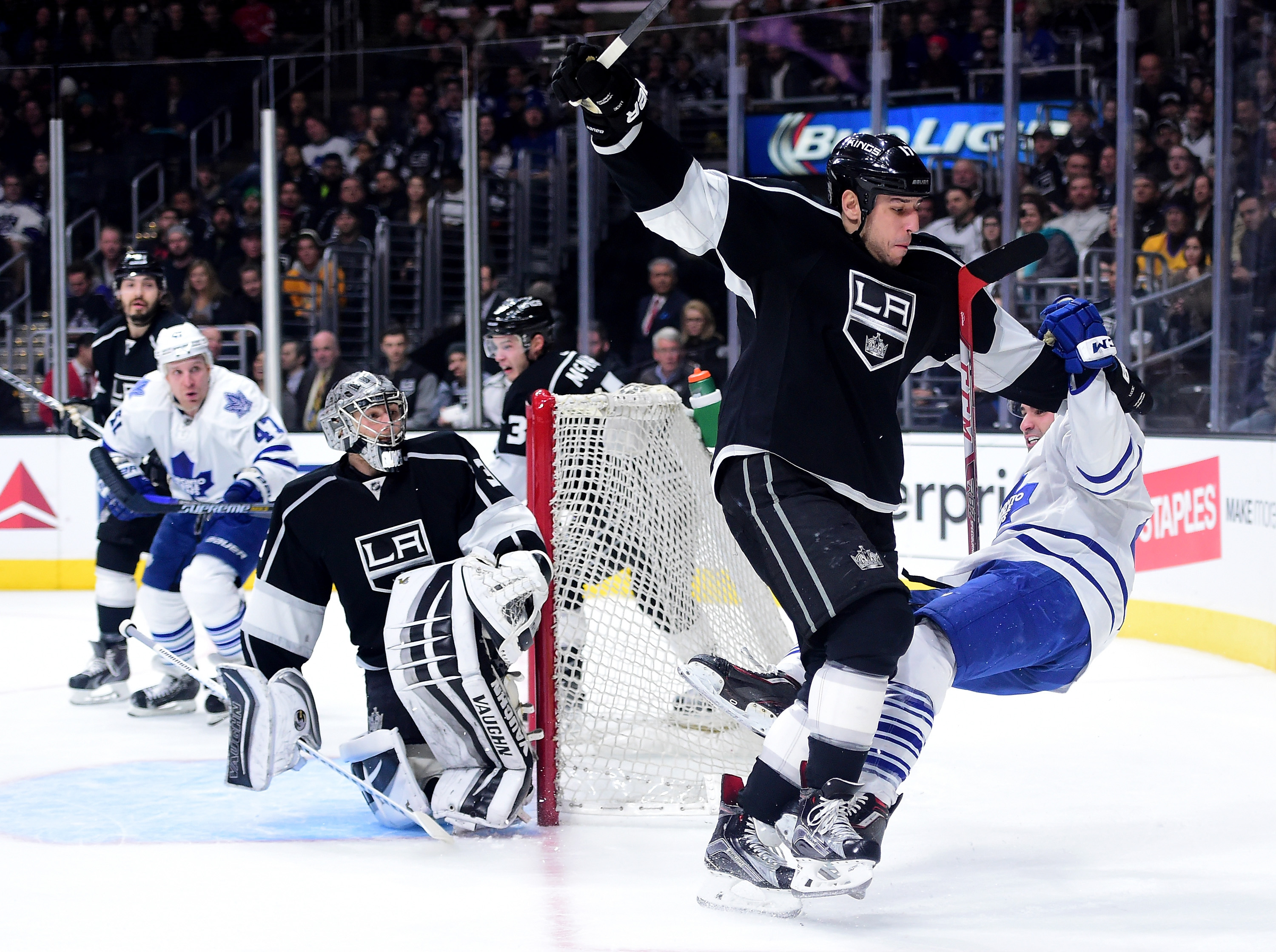 -advanced stats via Stats.HockeyAnalysis.com