Some notes from today's 11:15 a.m. practice at Center Ice in Ontario. Today we'll hit the return of Nic Dowd and Kevin Gravel, injuries and potential returns for Vincent LoVerde and Paul Bissonnette. Also, Peter Budaj gave his thoughts on winning the AHL's outstanding goalie award.
–Center Nic Dowd and defenseman Kevin Gravel practiced with their teammates after being sent down by the Kings on Tuesday. Needless to say, their coach was happy to have them back. Said Mike Stothers: "It was great because yesterday we were here and my phone rang while I was on the ice and I looked at it and I saw it was Blakey and I was like, hmm, this is probably pretty important so I took it. And he said they were coming down so we were pretty excited about that. It's good for us, I think it's good for them to get playing again. I think the experience that they got up there was terrific and we pretty much know that they could be gone again in the blink of an eye." Stothers raved about the two as well: "It's nice to have your power play guys, your penalty kill guys, your leaders back where they belong with their teammates," and then joked that he would not answer another call from GM Rob Blake. For the Reign, they're welcoming back their top center and a top-4 blue liner. Both had been healthy scratches as of late with Los Angeles, so they're anxious to get into a game starting this coming Friday against San Diego. "I am excited to play again,"said Dowd. "Hadn't played in four or five games up there and it's definitely not fun. … It's not fun watching hockey when the rest of your teammates are playing. I am excited to play down here and take this one playoff round at a time." Dowd said the practices and preparation are at "another level" with the Kings and added that is was a "privilege to be there." This was the St. Cloud State alum's first call-up and one memory that will stick with him was a moment before his first NHL game in Minnesota. "I think the first time I saw my name on the back of an NHL jersey was something I'll take with me forever," he said. "I think the first time I got to step out on the ice for warmups, not even the game yet, but for warmups and just cruising around and being in an NHL atmosphere and playing in an NHL rink, and then being in the Xcel too was pretty special just because I played college hockey in Minnesota." For Gravel, it was his second call-up to Los Angeles, so this time around was a bit easier. "It was good," he said. "Little bit more comfortable up there this time, you kind of know how everything works. More comfortable with the guys, just kind of everything, the pace of the pay, the practice, everything. As you experience it more and more obviously you get more confidence and more comfortable, which is going to help you on the ice, which is what you want." Both Dowd and Gravel mentioned that their teammates on the Reign are their best friends and so they're ready to get to the playoff grind together. "Obviously this is a fun time of the year," Gravel said. "I love playing with these guys down here, these guys are my best friends. Talk to them the entire time you're gone, too."
–Captain and top-4 defenseman Vincent LoVerde (neck/throat) will be back in the lineup for this weekend's games in San Diego after missing the last 11. "Last time he saw the doc was last weekend and they wanted him to just wait another week which is this weekend," Stothers said. "Unless I'm missing something I don't think there's anything preventing him from playing so yeah, he'll play. He's been itching to go. He has to play because he's getting annoying for everybody. He wants to play so bad, you know what I mean? So yeah, he'll play." I'll post more later today on LoVerde and what his recovery from a cracked trachea has been like.
–Peter Budaj, recently named the winner of the Aldege "Baz" Bastien Award as the AHL's most outstanding goaltender, had this to say about the achievement: "It's a pretty big achievement. I'm 33 years old. After the year that I had last year, it was tough mentally but I love the sport. I wanted to come back and I wanted to really prove to everybody that I still can play and I still can be here. It ranks up top there for the awards. Obviously there's awards like first NHL game and NHL Young Stars but this is the American Hockey League, the second best league in the world. Being a top goalie it's something really special and definitely ranks right on top there." In every interview Budaj uses the words "thankful" and credits his teammates, family, coaching staff and the organization as a whole and did so again today. "It's a reflection of the whole team," he deflected. From a season ago to going winless in St. John's to being handed the AHL's version of the Vezina Trophy, Budaj never envisioned the season could have played out this say, especially when J-F Berube was picked up on waivers and Patrik Bartosak's legal issues gave way for the Reign net to be his. "Last year I had such a tough year, didn't win a game. It was really tough mentally and I just got into camp and I was just thinking just go out here, play, play the best I can and see what happens. They picked up Rubes on waivers and whatever happened to Barto happened to Barto and everything fell into place for me and it was a blessing. I was very thankful and also the team was playing me so many times the team was trusting me and the coaching staff was trusting me and giving me a lot of opportunities and I was able to make the most out of the opportunity that I got. I'm very thankful to God [that] I was able to be here and bounce back after the year I had last year."
–Veteran winger Paul Bissonnette is skating again with his teammates after being held out for an extended time due to a mid-range injury. It's been nearly a month since he's been in a game, dating back to Feb. 19 against Texas. This weekend won't be his weekend, according to Stothers, but the return is near. "We would have liked for him to get into at least one game this weekend just to get the game and the timing and see if he truly is OK. We're not going to have that luxury," Stothers said. "The good thing about it is Biss is a good, veteran player. He's going to be pretty honest and pretty forthright if he thinks he can play and make it through the game." Bissonnette's been limited to just 35 games this season, but was very upbeat after practice, one in which he donned a red no contact jersey. "I got to skate now and morale's up, it's good," he said, adding that he's had to have cortisone shots to calm his injury down. "Jumping back in's been all right," he said. "For instance, like this week of practice has been tough but I feel like I can keep up at a decent pace." As far as off the ice, he's taking steps in the right direction too. "Luckily I'm kind of older and away from the rink I take of myself a lot better as far as nutrition's concerned and sleep. When you're younger you're partying a little bit more, you're chasing the wrong kind of things, girls and this and that. I've been going to bed early, eating really well. My girlfriend actually taught me how to cook so that's nice, and really well. I'm actually a pretty good cook."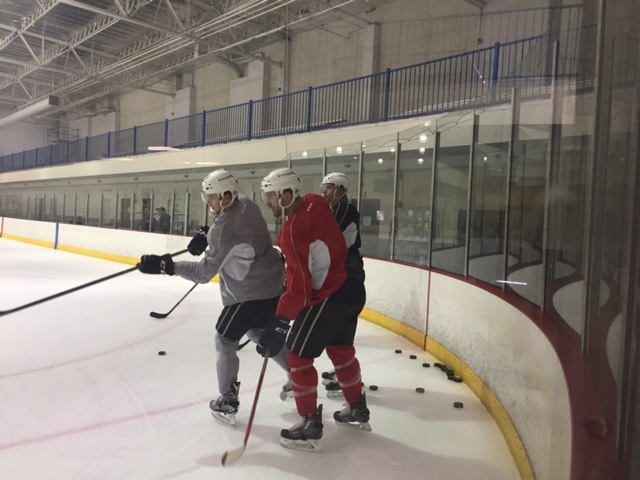 –Center Matt Leitner has been released and will join the Manchester Monarchs for the Kelly Cup Playoffs. "It's just a matter of … it's better to be playing than sitting," Stothers said. "We know we can get him back so he might as well go down and help Manchester and get a bit of that playoff feel." Leitner played in 16 games with Ontario registering zero goals and four assists. Stothers added that as of late the fourth-line center was playing much better and called him a "son of a gun to play against."