The effort and battle components were front and center in Los Angeles' 5-2 loss to San Jose on Monday night, but, unfortunately, so were a handful of mistakes as an excellent, playoff-like hockey game devolved into a third period home team romp in L.A.'s fourth regulation loss in five games. Several of those mistakes didn't end up in the back of the net – see: Anze Kopitar and Jake Muzzin giveaways – as Jonathan Quick kept his team humming along with key saves on multiple Grade-A opportunities, including a save-of-the-year candidate on Logan Couture's chance at the end of the second period. Overall, it wasn't a "bad" performance in a big game, but it was a loss, and despite having killed an early second period power play and showing good discipline for much of the night, the Kings did not have a perfect night on the PK, and that turned out to be the turning point in the game as Joe Thornton netted the game-winner while on the Sharks' traditionally efficient man advantage. Credit Justin Braun for playing a major role in the win as he scored a big first period goal to tie the game and neutralized Anze Kopitar on a key third period attempt to bang in a rebound while defending a one-goal lead. He added a bank shot empty netter for good measure and totaled six hits and three blocked shots on a night in which the teams combined for 90 hits and San Jose blocked 28 Los Angeles attempts.
And so ends 10 games in 17 nights. For the first time since the Washington-New Jersey games, Los Angeles will have an extra day to rest and prepare, and they'll need to take advantage of the day away from the rink. Darryl Sutter does a good job of limiting ice time of heavy minute eaters on non-game days and regulating the usage of players late in the season. Such was the case last night, when again Drew Doughty, Jake Muzzin and Alec Martinez all played below their normal usage. Brayden McNabb, though, saw his time on ice increase again as he received two minutes and 36 seconds of power play time and took even strength rotations alongside Doughty. It's going to be interesting to see how Darryl assigns his minutes in the playoffs, and if he decides to go in a direction similar to (but not to the extreme of) what Joel Quenneville was forced to do last year as Chicago became understandably and overly reliant on its top-four D. You're not going to see as wide of a discrepancy as Kimmo Timonen and Trevor van Riemsdyk earning 5:05 and 8:01 of ice time, as they did in the pivotal Game 5 of last year's Cup Final, but if there are some rough edges on this Kings' team, the depth of the defense has mostly been fine but still raises an eyebrow or two. With a postseason berth already clinched, and the need for players who haven't won a Cup (or, in the case of some, who haven't played a playoff game) to get their games playoff-ready, it's understandable to see McNabb receive the heavy minutes as he rounds into form while the other members of the heavily used defensive contingent see some of their time on ice shaved off a bit. Could this be a top-four-heavy defensive corps this spring?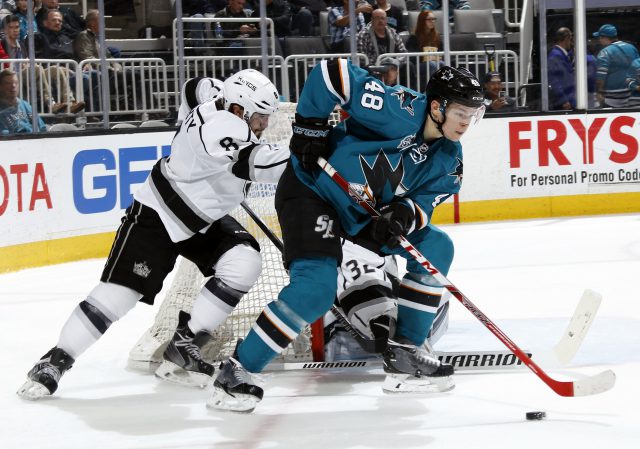 So, Kings fans, Nashville or San Jose? Even with the home game this Saturday against Dallas, it's going to be difficult to challenge for the top overall spot in the conference, now that St. Louis has emerged as an advanced threat in the race as well. The winner of the April 7 game against Anaheim will have a key boost to win the division, so it's looking most likely at this point – as you're already well aware – that Los Angeles travels to Tennessee or Northern California. I asked several players and Darryl Sutter about how San Jose's looks have changed in their first year under Peter DeBoer and with several personnel adjustments, and the sense that I got was that regardless of any change, the team still knows very well what they'd get in that hypothetical series. The Kings will be favorites in either one, and barring a collapse, will open the playoffs at Staples Center. Though the first overall seed receives a slightly more appetizing match-up, there are no easy outs in the first round of the playoffs, when very good teams lose every single year. So, Preds or Sharks?