The Los Angeles Kings are Trying To Be A Playoff Team, and with back-to-back wins over the Chicago Blackhawks and Dallas Stars early this week, took a sizable step in doing so while bolding and underlining a statement-like pair of wins. Milan Lucic and Luke Schenn spoke about measuring stick-type games, and while a team that has won Stanley Cups in two of the last four seasons probably doesn't feel like it has the obligation to prove anything to anyone, it still perks ears up when Los Angeles goes into Chicago and Dallas and emerges with a 10-2 aggregate score. This can change quickly, as there have been sleepers – see the Islanders game in between wins over the Bruins and Rangers, or the kryptonite the Devils have seemed to throw on the Kings – embedded alongside some of the team's best performances of the season. But right now, through 69 games of the season, it is pretty clear that the teams playing the best hockey in the Western Conference are the Kings and Ducks, and while we haven't seen them in quite some time, the Sharks may as well be in that mix, too. One of those teams will be eliminated in the first round of the playoffs.
As for actual, in-game events, Los Angeles broke through the gates with a playoff-like pace. For the first 10 minutes they skated circles around Dallas, a big/heavy team that operates with a scary amount of skill and speed. (To be fair, the Stars were without a handful of key players, including John Klingberg, Jordie Benn, Patrick Sharp and Mattias Janmark.) But the home team did not win many puck battles through the first period, and after Dallas had answered Kris Versteeg's and Tyler Toffoli's goals with a fortunate Alex Goligoski deflection off Dwight King's skate, Anze Kopitar responded with a very important (and beautiful) goal that re-established a late, two-goal lead that was padded by Dustin Brown equally valuable insurance marker early in the second.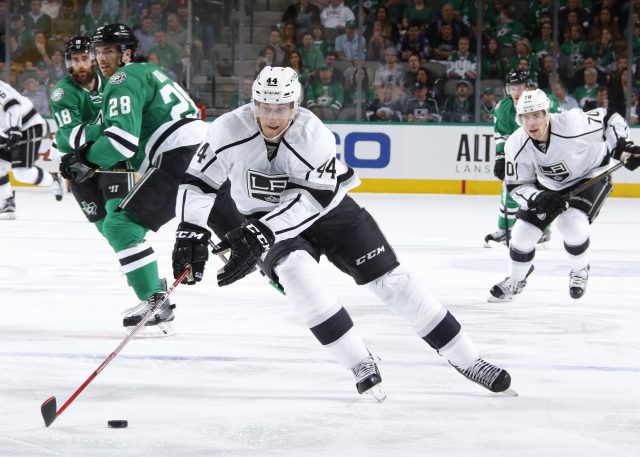 In the three games before Los Angeles traded for Vincent Lecavalier and Luke Schenn, Trevor Lewis (now 15 points in 62 games) had slotted at third line center. In the two games prior to that, Andy Andreoff (now five points in 49 games) appeared in the same slot. That was because Jeff Carter had been hurt at the time; in the games prior to Carter's injury at Arizona on December 26, Nick Shore (now 10 points in 62 games) had slotted there. Darryl Sutter spoke early in the season about needing more production from the particular 3C box, and they are getting it right now from Lecavalier. It's a bit easier to critique opposing points of view on Lecavalier now that he's on a bit of a scoring streak, compared to the pre-Chicago/Dallas portion of the schedule, but it's peak disingenuous to look at Lecavalier's eight goals, 14 points, plus-five rating and 52.9% faceoff rate in 30 games when compared to the previous options and think, 'this is bad.'
Ditto for Rob Scuderi's four assists and plus-six rating in nine games since he joined the games – and mind you, five of those games were against Anaheim (x2), Washington, Chicago and Dallas. Scuderi has been very good for 11 of the last 12 periods. That's not to say that this run of proficiency will continue, and the two players' possession stats don't paint a rosy picture. But CF%Rel isn't the entire picture; it is a partial picture used to fill in the gaps on player evaluation, and people who would use similar advanced metrics as the be-all, end-all of player analysis will come up with faulty and incomplete evaluations of players. Let's face it; Rob Scuderi was basically the equivalent of a 37-year-old with smarts when he left Boston College and never had a step to lose. This is a player who gets by with intelligence, positioning, and by getting sticks on pucks to offer tips and deflections away from key opposition figures, and those core-sense aspects don't go away. He averaged 23:29 against two of the faster and most highly skilled teams in the league in the Blackhawks and Stars and did not allow an even strength goal against. He is not a player who may find great degrees of success when playing for the league's most highly skilled teams (the mini-tenure in Chicago was clearly going to be a poor fit, even if the move from Pittsburgh was partially based on salary cap flexibility), but with the Kings, as a stop-gap, pre-playoff measure, he's fitting in just fine.
With that said, 23 minutes per night is a trend that could very well lead to overexposure come playoffs, so don't be surprised if his minutes are reduced as Darryl Sutter makes the inevitable tinkering to his lineup in an attempt to match-up against the Predators or Wild or Sharks or Ducks or Avalanche or whomever the team meets in the first round. It is, of course, a partial evaluation because Los Angeles hasn't yet arrived in the playoffs, and it's impossible to see what impact these players will have on any sort of postseason success, but with their hands tied due to a lack of draft picks and salary cap flexibility, the Kings made two trades in 2016 that have provided dividends, all while surrendering Christian Ehrhoff, Jordan Weal and a third round draft pick.