Several abbreviated thoughts from Saturday night's 2-1 overtime loss to the New Jersey Devils:
-As was stated on the broadcast before the game, you don't want to fall behind to the Devils. One minute and 12 seconds into the game, the Kings fell behind the Devils. This allowed an underhanded team whose only chances to remain competitive in games is to check relentlessly and channel all pucks to the perimeter to be comfortable in their skates, and for the first 55 minutes, that's what happened. There were few high-quality chances on either side, a dearth of second and third opportunities and limited space and opportunity at both ends. By the time the third period came around, both teams were content in settling for a three-point night and playing low-danger hockey by flipping pucks into corners and trying to dig them free from defensemen instead of carrying the puck into the offensive zone. It was as tightly checked of a game as you'll see this year. That changed as the teams began trading chances with roughly five minutes to play, but long stretches of the other 55 minutes of regulation were marked by sleep-inducing systematic play between two teams that give up very little, and when the Devils are on their game, as they were last night, you get a one-one game through 60 minutes.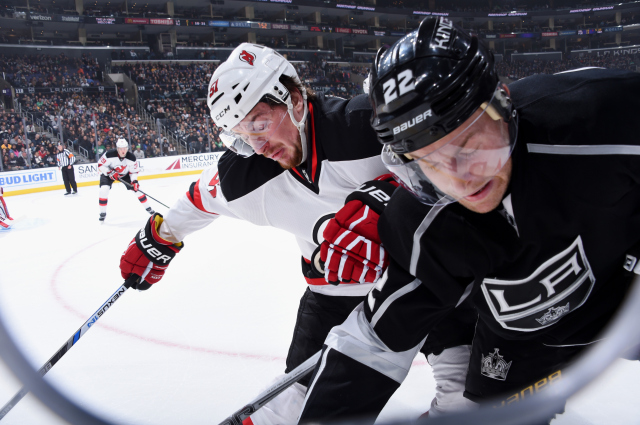 -Los Angeles endured a terrible start, and despite three first period power plays, they totaled all of four shots on goal through 20 minutes. Even with the advantageous power play time, they were out-shot 8-4 with shots registered by Brayden McNabb, Rob Scuderi, Milan Lucic and Alec Martinez. McNabb registered the only even strength shot on goal, and it came from 52 feet away, according to the play-by-play log. Their game came along in the second period, and only through an extended stretch in which defenders Seth Helgeson and David Warsofsky remained on the ice for 3:34 – a stretch in which they changed their line twice while remaining in the attacking zone – were they finally able to break through against New Jersey this season, with Anze Kopitar scooping a loose puck from a scrum and snapping it inside the far post past Keith Kincaid. Both Kincaid and Jonathan Quick were quite good, with the latter stopping David Henrique twice on breakaways (one while shorthanded in regulation, one in overtime), and it was tough to see the game-winner scored in three-on-three on a sharply angled wrister inside the near post, because with Quick's performance, he and the Kings probably deserved a better fate.
-On the back end, Drew Doughty's game won't be framed and hung in the Smithsonian; that's no biggie considering he has roughly nine good games for every game like Saturday's and at this point is part of a two-horse Norris Trophy race. He logged 17:44 of even strength ice time, which ranked third on the team. Through three periods, Rob Scuderi had more even strength time on ice, though that could also be a byproduct of the team limiting Doughty's minutes at the outset of a four-in-six stretch. But Scuderi was actually quite good on Saturday – five of his last six periods have been very good – and in addition to the stick-checking, body-tying up eye-test also put together a positive night possession-wise. Up front, Kris Versteeg logged 15:38 of ice time, his widest haul since joining the Kings. It will be interesting to see if Darryl Sutter continues to use him alongside Milan Lucic and Anze Kopitar, as he did during the third period of Saturday night's game. He'll face the team with whom he won two Stanley Cups on Monday.