Good afternoon, Insiders. It was actually somewhat of a busy Sunday in El Segundo as the entire team took part in a regular practice, which concluded with a Gustl sighting as players trickled off the ice.
The forward lines, grouped by color:
White: Lucic-Kopitar-Brown
Red: Pearson-Lecavalier-Toffoli
Yellow: King-Carter-Lewis
Blue: Clifford-Shore-Andreoff
Black, with Legends Night pants: Versteeg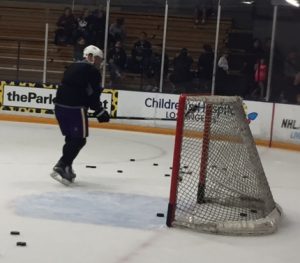 -So Kris Versteeg practiced less than 24 hours after he logged two minutes and 10 seconds in Saturday's loss to Anaheim and did not return to the bench for the second or third periods. This was because Versteeg left the game due to an unspecific "precaution," as he told Lisa Dillman and I today. There's no clear indication of whether he'll be available tomorrow, though there is the general skepticism towards the availability of a player who wore a different colored jersey at practice and was contained to the outside for a duration of the drills before remaining on the ice to work on his puckhandling and shooting. We'll get a firmer sense of whether he'll play against Vancouver at Monday's morning skate, but that he was skating and back on a regular schedule suggests that this is not a long-term, highly concerning injury.
Versteeg endured quite a bit of pain for his limited action (Neutrinos/60?), as he was struck in the head by a puck in warm-ups before engaging Rickard Rakell, who held his own well in his first career fight, at the tail end of the fracas that erupted with 13:02 to play in the first period. "I know when I played with Chicago, the Ducks played a lot of the same way, and it's even a little more heated being just down the highway here," he said. "It's nothing that I didn't expect, but sometimes it happens. I know I don't do as much as I did when I was younger, but it is what it is. It's part of the game."
-The Canucks will come into tomorrow's game hurting but trying to build something off of a gutsy win in San Jose in which they scored three power play goals and relied on 32 Jacob Markstrom saves on Saturday night. Both Henrik Sedin and Chris Tanev left the game early, and their availability on Monday appears suspect at best.
Subject to change, Henrik Sedin expected to go home, while Tanev stays w #Canucks but doubtful for Monday in LA. No recalls planned.

— Iain MacIntyre (@imacVanSun) March 6, 2016
It's Jimmy Carson's Legends Night tomorrow, so be on the lookout for my LAK-dot-com story, which will go up either later today or tomorrow (I'll also share a link here.) More to come today, Insiders…