Los Angeles Kings (37-21-4) at Montreal Canadiens (30-28-6)
Thursday, March 3, 2016, 7:30 p.m. PT
Staples Center, Los Angeles, CA
Referees: #29 Ian Walsh, #19 Gord Dwyer
Linesmen: 95 Jonny Murray, #55 Shane Heyer
FOX Sports West, KABC 790 AM, I Heart Radio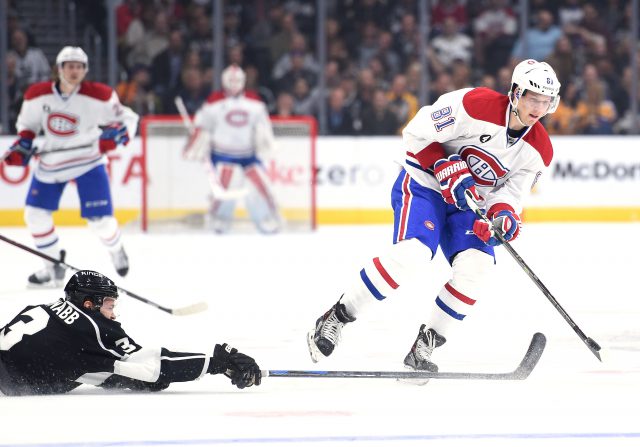 Los Angeles Projected Starting Goaltender – Jonathan Quick
2015-16: 50 GP (50 GS) / 31-16-3 record / 2.18 GAA / .920 Sv% / 3 SHO
Career vs Montreal: 5 (5) / 3-2-0 / 2.17 / .916 / 1
Last Game vs Montreal: 12/17/15 / 60 MP / 45-45 shots / 3-0 W
2015-16, Home: 27 (27) / 16-10-1 / 2.26 / .909 / 1
Montreal Projected Starting Goaltender: Ben Scrivens
2015-16: 9 GP (9 GS) / 3-5-0 record / 3.00 GAA / .901 Sv% / 0 SHO
Career vs Los Angeles: 5 (4) / 1-3-0 / 4.26 / .877 / 0
Last Game vs Los Angeles: 4/2/15 / 40 MP / 16-21 shots / 2-8 L
2015-16, Away: 5 (5) / 0-4-0 / 3.89 / .868 / 0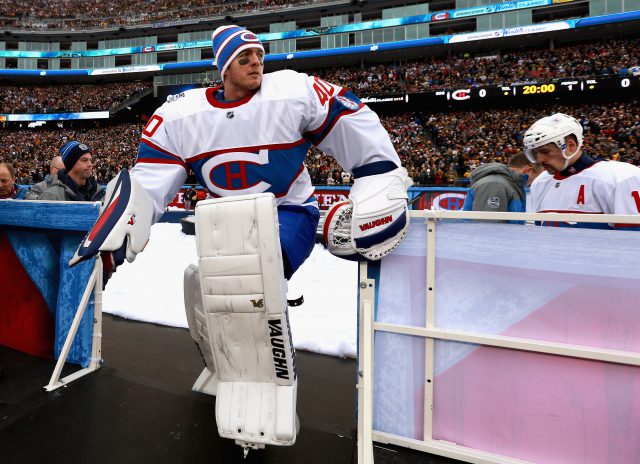 2015-16 Los Angeles Leaders
Total Points: Anze Kopitar (18-35=53)
Goals: Tyler Toffoli (24-21=45)
Assists: Anze Kopitar (18-35=53)
Plus/Minus: Tyler Toffoli (+26; 24-21=45)
Penalty Minutes: Milan Lucic (70; 14-22=36)
Time On Ice: Drew Doughty (28:23; 11-29=40)
Corsi-For Percentage: Nick Shore (60.4%; 3-6=9)
2015-16 Montreal Leaders
Total Points: P.K. Subban (5-43=48)
Goals: Max Pacioretty (23-22=45)
Assists: P.K. Subban (5-43=48)
Plus/Minus: Brendan Gallagher (+11; 18-17=35)
Penalty Minutes: P.K. Subban (73; 5-43=48)
Time On Ice: P.K. Subban (26:14; 5-43=48)
Corsi-For Percentage: Max Pacioretty (56.2%; 23-22=45)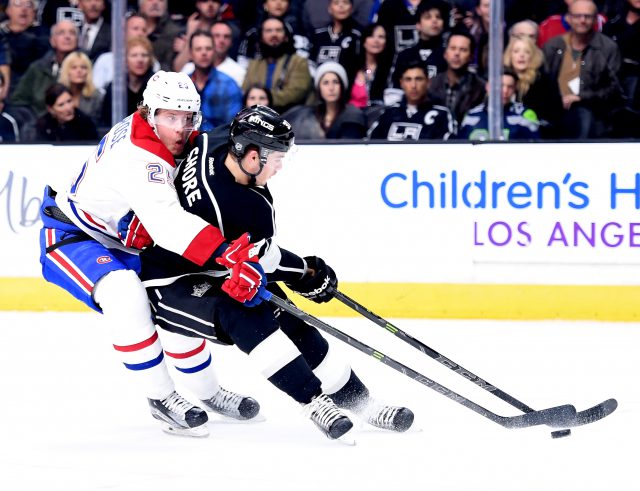 Rankings and Statistics
Goals/Game: LAK – 18 / 2.63; MTL – t-12 / 2.66
Goals Against/Game: LAK – 1 / 2.27; MTL – t-19 / 2.73
Power Play: LAK – 5 / 22.0%; MTL – t-20 / 17.6%
Penalty Kill: LAK – 15 / 81.3%; MTL – 5 / 83.9%
Shots/Game: LAK – 2 / 32.6; MTL – 4 / 31.5
Shots Against/Game: LAK – 5 / 28.0; MTL – t-6 / 28.5
Faceoffs: LAK – 14 / 50.1%; MTL – 6 / 51.1%
Save Percentage: LAK – 6 / .919; MTL – 24 / .904
Corsi-for Percentage: LAK – 1 / 56.3% / MTL – 6 / 52.4%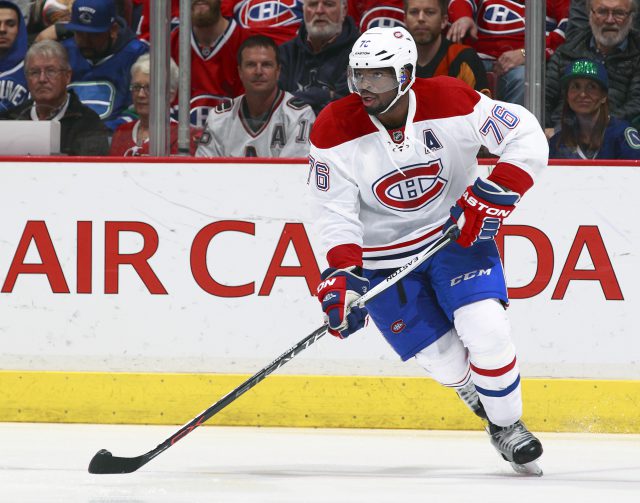 Los Angeles Projected Lines
Milan Lucic – Anze Kopitar – Tyler Toffoli
Tanner Pearson – Jeff Carter – Kris Versteeg
Dustin Brown – Vincent Lecavalier – Trevor Lewis
Dwight King – Nick Shore – Kyle Clifford
Rob Scuderi – Drew Doughty
Jake Muzzin – Alec Martinez
Brayden McNabb – Luke Schenn
Jonathan Quick
Jhonas Enroth
Notes and milestones: Los Angeles is 31-89-20 all-time against Montreal, a record that includes a home mark of 21-40-9. The Kings defeated the Canadiens 3-0 at Bell Centre on December 17 behind Jonathan Quick's 45 saves. Los Angeles is 4-1-0 in the last five overall meetings between the teams. … The Kings are 16-9-2 against the Eastern Conference and 8-4-2 against the Atlantic Division. … Los Angeles has scored exactly two goals in its last five games: 2-1 OTW @ NSH, 2-1 W vs CGY, 2-1 W vs EDM, 2-0 W vs BUF, 2-4 L @ ANA. … With 465 career points (215-250=465), Dustin Brown is one point behind Charlie Simmer (466 points) for 10th place overall on the team's all-time list. With 250 career assists, he is one assist from surpassing Mark Hardy for 11th place overall on the team's all-time list. … With 298 career goals, Jeff Carter is two goals shy of 300 in his career. … Tyler Toffoli ranks second in the league with a plus-26 rating. … With 40 career shutouts, Jonathan Quick is tied with John Vanbiesbrouck and Frank Brimsek for the most shutouts all-time by an American-born goaltender. … Drew Doughty (Canada), Jeff Carter (Canada), Anze Kopitar (Europe) and Jonathan Quick (United States) were named to initial team rosters for the World Cup of Hockey.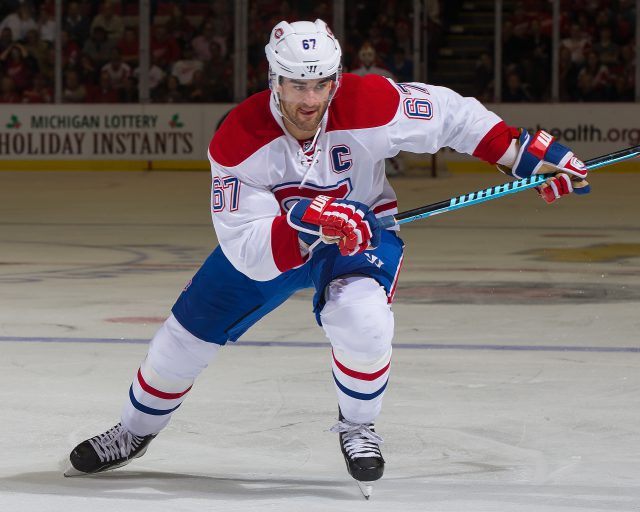 Montreal Projected Lines
Max Pacioretty – Tomas Plekanec – Brendan Gallagher
Alex Galchenyuk – Lars Eller – Michael McCarron
Stefan Matteau – Jacob De La Rose – Mike Brown
Paul Byron – Phillip Danault – Torrey Mitchell
Andrei Markov – P.K. Subban
Alexei Emelin – Greg Pateryn
Morgan Ellis – Mark Barberio
Ben Scrivens
Mike Condon
Notes and milestones: Lines via NHL.com correspondent Curtis Zupke … Via Zupke, Montreal is expected to be without Daniel Carr (lower body), David Desharnais (foot), Brian Flynn (lower body), Tom Gilbert (knee) Jeff Petry (hernia), Carey Price (leg) and Nathan Beaulieu (lower body). … The Canadiens are 8-4-4 on the second day of back-to-back sets. They lost 3-2 in a shootout in Anaheim last night. … Montreal has points in five of its last six games, going 3-1-2. … According to Elias Sports Bureau, Max Pacioretty and Daniel Sedin are the only players in the league with at least one shot on goal in every game their team has played this season. … Andrei Markov (Russia), Max Pacioretty (United States), Tomas Plekanec (Czech Republic) and Carey Price (Canada) were named to initial team rosters for the World Cup of Hockey. … P.K. Subban is expected to appear in his 271st consecutive regular season game. … On this date in 1968, Jean Beliveau scored a goal to become just the second player in NHL history (after Gordie Howe) to record 1,000 career points. It came in a 5-2 loss in Detroit. … Ben Scrivens appeared in 19 games with Los Angeles in 2013-14, going 7-5-4 with a 1.97 goals-against average, .931 save percentage and three shutouts.