Los Angeles Kings (37-20-4) at Anaheim Ducks (33-19-8)
Sunday, February 28, 2016, 6:00 p.m. PT
Honda Center, Anaheim, CA
Referees: #11 Kelly Sutherland, #32 Tom Kowal
Linesmen: #57 Jay Sharrers, #79 Kiel Murchison
NBCSN, KABC 790 AM, I Heart Radio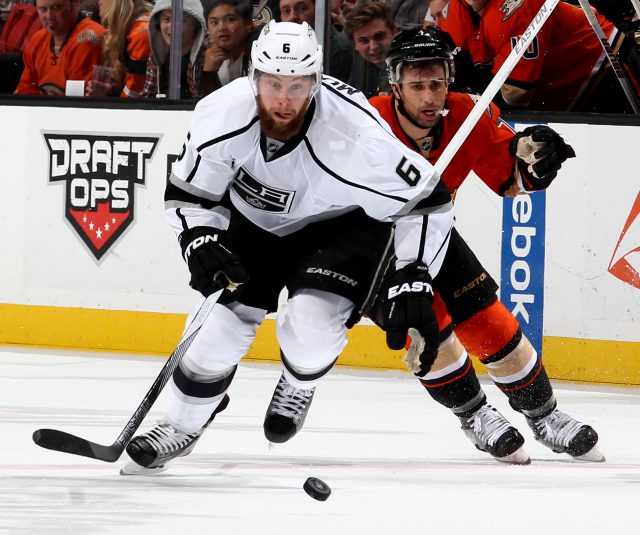 Los Angeles Projected Starting Goaltender – Jonathan Quick
2015-16: 49 GP (49 GS) / 31-15-3 record / 2.15 GAA / .922 Sv% / 3 SHO
Career vs Anaheim: 31 (31) / 15-8-6 / 2.53 / .905 / 1
Last Game vs Anaheim: 2/4/15 / 23 MP / 6-9 shots / 2-4 L
2015-16, Away: 22 (22) / 15-5-2 / 2.00 / .934 / 2
Anaheim Projected Starting Goaltender: John Gibson
2015-16: 26 GP (24 GS) / 14-8-2 record / 2.10 GAA / .917 Sv% / 4 SHO
Career vs Los Angeles: 4 (4) / 3-1-0 / 2.25 / .914 / 0
Last Game vs Los Angeles: 2/4/16 / 60 MP / 23-25 shots / 4-2 W
2015-16, Home: 15 (14) / 9-5-1 / 1.09 / .925 / 2
2015-16 Los Angeles Leaders
Total Points: Anze Kopitar (18-34=52)
Goals: Tyler Toffoli (24-21=45)
Assists: Anze Kopitar (18-34=52)
Plus/Minus: Tyler Toffoli (+26; 24-21=45)
Penalty Minutes: Milan Lucic (70; 14-22=36)
Time On Ice: Drew Doughty (28:23; 11-28=39)
Corsi-For Percentage: Nick Shore (60.9%; 3-6=9)
2015-16 Anaheim Leaders
Total Points: Ryan Getzlaf (9-41=50)
Goals: Corey Perry (23-18=41)
Assists: Ryan Getzlaf (9-41=50)
Plus/Minus: Ryan Getzlad (+14; 9-41=50)
Penalty Minutes: Chris Stewart (69; 8-10=18)*
Time On Ice: Cam Fowler (22:21; 3-16=19)
Corsi-For Percentage: Hampus Lindholm (57.9%; 8-11=19)
*On inured reserve; active leader is Ryan Kesler (68; 13-20=33)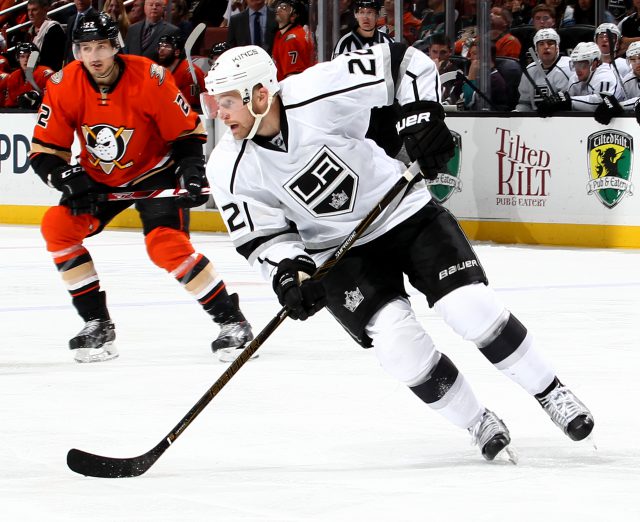 Rankings and Statistics
Goals/Game: LAK – t-14 / 2.64; ANA – t-23 / 2.45
Goals Against/Game: LAK – 1 / 2.25; ANA – 4 / 2.32
Power Play: LAK – 6 / 21.9%; ANA – 7 / 21.3%
Penalty Kill: LAK – 12 / 82.2%; ANA – 2 / 86.8%
Shots/Game: LAK – 2 / 32.7; ANA – 8 / 30.8
Shots Against/Game: LAK – 5 / 28.0; ANA – 3 / 27.4
Faceoffs: LAK – t-12 / 50.2%; ANA – 4 / 51.4%
Save Percentage: LAK – t-4 / .920; ANA – t-12 / .915
Corsi-for Percentage: LAK – 1 / 56.4% / ANA – 3 / 53.3%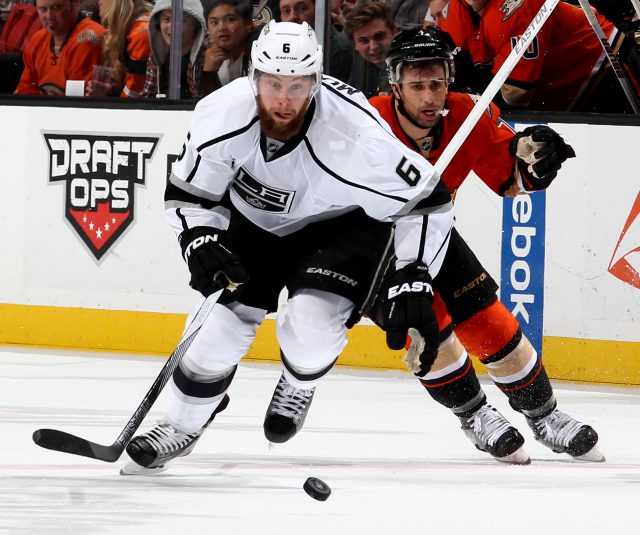 Los Angeles Projected Lines
Milan Lucic – Anze Kopitar – Dustin Brown
Dwight King – Jeff Carter – Tyler Toffoli
Tanner Pearson – Vincent Lecavalier – Trevor Lewis
Kyle Clifford – Nick Shore – Andy Andreoff
Jake Muzzin – Drew Doughty
Alec Martinez – Luke Schenn
Brayden McNabb – Rob Scuderi
Jonathan Quick
Jhonas Enroth
Notes and milestones: Los Angeles is 55-44-24 all-time against Anaheim, a record that includes a road mark of 22-27-13. Though they have points in six games over the span, the Kings have lost eight of the last 10 games to the Ducks, going 2-4-4. Thus far, the teams are 1-1-0 in the season series, with each team winning in the opposition's building. Remaining games will be played at Staples Center on March 5 and April 7. … Los Angeles is 21-11-2 against the Western Conference and 13-7-0 against the Pacific Division. … The Kings are 8-0-1 on the second night of back-to-back sets. … Los Angeles is 4-0-1 in its last five games (with only nine goals scored) and has won four straight games by scores of 2-1 (OT), 2-1, 2-1 and 2-0. … With 465 career points (215-250=465), Dustin Brown is one point behind Charlie Simmer (466 points) for 10th place overall on the team's all-time list. With 250 career assists, he is one assist from surpassing Mark Hardy for 11th place overall on the team's all-time list. … The Kings are 9-0-0 in games in which Tanner Pearson scores. … Tyler Toffoli ranks second in the league with a plus-26 rating. … With 298 career goals, Jeff Carter is two goals shy of 300 in his career. … Jonathan Quick has a 0.99 goals-against average and a .964 save percentage during his personal three-game winning streak. … Anze Kopitar has 22 goals and 56 points in 52 career games against Anaheim. … Milan Lucic has no goals and one assist in 11 career games against Anaheim.
Anaheim Projected Lines
David Perron-Ryan Getzlaf-Mike Santorelli
Nick Ritchie-Rickard Rakell-Corey Perry
Andrew Cogliano-Ryan Kesler-Jakob Silfverberg
Patrick Maroon-Nate Thompson-Ryan Garbutt
Cam Fowler-Kevin Bieksa
Hampus Lindholm-Josh Manson
Simon Despres-Sami Vatanen
John Gibson
Frederik Andersen
Notes and milestones: Lines via Eric Stephens of the OC Register … Anaheim has won seven straight games and has points in nine straight (8-0-1). Only the Ducks, Kings and Capitals have posted two winning streaks of at least six games this season. Anaheim is 14-1-1 in its last 16 games. … Eight of the last 11 games in this series have been decided by one goal. … The Ducks' 48 goals since the All-Star Break are the most in the NHL. … Anaheim has a power play goal in each of the last seven games, going 10-for-23 over that span. … Ryan Getzlaf has six goals and 19 points in 13 games since the All-Star Break, leading the NHL with a plus-13 rating over that span. … John Gibson ranks tied for second amongst NHL goalies in goals-against average (2.10) and is tied for fourth with four shutouts this season. Amongst rookies, Gibson leads in goals-against average and shutouts, and ranks second with 13 wins and third with a .917 save percentage. … Ryan Kesler ranks fourth in the NHL with a faceoff success rate of 58.0%. … Andrew Cogliano is the NHL's reigning Ironman, having played in 682 consecutive games since beginning his career on October 4, 2007. It is the sixth longest consecutive games played streak in NHL history (Doug Jarvis: 964 consecutive games from 10/75 – 10/87).