So, say Anze Kopitar and Justin Williams are on the ice for the first shift of Tuesday night's Kings-Capitals game at the Verizon Center, and there's a loose puck along the boards that both forwards would naturally fight for. Ex-teammates play against each other frequently – such is the reality of natural player movement in hockey and all sports – but would it be just a touch weird for Williams to have to go in for a hit against Kopitar, one of his closest friends during his distinguished Southern California tenure?
"Well, I might choose someone a little bit smaller than Kopi to make a first hit," Williams joked Monday at the Capitals' training complex in Arlington, Virginia.
There are plenty of subplots when Pacific-leading Los Angeles and league-leading Washington finally meet for the first time this season, and one of them is that Williams, colloquially known as Mr. Game 7 for his NHL-record 14 points in Game 7s, in which he has compiled a 7-0 record, will for the first time since departing his former club face the team with whom he won two of his three Stanley Cups and was honored with the 2014 Conn Smythe Trophy.
"I mean, I want to say it's just another game, but it's not," Williams said. "It has a lot of meaning to me, it has a lot of importance to me. At the same time, it has a lot of importance for our team, too. We're trying to get better, and that's a good team to do it against."
And a member of the team he and the Capitals will look to get better against – there is a high ceiling for the NHL-leading club, whose 84 points are seven more than the top challengers – is Kopitar, who naturally began forging a friendship with the winger when he was acquired from Carolina in March, 2009.
"Yeah, we hung out quite a bit. He's a very passionate golfer, I'm a very passionate golfer now," said Kopitar, who noted that Williams is the better golfer "for right now."
"But we hung out together, we hit it off right off the get-go. Obviously to be put on the line right when he got to the Kings helps because you've got to develop the chemistry, and obviously hanging out off the ice certainly helps getting to know the guy. We were very close friends, still are."
The ex-teammates plan on seeing each other Monday night, 24 hours before they'll be doing battle in the corners.
"Just to go out there, and you say 'no friends,' but it's not friends," Williams said. "You go out there, you play your 60, 60-plus minutes, whatever it is, and it is what it is after. But if I off my game a little bit by not finishing a check, not being hard like I usually am in the corners, then I'm hurting our team."
Said Kopitar: "I think our relationship is probably not as close to when the brothers play against each other. We've seen that before, that they hit each other and everything. Once you step on the ice, he's just another player on their team, and you've got to play hard against him."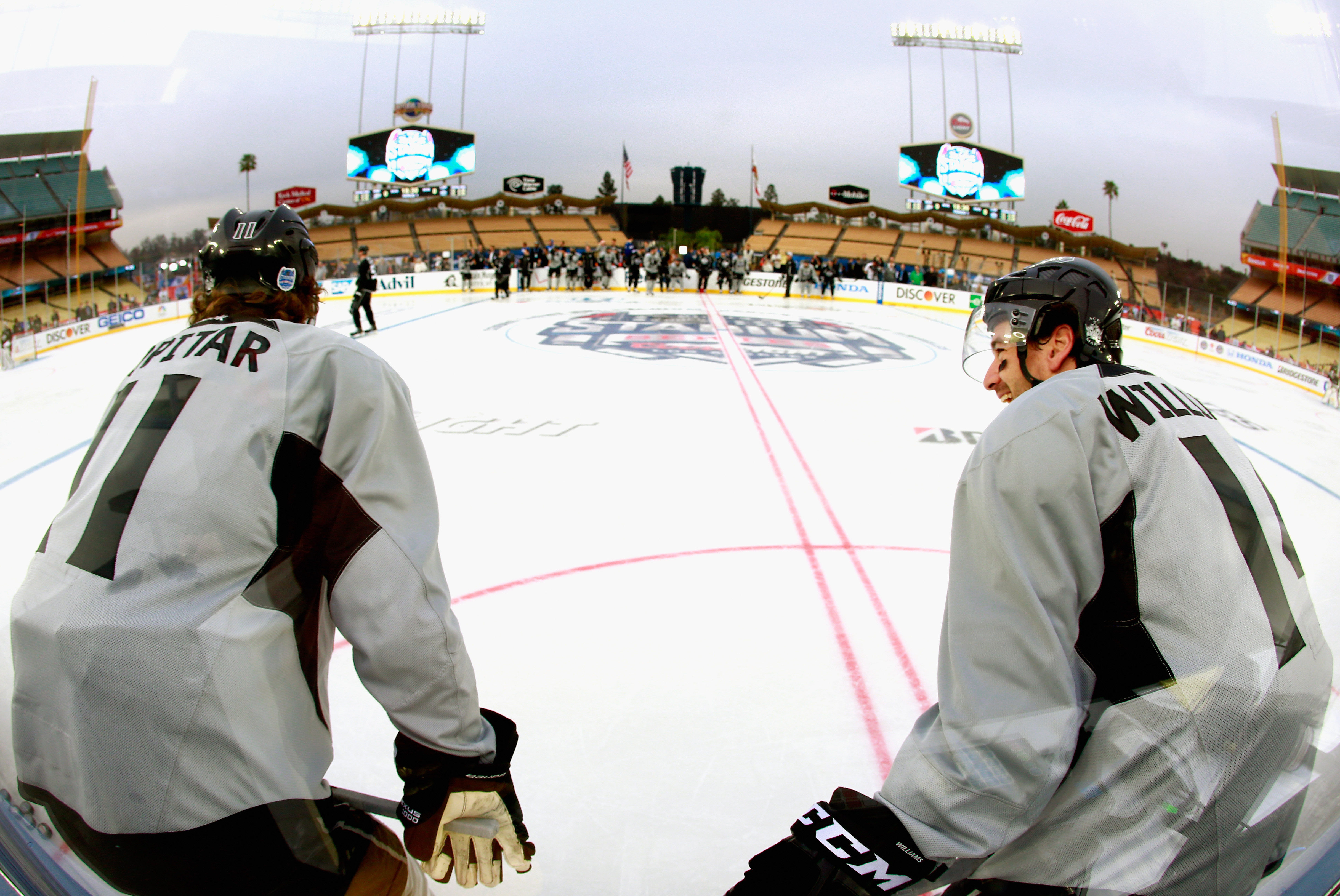 It's a far cry from the summer of 2012, when Williams traveled across the Atlantic Ocean to take part in Kopitar's golf tournament, which provided ample sightseeing opportunities in Slovenia, which he deemed "one of the best kept secrets" of travel destinations worldwide.
"I think some of the things that we did on our trip, whether it be whitewater rafting or visiting underground mines and castles and wine tasting, we did a lot of things that he'd never done before, because he lived there. It was incredible," Williams said. The things that you can do there, and the places you can travel even when you're that close – whether it be Croatia, Italy, they're just all there. Beautiful country."
And that's not to say Williams' relationship with Kopitar so greatly outweighed any of the others he created within the dressing room in helping bring two Stanley Cup titles to Los Angeles. Darryl Sutter memorably noted in 2013 that "anybody that was on our championship team last year is a member of our family forever, so I want them to do well," and Williams noted that those championship bonds endure even as teammates and coaches move on.
"You always remember the people you win with, always, and you remember each other as champions," he said. "Obviously I have a lot of feelings – good feelings – towards my time there, but as I said, time marches on, and in this day and age, you're very rarely with one team for your whole career. I've moved on, and they have too."
Having signed a two-year, $6.5 million contract with the Capitals last summer as discussions with the Kings were complicated by Los Angeles' tightened purse strings – "they've got this thing called the salary cap," he said in his introductory conference call – Williams is thriving with his new team, having produced 18 goals, 38 points and a plus-17 rating in 54 games. It's a reflection of modern professional sports, and it's not easy to keep a player around for a full championship cycle, let alone an entire career, on teams that generate great success in the salary cap era.
Though the teams haven't even played once this season, it's still natural to look forward towards March 9 when the teams renew a suddenly sparked rivalry at Staples Center.
"I say it'll be emotional, and I know it will be," Williams said. "Even talking about it right now kind of hits me a little bit knowing that the best years of my career were there. I don't know. I guess I'm just going to enjoy it, and obviously I want to win, and I can't put to emphasis on it, but at the same time I'm extremely excited to do it, and I have it circled on my calendar, for sure."
Barry Trotz, on how Justin Williams was able to gel with his new teammates:
I think personality. You've got to have a personality, and he has one. You blend in. He's a guy's guy, so I think he fits in in terms of the locker room. He fits in very easily. He's very confident in what he's done and where he is as a person. I think those are the main ingredients, and then he's got some street credibility. He's got a couple rings, he's won a few trophies that are very important in the postseason, so you walk in the room, you're going to have some credibility, and he's a terrific person and a real good personality, so it was really easy for him to fit in, I think.
Justin Williams, on his friendship with Anze Kopitar:
Throughout your years, you slowly gravitate towards somebody. It was just how you make any friends. You share common interests, and the type of person they are – those are the type of people you want to hang out with. Obviously Kop and I are really close. He was upset, as I was, when I left, but we obviously keep in touch a lot and I'll see him for dinner tonight. … It's just the nature of the way it is. I would've liked to finish my career there, but I didn't. So, that's it.
Williams, on what traits he picked up in Los Angeles:
I've learned throughout my career that you say when you're young 'only control what you can control,' but when you get older, when you first get behind the wheel and get your license, you go and you're kind of fast and you wheel around. When you get older, you're like, 'well, what's the rush?' That's kind of the attitude on the ice. You're like, 'well, why am I going to yell at this guy when there's nothing I can do about it?' You learn a little bit throughout your years, and you channel your energy in a positive direction, and that's what I've tried to do.
Williams, on his expectations when he signed with Washington:
Well, if I'd expected to have 84 points at this point, no, I don't think anybody did. But I knew I was coming into a great team, and we're just scratching the surface of what we can be. This is regular season. Not to put it on the back burner – the important part is making the playoffs – but I've said earlier, we'll learn a lot about how good we can be come April, May and hopefully June.