Los Angeles Kings (32-18-3) at New York Rangers (31-18-5)
Friday, February 12, 2016, 4:00 p.m. PT
Madison Square Garden, New York, NY
Referees: #46 Dave Lewis, #13 Dan O'Halloran
Linesmen: #65 Pierre Racicot, #98 John Grandt
FOX Sports West, KABC 790 AM, I Heart Radio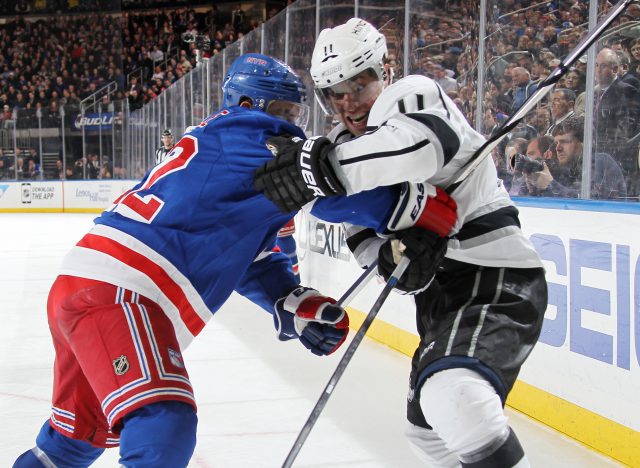 Los Angeles Projected Starting Goaltender – Peter Budaj
2015-16: First appearance
Career vs New York: 4 (4) / 3-1-0 / 2.17 / .921 / 1
Last Game vs New York: 10/28/13 / 59 MP / 27-27 shots / 2-0 W
2015-16, Away: First appearance
New York Projected Starting Goaltender – Antti Raanta
2015-16: 12 GP (9 GS) / 4-4-1 record / 2.30 GAA / .909 Sv% / 1 SHO
Career vs Los Angeles: 2 (2) / 2-0-0 / 0.50 / .979 / 1
Last Game vs Los Angeles: 12/30/13 / 60 MP / 26-26 shots / 1-0 W
2015-16, Home: 6 (5) / 3-2-0 / 1.57 / .935 / 1
2015-16 Los Angeles Leaders
Total Points: Anze Kopitar (13-34=47)
Goals: Tyler Toffoli (23-18=41)
Assists: Anze Kopitar (13-34=47)
Plus/Minus: Tyler Toffoli (+26; 23-18=41)
Penalty Minutes: Milan Lucic (66; 14-20=34)
Time On Ice: Drew Doughty (27:58; 11-22=33)
Corsi-For Percentage: Nick Shore (60.9%; 3-5=8)
2015-16 New York Leaders
Total Points: Derick Brassard (18-22=40)
Goals: Derick Brassard (18-22=40), Mats Zuccarello (18-21=39)
Assists: Keith Yandle (4-25=29)
Plus/Minus: Derick Brassard (+17; 18-22=40)
Penalty Minutes: Dylan McIlrath (+44; 2-1=3)
Time On Ice: Ryan McDonagh (22:44; 7-19=26)*
Corsi-For Percentage: Keith Yandle (52.7%; 4-25=29)
*Not expected to play tonight; next highest is Dan Girardi (20:05; 2-11=13)
Rankings and Statistics
Goals/Game: LAK – 10 / 2.75; NYR – t-5 / 2.83
Goals Against/Game: LAK – 6 / 2.34; NYR – 12 / 2.50
Power Play: LAK – 4 / 22.9%; NYR – 28 / 15.8%
Penalty Kill: LAK – 10 / 82.3%; NYR – t-24 / 78.4%
Shots/Game: LAK – 3 / 32.4; NYR – t-17 / 29.4
Shots Against/Game: LAK – 6 / 28.1; NYR – 13 / 29.7
Faceoffs: LAK – 17 / 49.8%; NYR – t-19 / 49.7%
Save Percentage: LAK – 10 / .917; NYR – 11 / .916
Corsi-For Percentage: LAK – 1 / 56.2%; NYR – t-21 / 48.2%
Los Angeles Projected Lines
Milan Lucic – Anze Kopitar – Dustin Brown
Tanner Pearson – Jeff Carter – Tyler Toffoli
Marian Gaborik – Vincent Lecavalier – Trevor Lewis
Dwight King – Nick Shore – Jordan Nolan
Brayden McNabb – Drew Doughty
Jake Muzzin – Alec Martinez
Kevin Gravel – Luke Schenn
Peter Budaj
Jhonas Enroth
Notes and milestones: Los Angeles is 46-64-19 all-time against New York, a record that includes an away mark of 20-36-7. After tonight's game, the teams will meet back at Staples Center on March 17. … The Kings are 7-0-1 on the second night of back-to-back games this season. … Los Angeles is 14-7-2 against the Eastern Conference and 7-3-0 against the Metropolitan Division. … Over the last 12 games, the Kings have scored 40 goals and have allowed 36 (3.33 GF/G, 3.00 GA/G). … Los Angeles' power play has 13 goals in its last 37 power play opportunities (35.1%). … The Kings lead the league with six wins when entering the third period trailing. … Dustin Brown has seven points (4-3=7) in the last seven games. With 463 points (215-248=463), he is three points behind Charlie Simmer (466 points) for 10th place overall on the team's all-time list. He has nine points (3-6=9) in 10 career regular season games against New York.… By playing in his 737th game tonight, Anze Kopitar will surpass Butch Goring for seventh place all-time in club history in games played. With 657 career points (231-426=657), he ranks two points behind Goring (659 points) for the sixth most all-time in club history. … Marian Gaborik recorded 229 points (114-115=229) in 255 games with New York between 2009-13. Gaborik has 12 points (9-3=12) in 12 career games against the Rangers.
New York Projected Lines
J.T. Miller – Derick Brassard – Jesper Fast
Chris Kreider – Derek Stepan – Mats Zuccarello
Oscar Lindberg – Kevin Hayes – Viktor Stalberg
Tanner Glass – Dominic Moore – Daniel Paille
Keith Yandle – Dan Girardi
Marc Staal – Kevin Klein
Dan Boyle – Dylan McIlrath
Antti Raanta
Henrik Lundqvist
Notes and milestones: Lineup via NHL.com correspondent David Satriano … New York is expected to miss Rick Nash (bone bruise) for the ninth straight game and Ryan McDonagh (concussion) for the third straight game. … Dan Boyle and Vincent Lecavalier were teammates in Tampa Bay for parts of six seasons (2001-02 – 2007-08) and won the 2004 Stanley Cup. … Daniel Paille and Milan Lucic were teammates with Boston for parts of six seasons (2009-10 – 2014-15) and won the 2011 Stanley Cup. … Keith Yandle has 12 points (3-9=12) in his last 11 games against Los Angeles. He has points in 27 of 54 games this season. … The Rangers have won five straight games at home and four straight overall. … New York's +32 five-on-five goal differential ranks second in the league behind Washington's +38. The Rangers have not allowed a goal at even strength in each of the last two games and haven't allowed more than one even strength or five-on-five goal in each of their last five games. … Over the last eight games, the trio of Derick Brassard, Jesper Fast and J.T. Miller have combined for 24 points (11-13=24). … New York is 7-2-1 against the Pacific Division and 6-0-0 against the Pacific Division at Madison Square Garden. … Dan Girardi is expected to play in his 700th career game.