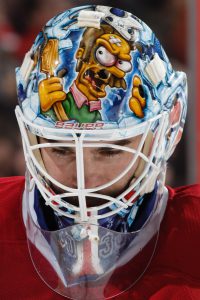 Peter Budaj has appeared in 296 career games with Colorado and Montreal and appeared in the 2006 and 2014 Winter Olympics with Slovakia, but there may not be too many Kings fans overly familiar with his style of play. Earlier today, we spoke with Goaltending Coach Bill Ranford about the goalie projected to get the nod at Madison Square Garden as Jonathan Quick remains day-to-day.
Bill Ranford, on Peter Budaj's rebound this year:
It definitely helps with the structure of our group down there. We have a more veteran defense than he had on The Rock [St. John's]. I think that helps him because he is the type of guy that reads and reacts and wants to play a very calm style of game. I think our group has helped him as far as that goes.
Ranford, on how much he has seen Budaj this season:
I haven't seen him a lot. I have seen him play I think twice this year. Our schedules we thought were going to be great, and I think there was an opportunity for six all year long and I have seen two of the six. He has played well in both games I have seen him play. He really gives his team a chance to win every night, and really that is what we are looking for from him tonight.
Ranford, on Budaj's style in net:
I haven't seen him a lot myself, just mainly training camp and obviously the couple of games in Ontario. He just plays a very calm style of game, a little bit like Jonesy [Martin Jones]. He just tries to simplify his game, you are not going to see him diving all over the place, it's more just a very simple positional game.
Ranford, on Budaj's demeanor:
He has a great demeanor. The one thing when we looked at when we brought him in is that he has been a great teammate over the years and guys have loved him wherever he has been. I think guys last year really felt for him, it was just one of those years that nothing went right. It is really tough to go a calendar year without winning a hockey game, so kudos to him the way he has bounced back this year. He has been the best goalie in the AHL, and he has been Ontario's MVP by far.
Ranford, on Budaj's struggles last year:
He had some tough injuries last year and I think that played a big part of it, I think he had a bad cut on his foot. When you come back from that and you haven't won, it was just a combination of all that that kind of wore on him a little bit and he just couldn't find a way to get a win under his belt. It got to the point where I think the opposing teams were cheering for him because he has got this reputation of being such a great guy and he is. He has done a great job, I give him full credit. He came into our training camp to try stay in shape and try and get a job in the league and he has done that.
Via Ontario Reign Insider: Budaj's new mask blends Flanders, family and royalty