Los Angeles Kings (32-17-3) at New York Islanders (28-18-6)
Thursday, February 11, 2016, 4:00 p.m. PT
Barclays Center, Brooklyn, NY
Referees: #38 Francoise St. Laurent, #13 Dan O'Halloran
Linesmen: #68 Scott Driscoll, #65 Pierre Racicot
FOX Sports West, KABC 790 AM, I Heart Radio
Los Angeles Projected Starting Goaltender – Jhonas Enroth
2015-16: 10 GP (8 GS) / 4-3-1 record / 2.11 GAA / .931 Sv% / 1 SHO
Career vs New York: 5 (5) / 2-3-0 / 2.39 / .931 / 0
Last Game vs New York: 11/12/15 / 60 MP / 31-32 shots / 2-1 W
2015-16, Away: 8 (7) / 3-3-1 / 2.30 / .926 / 1
New York Projected Starting Goaltender – Thomas Greiss
2015-16: 22 GP (21 GS) / 14-6-2 record / 2.26 GAA / .929 Sv% / 1 SHO
Career vs Los Angeles: 6 (2) / 2-3-0 / 2.08 / .922 / 1
Last Game vs Los Angeles: 1/28/14 / 60 MP / 30-30 shots / 3-0 W
2015-16, Home: 13 (12) / 8-3-2 / 2.20 / .928 / 1
2015-16 Los Angeles Leaders
Total Points: Anze Kopitar (13-34=47)
Goals: Tyler Toffoli (23-17=40)
Assists: Anze Kopitar (13-34=47)
Plus/Minus: Tyler Toffoli (+25; 23-17=40)
Penalty Minutes: Milan Lucic (66; 13-20=33)
Time On Ice: Drew Doughty (27:57; 11-22=33)
Corsi-For Percentage: Nick Shore (60.9%; 3-5=8)
2015-16 New York Leaders
Total Points: Kyle Okposo (15-27=42)
Goals: Brock Nelson (20-11=31)
Assists: Kyle Okposo (15-27=42)
Plus/Minus: Johnny Boychuk (+13; 4-11=15)
Penalty Minutes: Matt Martin (77; 5-5=10)
Time On Ice: Travis Hamonic (23:43; 3-9=12)
Corsi-For Percentage: Anders Lee (54.5%; 8-15=23)
Rankings and Statistics
Goals/Game: LAK – t-9 / 2.77; NYI – 7 / 2.79
Goals Against/Game: LAK – 5 / 2.29; NYI – 11 / 2.48
Power Play: LAK – 3 / 23.4%; NYI – 12 / 19.2%
Penalty Kill: LAK – t-9 / 82.4%; NYI – 2 / 86.8%
Shots/Game: LAK – 2 / 32.5; NYI – t-8 / 30.6
Shots Against/Game: LAK – 6 / 28.1; NYI – 18 / 30.2
Faceoffs: LAK – t-18 / 49.8%; NYI – t-12 / 50.1%
Save Percentage: LAK – 6 / .919; NYI – t-7 / .918
Corsi-For Percentage: LAK – 1 / 56.2%; NYI – t-11 / 51.1%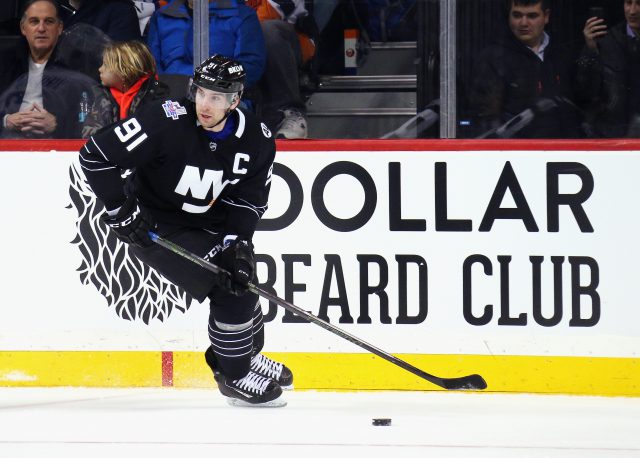 Los Angeles Projected Lines
Milan Lucic – Anze Kopitar – Dustin Brown
Dwight King – Jeff Carter – Tyler Toffoli
Marian Gaborik – Vincent Lecavalier – Trevor Lewis
Kyle Clifford – Andy Andreoff – Jordan Nolan
Jake Muzzin – Drew Doughty
Alec Martinez – Luke Schenn
Brayden McNabb – Jamie McBain
Jhonas Enroth
Peter Budaj
Notes and milestones: The Kings did not hold a morning skate on Thursday, so there were no indications towards any changes in the lineup. … Los Angeles is 46-42-14 all-time against New York, a record that includes a road mark of 20-25-6. The Kings are 7-1-2 in the last 10 games against the Islanders and have swept the three New York-area teams on the road in each of the last two seasons, becoming only the third and fourth teams all-time to do so. After L.A. won 2-1 at Staples Center on November 12, this game will conclude the teams' season series. … Los Angeles is 14-6-2 against the Eastern Conference and 7-2-0 against the Metropolitan Division. … The Kings have scored 38 goals and have allowed 31 goals over their last 11 games (3.45 G/gm; 2.81 GA/gm). … After a three-for-three performance on Tuesday night, Los Angeles has now scored 13 goals on their last 34 power play opportunities (38.2%). … Anze Kopitar has assists in five straight games (seven assists total). He ranks third in the NHL with 40 points (8-32=40) since November 20 and is tied for the league lead with 32 assists over that span. … Drew Doughty has points in five straight games (3-4=7), tying a career-long streak. … Dustin Brown has points in three straight games (3-2=5). He has seven points (4-3=7) in the last six games. With 463 points (215-248=463), he is three points behind Charlie Simmer (466 points) for 10th place overall on the team's all-time list. … With 735 games played, Anze Kopitar is two games played behind Butch Goring (737 games played) for seventh place all-time in club history. … Jeff Carter has 44 points (19-25=44) in 43 career games against New York. … Marian Gaborik has 37 points (22-15=37) in 35 career games against New York.
New York Projected Lines
Mikhail Grabovsky – John Tavares – Ryan Strome
Nikolai Kulemin – Frans Nielsen – Kyle Okposo
Anders Lee – Brock Nelson – Josh Bailey
Matt Martin – Casey Cizikas – Cal Clutterbuck
Travis Hamonic – Calvin de Haan
Nick Leddy – Johnny Boychuk
Thomas Hickey – Marek Zidlicky
Thomas Greiss
Jaroslav Halak
Notes and milestones: Lines via DailyFaceoff.com … New York is 14-4-2 against the Western Conference this season. … The Islanders are 10-0-0 when John Tavares records multiple points. … With 99 career points, Brock Nelson (54-45=99) is one shy of 100. … Mikhail Grabovski has goals in three straight games. … John Tavares has 10 points (4-6=10) in the last seven games. At the NHL All-Star Skills Competition, he won the accuracy shooting title. He has been an All-Star for three straight seasons. … Matt Martin leads the NHL with 253 hits, while Cal Clutterbuck ranks second with 202. The Islanders lead the league with 1,579 hits. … New York has killed off 81-of-88 power plays (92.0%) over the last 30 games.