Los Angeles Kings (31-17-3) at Boston Bruins (28-18-6)
Tuesday, February 4=9, 2016, 4:00 p.m. PT
TD Garden, Boston, MA
Referees: #11 Kelly Sutherland, #4 Wes McCauley
Linesmen: #84 Tony Sericolo, #71 Brad Kovachik
FOX Sports West, KABC 790 AM, I Heart Radio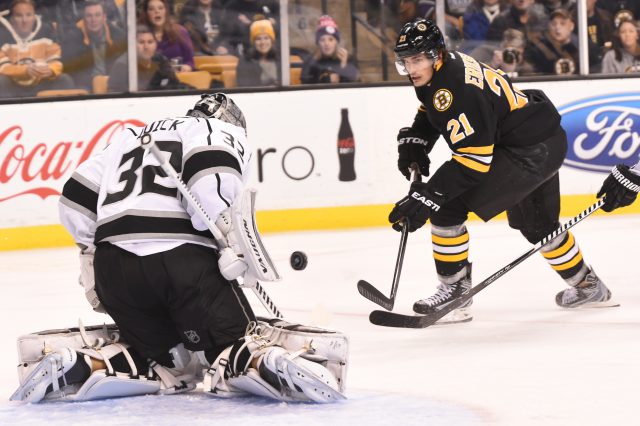 Los Angeles Projected Starting Goaltender – Jonathan Quick
2015-16: 43 GP (43 GS) / 27-14-2 record / 2.24 GAA / .917 Sv% / 3 SHO
Career vs Boston: 11 (11) / 7-4-0 / 2.04 / .927 / 2
Last Game vs Boston: 1/31/15 / 59 MP / 30-32 shots / 1-3 L
2015-16, Away: 18 (18) / 13-4-1 / 2.06 / .931 / 2
Boston Projected Starting Goaltender – Tuukka Rask
2015-16: 39 GP (37 GS) / 19-15-5 record / 2.47 GAA / .918 Sv% / 4 SHO
Career vs Los Angeles: 3 (3) / 2-1-0 / 1.69 / .956 / 1
Last Game vs Los Angeles: 1/31/15 / 60 MP / 30-31 shots / 3-1 W
2015-16, Home: 22 (21) / 9-11-2 / 2.92 / .900 / 3
2015-16 Los Angeles Leaders
Total Points: Anze Kopitar (13-33=46)
Goals: Tyler Toffoli (23-15=38)
Assists: Anze Kopitar (13-33=46)
Plus/Minus: Tyler Toffoli (+23; 23-15=38)
Penalty Minutes: Milan Lucic (66; 12-18=30)
Time On Ice: Drew Doughty (27:57; 10-21=31)
Corsi-For Percentage: Nick Shore (60.9%; 3-5=8)
2015-16 Boston Leaders
Total Points: Patrice Bergeron (19-26=45)
Goals: Brad Marchand (24-12=36)
Assists: David Krejci (12-27=39), Ryan Spooner (11-27=38)
Plus/Minus: Brad Marchand (+12; 24-12=36)
Penalty Minutes: Zac Rinaldo (68; 1-2=3)
Time On Ice: Zdeno Chara (24:19; 7-20=27)
Corsi-For Percentage: Patrice Bergeron (54.7%; 19-26=45)
Rankings and Statistics
Goals/Game: LAK – t-11 / 2.65; BOS – 3 / 2.90
Goals Against/Game: LAK – t-4 / 2.29; BOS – t-17 / 2.63
Power Play: LAK – 4 / 21.9%; BOS – 2 / 24.1%
Penalty Kill: LAK – t-9 / 82.7%; BOS – 4 / 84.7%
Shots/Game: LAK – t-3 / 32.0; BOS – 5 / 31.8
Shots Against/Game: LAK – 6 / 27.9; BOS – t-15 / 29.9
Faceoffs: LAK – 20 / 49.6%; BOS – 11 / 50.3%
Save Percentage: LAK – t-7 / .918; BOS – 19 / .912
Corsi-For Percentage: LAK – 1 / 56.1%; BOS – 18 / 49.5%
Los Angeles Projected Lines
Milan Lucic – Anze Kopitar – Dustin Brown
Dwight King – Jeff Carter – Tyler Toffoli
Marian Gaborik – Vincent Lecavalier – Trevor Lewis
Kyle Clifford – Andy Andreoff – Jordan Nolan
Brayden McNabb – Drew Doughty
Jake Muzzin – Alec Martinez
Christian Ehrhoff – Luke Schenn
Jonathan Quick
Jhonas Enroth
Notes and milestones: Los Angeles is 40-81-14 all-time against Boston, a record that includes a road mark of 15-47-6. The Kings are 6-4-0 in the last 10 head-to-head meetings and have points in six of their last 10 visits to TD Garden. These teams will conclude their season series at Staples Center on March 19. … Los Angeles is 13-6-2 against the Eastern Conference and 6-4-2 against the Atlantic Division. … The Kings have both scored and allowed 29 goals over their last 10 games (2.90 G/GA per game). … Los Angeles has scored 10 goals on their last 31 power play opportunities (32.3%). … Since November 20, Anze Kopitar ranks third in the NHL with 39 points (8-31=39) and second with 31 assists. He has assists in four straight games (six assists total). … With 23 goals, Tyler Toffoli has matched his career high (set in 2014-15). He is tied for third in the league with a plus-23 rating and will play his 200th career regular season game tonight. … In his last 19 games, dating back to December 11, Jeff Carter has two goals, nine points and a minus-seven rating. … Alec Martinez has goals in two straight games (2-1=3), tying the longest goal streak of his career (third time, last: October 31 – November 2, 2014). … Dustin Brown has points in two straight games (2-1=3) and five points (3-2=5) in the last five games. … With 298 career points (76-222=298), Drew Doughty is two points shy of 300 in his career. … 11 of the last 12 games in the series have been decided by one or two goals. … In 566 regular season games with Boston between 2007-15, Milan Lucic totaled 342 points (139-203=342), a plus-94 rating and 772 penalty minutes.
Boston Projected Lines
Brad Marchand – Patrice Bergeron – Brett Connolly
Loui Eriksson – David Krejci – David Pastrnak
Matt Beleskey – Ryan Spooner – Jimmy Hayes
Zac Rinaldo – Max Talbot – Landon Ferraro
Zdeno Chara – Zach Trotman
Joe Morrow – Dennis Seidenberg
Torey Krug – Kevan Miller
Tuukka Rask
Jonas Gustavsson
Notes and milestones: Lines via NHL.com correspondent Matt Kalman … Boston is 5-8-3 against the Western Conference and 3-3-3 against the Pacific Division. … The Bruins, who are 2-for-29 on the power play over the last 10 games, lead the league with a 26.3% power play success rate at home. … Following tonight's game, Boston embarks on a six-game road trip through Winnipeg, Minnesota, Detroit, Columbus, Nashville and Dallas. … The Bruins have played past regulation in three straight games and four of their last six (two shootout wins, one overtime win, one overtime loss). … With 198 career goals, Loui Eriksson is two goals shy of 200. … With 498 career victories, Claude Julien is two wins shy of 500 and with 379 wins in Boston, is eight wins shy of tying Art Ross as the club's all-time coaching wins leader. … 12 of Brad Marchand's 24 goals have given the Bruins the lead. … Since the start of the 2011-12 season, Patrice Bergeron leads the NHL with a +108 rating, while Brad Marchand ranks second at +107. … Zdeno Chara's career +195 rating leads all active defensemen.