Los Angeles Kings (31-16-3) vs Anaheim Ducks (23-18-7)
Thursday, February 4, 2016, 7:00 p.m. PT
Staples Center, Los Angeles, CA
Referees: #17 Frederick L'Ecuyer, #4 Wes McCauley
Linesmen: #66 Darren Gibbs, #82 Ryan Galloway
NBCSN, KABC 790 AM, I Heart Radio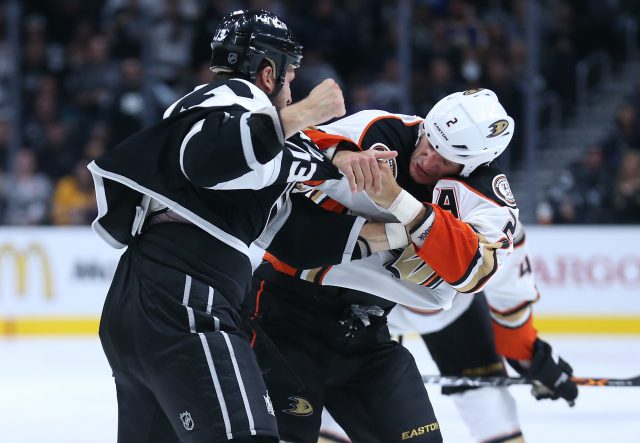 Los Angeles Projected Starting Goaltender – Jonathan Quick
2015-16: 42 GP (42 GS) / 27-13-2 record / 2.19 GAA / .919 Sv% / 3 SHO
Career vs Anaheim: 30 (30) / 15-7-6 / 2.46 / .908 / 1
Last Game vs Anaheim: 1/17/16 / 60 MP / 30-32 shots / 3-2 W
2015-16, Home: 24 (24) / 14-9-1 / 2.28 / .908 / 1
Anaheim Projected Starting Goaltender – John Gibson
2015-16: 21 GP (19 GS) / 11-7-2 record / 1.91 GAA / .923 Sv% / 4 SHO
Career vs Los Angeles: 3 (3) / 2-1-0 / 2.33 / .911 / 0
Last Game vs Los Angeles: 1/17/16 / 60 MP / 23-26 shots / 2-3 L
2015-16, Away: 7 (6) / 3-2-1 / 1.96 / .918 / 2
2015-16 Los Angeles Leaders
Total Points: Anze Kopitar (13-31=44)
Goals: Tyler Toffoli (22-15=37)
Assists: Anze Kopitar (13-31=44)
Plus/Minus: Tyler Toffoli (+23; 22-15=37)
Penalty Minutes: Brayden McNabb (61; 2-5=7)
Time On Ice: Drew Doughty (27:59; 10-20=30)
Corsi-For Percentage: Nick Shore (60.1%; 3-5=8)
2015-16 Anaheim Leaders
Total Points: Corey Perry (20-14=34)
Goals: Corey Perry (20-14=34)
Assists: Ryan Getzlaf (3-29=32)
Plus/Minus: Josh Manson (+4; 2-3=5)
Penalty Minutes: Kevin Bieksa (61; 2-7=9)
Time On Ice: Cam Fowler (22:34; 3-9=12)
Corsi-For Percentage: Hampus Lindholm (57.4%; 4-8=12)
Rankings and Statistics
Goals/Game: LAK – 11 / 2.66; ANA – 30 / 2.13
Goals Against/Game: LAK – 3 / 2.26; ANA – 7 / 2.31
Power Play: LAK – 4 / 21.5%; ANA – t-14 / 18.3%
Penalty Kill: LAK – 10 / 82.8%; ANA – 1 / 89.8%
Shots/Game: LAK – 3 / 32.1; ANA – t-10 / 30.5
Shots Against/Game: LAK – 6 / 28.0; ANA – 3 / 27.5
Faceoffs: LAK – t-20 / 49.7%; ANA – 3 / 51.5%
Save Percentage: LAK – t-6 / .919; ANA – 13 / .916
Corsi-For Percentage: LAK – 1 / 56.2%; ANA – t-3 / 53.3%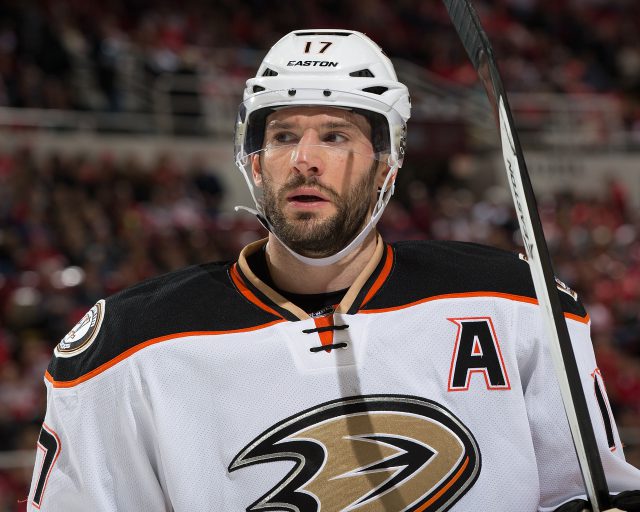 Los Angeles Projected Lineup
Milan Lucic – Anze Kopitar – Dustin Brown
Dwight King – Jeff Carter – Tyler Toffoli
Marian Gaborik – Vincent Lecavalier – Trevor Lewis
Kyle Clifford – Nick Shore – Tanner Pearson
Jake Muzzin – Drew Doughty
Alec Martinez – Luke Schenn
Brayden McNabb – Jamie McBain
Jonathan Quick
Jhonas Enroth
Notes and milestones: Los Angeles is 55-44-24 all-time against Anaheim, a record that includes a home record of 33-17-11. The Kings are 1-0-0 against the Ducks this season, with games remaining at Honda Center on February 28 and at Staples Center on March 5 and April 7. Eight of the last 10 regular season games in the series have been decided by one goal. … Los Angeles is 18-10-1 against the Western Conference and 11-6-0 against the Pacific Division. … The Kings have scored 27 goals over their last nine games (3.00 G/gm). Over that span their power play is 9-for-29 (31.0%). They have given up 25 goals over the last nine games (2.78 GA/GM). … Anze Kopitar has 37 points (8-29=37) and leads the NHL with 29 assists since November 20. He has 54 points (22-32=54) in 51 career games against Anaheim and ranks second amongst NHL forwards with a TOI/GP of 21:09. … Vincent Lecavalier now has five goals and seven points in 11 games since joining Los Angeles. … Dustin Brown has 21 goals in 63 career games against the Ducks. … Los Angeles will wear its road white jerseys tonight.
Anaheim Projected Lines
David Perron – Ryan Getzlaf – Chris Stewart
Patrick Maroon – Rickard Rakell – Corey Perry
Andrew Cogliano – Ryan Kesler – Jakob Silfverberg
Ryan Garbutt – Nate Thompson – Mike Santorelli
Cam Fowler – Kevin Bieksa
Hampus Lindholm – Josh Manson
Simon Despres – Sami Vatanen
John Gibson
Frederik Andersen
Notes and milestones: Lines via Eric Stephens of the OC Register … The Ducks are 11-3-1 in their last 15 games and have won four straight since a loss to Los Angeles on January 17. … Anaheim has yielded a franchise-low 111 goals through 48 games. … The Ducks are 8-1-2 in their last 11 regular season games versus the Kings. … Anaheim has killed off 15 consecutive power plays and is 49-for-51 (96.1%) since December 27. The Ducks allowed a power play goal to Vincent Lecavalier in the teams' prior meeting. … Ryan Kesler ranks fourth in the league with a 57.4% faceoff percentage. … Corey Perry has points in four straight games (3-3=6). … John Gibson leads the NHL with a 1.91 goals-against average. … Andrew Cogliano has played in 670 consecutive games, the most amongst active players. Doug Jarvis holds the NHL record for most consecutive games played with 964, set between October, 1975 and October, 1987. … Anaheim will wear its alternate orange jerseys tonight.