Boromir would be an excellent hockey analyst. One does not simply walk into the Shark tank, without Milan Lucic, on the back-end of a six-in-nine, with an understudy in goal and the home team playing its best hockey of the year, and expect to beat the Sharks 3-0. And the Kings didn't do that. They did win 3-2 in overtime, though, in a display that marked one of their finer, if expectedly imperfect road performances of the year. Those who only judge a team's effort by the scoreboard were huffing and puffing after 40 minutes last night, when really the Kings had etched together a perfectly acceptable two periods against an opponent near the top of its game. They dominated the run of play in the first period, but couldn't beat Martin Jones, who was very solid early. A narrow decision in the second period went to the Sharks, but again, see Boromir's analysis. L.A. was playing fine, and other than a poor line change, wasn't giving up much in the Grade A/B+ category in five-on-five play. The third period contained the level of chaos more befitting of a Kings-Coyotes game, and credit San Jose for maintaining its attack even as it lead 2-1. Also credit the Kings' penalty killing unit, which was perfect against a traditionally strong and more recently whirring Sharks man advantage, Jhonas Enroth, who was very good despite logging one game in the previous month, Drew Doughty, who scored a huge power play goal after a Mike Brown head shot, Vincent Lecavalier, who equalized in the third period's waning seconds, and Marian Gaborik for replicating his Levi's Stadium dagger. That's not a bad result at all to complete a six-games-in-nine-nights stretch.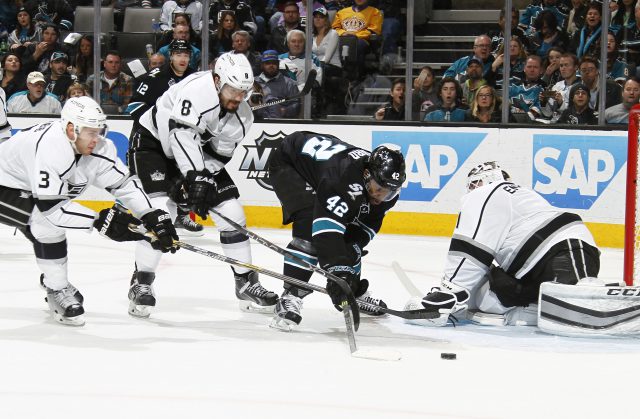 We'll revisit this in the upcoming Islanders-Rangers back-to-back next month, but Los Angeles has now claimed 15 of a possible 16 points on the second night of its back-to-back stretches this season, in which they're 7-0-1. That's a fine record that's especially telling considering some of the opponents they've faced on those second nights. They won 3-0 in St. Louis, 3-1 in Florida (which was opened by perhaps their finest first period of the season), 3-1 versus Tampa Bay, 3-2 in Anaheim and now 3-2 in San Jose. I'll ask the players and Darryl Sutter what has precipitated these results, but the commonality appears to be the ability to keep the puck out of their own net. Coaching and a strong, self-policing constitution don't exactly hurt.
I've read comments on this site and elsewhere criticizing Darryl Sutter's line juggling as the reason behind the team's decreased win rate in January (which is still a not exactly slump-tastic 6-4-1). The numbers actually indicate that the team has been better possession-wise since Sutter has been moving players around in attempt to spur some production out of several wingers and integrate Vincent Lecavalier and Luke Schenn in the lineup. Prior to the new players' arrival, the Kings directed 55.8% of 5×5 shot attempts towards an opponent's net (with a 99.8% PDO qualifier), and since Lecavalier and Schenn have been brought on board, they have directed 56.7% of shot attempts towards the attacking net (with a 96.8% PDO). If there has been a drop-off in play in any category since the turn of the calendar year (which isn't particularly jarring, as the team, again, is still above .500 in January), it has been because Jonathan Quick has dropped from Outstanding to Just Pretty Good this month, and the penalty kill is operating at 77.8% in 2016. The five-on-five play has been fine. Keep in mind that Los Angeles' style of play does not lead to a high shooting percentage, and there stretches at times, as indicated by the last five years, in which the puck just doesn't find the back of the net.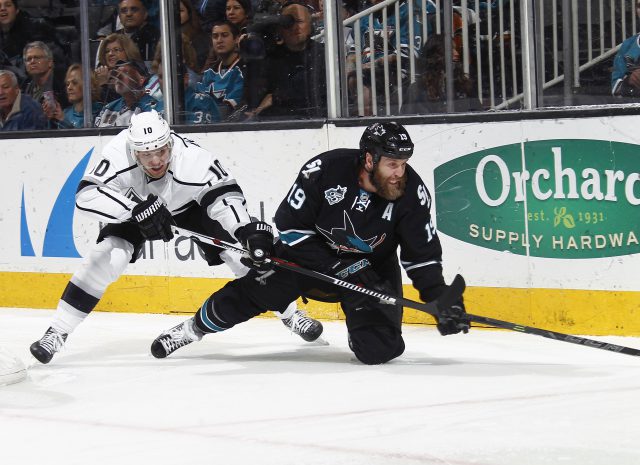 -Advanced stats via War-on-Ice