Several abbreviated thoughts from last night's 3-2 loss in Glendale:
-The Kings were plagued by a poor start that forced them to chase the game. Outshot 13-5 in the first period and having ceded a Shane Doan goal shortly after the conclusion of a penalty kill, Los Angeles allowed a bevy of high-grade Arizona chances that Jonathan Quick admirably fought off to keep the team within striking distance. The Kings struggled to advance the puck against a high-octane Coyotes forecheck in the first period and were not the victors in most of the 50/50 puck battles, though they did improve as the game progressed and etched out a quality second period that they exited tied. The backbreaker came on a mistake to begin the third period when rookie Jordan Martinook gloved a puck lofted high in the air by Doan and with a full head of steam used a straight line to navigate past Drew Doughty before beating Jonathan Quick with a nimble forehand-backhand breakaway goal for the game-winner.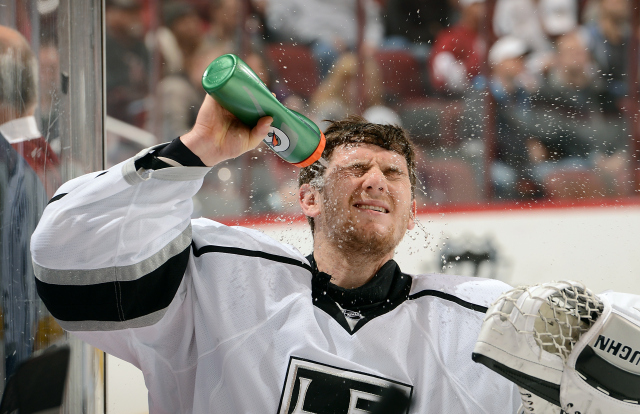 -I've seen a goalie attempt to backhand the puck behind his own net and inadvertently score an own goal, but I've never seen one use their hands to remove a mask while looking for an interference call or to call attention to a dislodged strap. It was a learning experience for Louis Domingue, and it cost Arizona the lead in the second period. It appeared to be judged that incidental contact was made when he and Tanner Pearson converged on the same spot, but Domingue simply can't give up on that play and look to the officials. It's a moot point, but would a delay of game penalty have been assessed when he removed his mask had Shore not scored?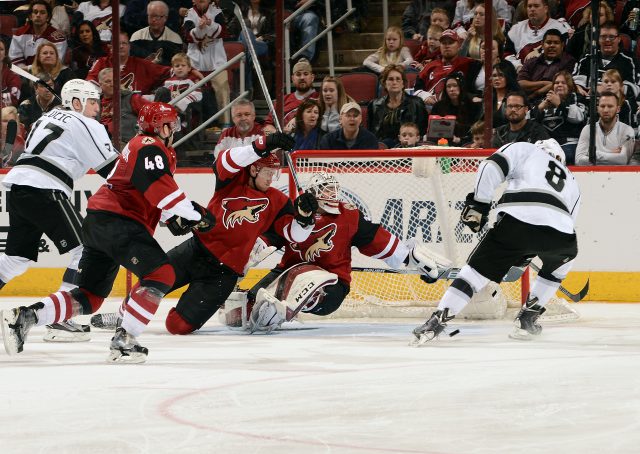 -Even though there wasn't any real controversy on that play – perhaps a trip or an interference call could be made on Pearson, but I haven't seen any replay to show definitive proof of a penalty (Oliver Ekman-Larsson obscured the camera's view in a FOX Sports Arizona replay that would have provided the best vantage point) – the Kings were going to be dealing with a pair of referees getting their lungs ready to blow the whistle at the most minor of Kings infractions. Hey, what do you know! 56 seconds later, Luke Schenn was assessed a hooking penalty on a call that, if we're being generous, was of the borderline variety. The Coyotes scored on the ensuing man advantage, but the Kings were going to have to be extraordinarily tight in avoiding those situations following the goal, and they weren't. Also, the penalty killing units still had to come up with a big kill and was unable to as Max Domi found Ekman-Larsson with a slam dunk off a terrific cross-slot saucer pass. Los Angeles' kill is just 24-for-32 in 2016, which represents a seasonal low point.
-For the vast majority of the season, Milan Lucic has effectively channeled his emotion while helping this Kings team immensely. Other than an opening night match penalty that did not feature any additional discipline and a pair of fights in back-to-back games against Darnell Nurse and Brandon Bollig (which shouldn't be held against him), he has 11 minor penalties to his name and had avoided situations such as the one last night with Kevin Connauton. He's been very good, and his emotion has been a boon to the team. As difficult as it sounds in the aftermath of a hard, two-handed slash, you can't punch an unsuspecting player in the face, though, and there will be supplemental discipline. It's too bad, because Lucic has by and large avoided the type of extracurricular activity with the Kings that for better or worse has been tied to his standout career. There's more to come on this shortly…