Good afternoon from El Segundo, where there wasn't much to report from on the ice today. As you'll see quite a bit at this time of the year, if there's one full day at home between games, the full team won't necessarily skate and will instead watch video, meet with coaches and work out. This was one of those days, as Jhonas Enroth, Kyle Clifford, Christian Ehrhoff and Jordan Nolan took the ice with Rob Blake, Bill Ranford and Mike O'Connell. They were soon joined by…Matt Leinart!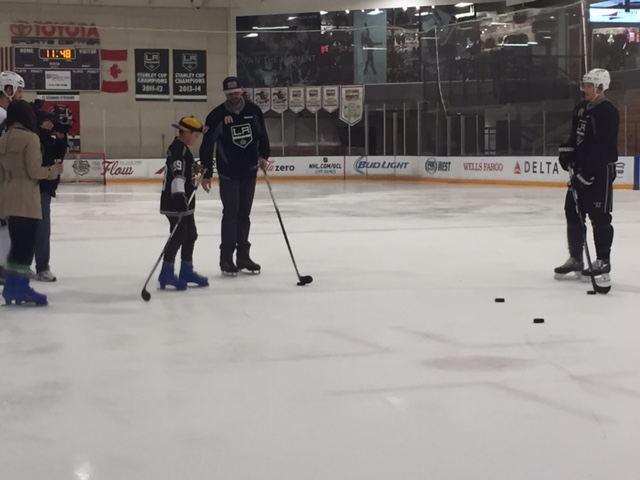 Despite hailing from Orange County, Matt and his son are big Kings fans and took the ice to tape a segment that will air during next week's Kings Weekly. Oof, my pride.
There wasn't as much to report on other than the Leinarts taking the ice. As noted yesterday, Kyle Clifford is continuing to work his way back to game shape, and other than having to build up his conditioning, he feels fine. He's getting close.
Darryl Sutter, on the other hand, provided a great amount of content. He thoroughly covered several interesting topics, including Tyler Toffoli's play and the use of plus/minus as a statistic. His quotes are below; be on the lookout for a Toffoli story later this afternoon.
Darryl Sutter, on the changes between the first and second periods Tuesday night:
We needed to try and play below their goal line more. The first period last night, we didn't have too many touches below their goal line, which means that we're not skating. A lot of it came after Jeff drew a penalty with his speed. It's still our top guys. Once our top guys got going last night, we were better. We had some guys struggle the whole night, but we kind of just battled through it and I kind of was careful how much they played. I think the Kopitar line gave us a lot again last night. I liked Jeff and Tanner and Vinny.
Sutter, on Tyler Toffoli developing his 200-foot game:
I think he was drafted as a really good two-way player. I've said that before. He was a great penalty killer in junior, he lead the Ontario league in shorthanded goals, and if you look at the last year that he played in junior, the line he played on with Monahan and the Prince boy who played the other night, it was a pretty high-end line. They played 18 or 20 games in the playoffs his last year of junior. Hey, he's a more mature player now. He's following the same path that we want. Look at a boy like Mike Mersch. The same path, the very same. Tanner – the very same.
Sutter, on Toffoli's plus/minus rating, and whether he puts stock in that stat:
He's played a complete game. He plays with good players. It means you're on the ice for a lot of goals for. … You know, everybody says, 'well, that's not a real stat.' It's a real stat. For sure it is. If you look at a team like ours, when you're always good in goals for and against differential and you do that mostly five-on-five, not four-on-four or three-on-three – you do it mostly on that – it's a pretty telling stat. So if you've got guys on the right side of the ledger that are high and guys that aren't, there's a difference in what you're getting out of those players in terms of quality when you have the puck or the other team has it, for sure. I would say an overview of Tyler, he was that last year too, before he got sick and his game dropped off and it was hard to get his energy back. But I'd say the biggest difference in Tyler's development is just his training. His skill set hasn't changed, he's better trained, so he's a stronger player and he's probably a little step quicker in situations that only we would recognize or if he's fighting somebody off or putting somebody on his back or getting inside on a defenseman – things like that. It doesn't happen by accident, or 'he was lucky.' That doesn't happen in our game now. There's very little luck involved because of the evenness of it all. They say the 'parity in teams,' well, there's parity in who you play against, too. I'm able to for the most part play him more because of that. If you could see the biggest difference in his game in the last few years, it's who he's on the ice against and situations he's used in. So, if you look at the last few games, his minutes, they're pretty much tied to Kopi. Other than Kopi faceoffs, he's pretty much tied to him. So you're looking for the quality, and if he can handle it, then you can give him more.
Sutter, on Minnesota's fundamentally sound play:
Yeah, they're a fast team. The puck works really well for them. You can speed your game up, but what'd you do with the puck? They do it as a group of five really well. They play a game, quite honest, it's division-related. You want to emulate the best team in the league, you emulate the Chicago Blackhawks. So, in their division, they try and emulate Chicago. It's really close.
Sutter, on preparing for strong offensive and defensive teams this week:
If you make your team aware of the different types – especially when you think about the last two games, we hadn't played those teams this year. So that should be important, and also, when you say 'we haven't played 'em,' well, we have players who have played 'em very little in their careers, if you look at those teams. Knowing personnel is what you have to make sure guys know, and a little bit of system play because they are totally different styles – Dallas and Anaheim, totally. They're like at each end of the spectrum in terms of style of play