Los Angeles Kings (28-13-3) vs Dallas Stars (29-12-5)
Tuesday, January 19, 2016, 7:30 p.m. PT
Staples Center, Los Angeles, CA
Referees: #33 Kevin Pollock, #47 Trevor Hansen
Linesmen: #74 Lonnie Cameron, #91 Don Henderson
Fox Sports West, KABC 790 AM, I Heart Radio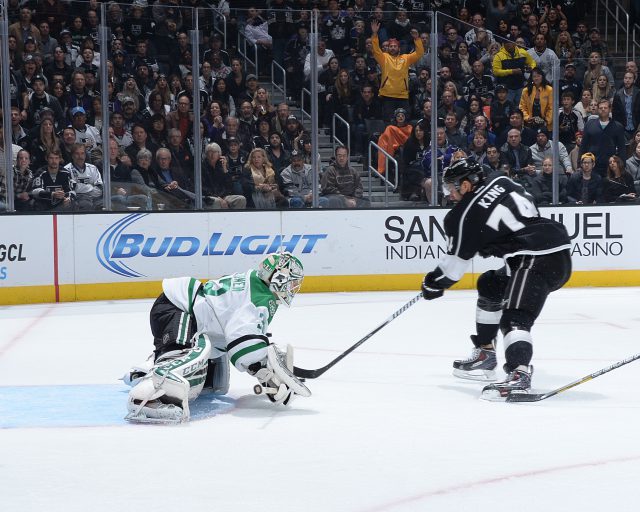 Los Angeles Projected Starting Goaltender – Jonathan Quick
2015-16: 37 GP (37 GS) / 25-10-2 record / 2.10 GAA / .923 Sv% / 3 SHO
Career vs Dallas: 25 (24) / 16-7-2 / 2.44 / .913 / 2
Last Game vs Dallas: 11/22/14 / 59 MP / 18-23 shots / 4-5 L
2015-16, Home: 21 (21) / 13-7-1 / 2.18 / .912 / 1
Dallas Projected Starting Goaltender – Kari Lehtonen
2015-16: 21 GP (20 GS) / 13-4-0 record / 2.80 GAA / .909 Sv% / 1 SHO
Career vs Los Angeles: 22 (22) / 12-8-1 / 2.52 / .916 / 2
Last Game vs Los Angeles: 11/21/14 / 60 MP / 37-41 shots / 5-4 W
2015-16, Away: 11 (11) / 7-2-0 / 3.09 / .903 / 0
2015-16 Los Angeles Leaders
Total Points: Anze Kopitar (13-25=38)
Goals: Tyler Toffoli (22-13=35)
Assists: Anze Kopitar (13-25=38)
Plus/Minus: Tyler Toffoli (+26; 22-13=35)
Penalty Minutes: Brayden McNabb (57; 2-5=7)
Time On Ice: Drew Doughty (27:57; 7-18=25)
Corsi-For Percentage: Nick Shore (61.6%; 2-4=6)
2015-16 Dallas Leaders
Total Points: Jamie Benn (26-30=56)
Goals: Jamie Benn (26-30=56)
Assists: John Klingberg (6-32=38)
Plus/Minus: Jamie Benn (+17; 26-30=56)
Penalty Minutes: Antoine Roussel (65; 7-8=15)
Time On Ice: Alex Goligoski (23:32; 3-17=20)
Corsi-For Percentage: Mattias Janmark (56.0%; 10-8=18)
Rankings and Statistics
Goals/Game: LAK – 13 / 2.64; DAL – 1 / 3.30
Goals Against/Game: LAK – 2 / 2.20; DAL – 18 / 2.65
Power Play: LAK – 6 / 21.1%; DAL – 4 / 22.2%
Penalty Kill: LAK – 10 / 82.2%; DAL – 19 / 79.7%
Shots/Game: LAK – t-1 / 32.1; DAL – t-1 / 32.1
Shots Against/Game: LAK – 6 / 28.2; DAL – t-13 / 29.5
Faceoffs: LAK – t-18 / 49.9%; DAL – 8 / 51.1%
Save Percentage: LAK – 4 / .922; DAL – t-20 / .910
Corsi-For Percentage: LAK – 1 / 56.1%; DAL – 6 / 52.6%
Los Angeles Projected Lines
Milan Lucic – Anze Kopitar – Tyler Toffoli
Tanner Pearson – Vincent Lecavalier – Jeff Carter
Dwight King – Trevor Lewis – Dustin Brown
Andy Andreoff – Nick Shore – Marian Gaborik
Brayden McNabb – Drew Doughty
Alec Martinez – Luke Schenn
Jake Muzzin – Jamie McBain
Jonathan Quick
Jhonas Enroth
Notes and milestones: Los Angeles is 84-101-40 all-time against the Dallas franchise, a record that includes a home mark of 50-40-22. The Kings are 4-5-1 in the last 10 home games against the Stars and 4-6-0 in the last 10 games overall. Dallas has won the season series for three consecutive years. These teams will conclude the season series with games on March 15 at American Airlines Center and April 2 at Staples Center. This is the first Kings-Stars meeting since November 22, 2014. … Los Angeles is 15-7-1 against the Western Conference and 6-2-1 against the Pacific Division. … Jake Muzzin has points in a career-long seven games. According to Elias Sports Bureau, this is the longest point streak by a Kings defenseman since Lubomir Visnovsky recorded a nine-game streak (1-11=12) from December 10-28, 2005. … Tyler Toffoli, who leads the league with a plus-26 rating and is tied for sixth with 22 goals scored, has goals in three straight games (3-1=4). He is yet to record a point in six career games against Dallas. … Anze Kopitar has points in three straight games (3-5=8) and 18 points (4-14=18) in the last 11 games. … Milan Lucic extended has assists in four straight games (0-5=5). … Jonathan Quick is 16-3-2 with a 1.80 goals-against average and a .932 save percentage over his last 21 games (1300:05 minutes / 575 SA / 536 SV), dating back to the 3-1 win at Florida on November 23. … With 456 career points (211-245=456), Dustin Brown is one point behind Mike Murphy (457 points) for 11th place on the franchise's all-time list. In his last eight games, he has no points, a minus-three rating and 13 shots on goal.
Dallas Projected Lines
Jamie Benn – Tyler Seguin – Jason Spezza
Valeri Nichushkin – Cody Eakin – Patrick Sharp
Antoine Roussel – Mattias Janmark – Ales Hemsky
Travis Moen – Vernon Fiddler – Patrick Eaves
Alex Goligoski – John Klingberg
Johnny Oduya – Jason Demers
Esa Lindell – Patrik Nemeth
Kari Lehtonen
Antti Niemi
Notes and milestones: Lines via Mike Heika of the Dallas Morning News … Jordie Benn (lower-body) will not play tonight, which opens the door for highly touted defensive prospect Esa Lindell to make his NHL debut. Lindell, who stands 6-foot-3 and weighs 215 pounds, totaled 25 points (7-18=25) and a plus-nine rating for AHL-Texas this season. … The Stars, who started 26-7-2, are 1-4-2 in their last seven games and conclude a three-game California trip having lost seven straight road games (0-4-3). They have won six of their last eight games at Staples Center (6-1-1). … Patrick Sharp has 36 points (20-16=36) in 31 career games against Los Angeles. … Since the start of 2013-14, Dallas has gone 34-11-8 against the Pacific Division. … Jamie Benn's 17.7% shooting percentage ranks fourth amongst all players who have taken at least 100 shots. The reigning Art Ross Trophy winner ranks third in the league with 26 goals, second with 56 points and second with 12 power play goals. … Tyler Seguin ranks third in the league with 53 points and fourth with 24 goals.