The Los Angeles Kings were 4-2 winners over a previously streaking Detroit Red Wings in a game that was more emotional than your typical cross-conference Monday night affair. They got on the scoreboard early when Anze Kopitar fed Tyler Toffoli for a two-on-none tap in after Mike Green dove in an attempt to poke the puck away from Kopitar, but the recipe for that goal began in the 30 seconds prior. Luke Schenn made two big defensive zone hits to take away offensive zone time and rhythm after the Red Wings had gained some momentum from an early power play in which they had moved the puck around quite well. Schenn shoved top rookie Dylan Larkin off the puck before sending it around the boards, where Milan Lucic made a good play to protect it from Brendan Smith and play it up to a streaking Kopitar, who led the rush. Though Detroit scored twice in the final five minutes of the period, Los Angeles outshot the visitors 21-8 in the 37:01 that elapsed between Toffoli's goal and the end of the second period. Kopitar was shooting the puck all night, and while he'll be commended for his toe drag leading to Toffoli's goal and the beautiful power play short-side snipe past a Lucic-screened Jimmy Howard, his zone entry that led to Alec Martinez's game-winning goal – a shot that Howard needs to stop in a tied game – was a beautiful, one-on-three stickhandling-through-traffic entry in which he danced towards his soft spot along the left wing boards, waited for his teammates to catch up and gain the zone, and fed Drew Doughty, who issued Martinez the puck for the go-ahead blast.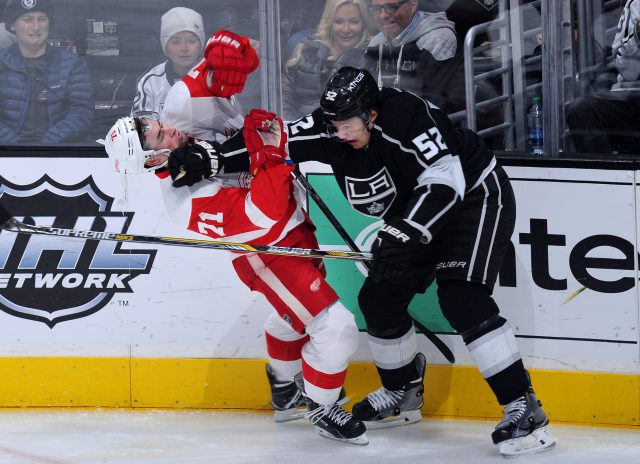 There are some decisions that will have to be made in the coming weeks as Kyle Clifford makes strides towards returning from the upper-body injury suffered when he was elbowed in the face by Tampa Bay's Victor Hedman on December 6. Michael Mersch and Nick Shore wouldn't have to clear waivers to be assigned to AHL-Ontario, but both have played well enough to remain up with the club. Darryl Sutter said that he had inserted Shore back into the lineup to infuse a little bit of energy into the lineup after believing the team's supply had dipped in the game prior, and Mersch tied with a game-high four shots on goal. Also impressive: Mersch led all forwards with a plus-11 shot attempt differential in 11:30 of ice time, while Shore was a plus-10 in 11:21. It's possible that the team could choose to assign Mersch to Ontario temporarily – you may recall the multiple Slava Voynov assignments in the 2011-12 season when he was clearly NHL-ready – while the status of other personnel is addressed. Also, keep in mind that injuries are frequent, and the outlook could change completely after Saturday's game against Ottawa. But one of the stories to follow in the coming weeks, should the team not be beset by injuries, is how they plan on addressing the roster with Clifford inching towards an eventual return.
Along with Mersch, the newcomers did their part on Monday. Schenn finished tied with a game-high four hits, which included the two on the shift that concluded with Toffoli's tap-in. He logged 20:59 of ice time, which is a step above the usage afforded by Jamie McBain's presence in the lineup. Vincent Lecavalier won 13-of-16 faceoffs. It'll be interesting to see how their usage evolves on the road, but early returns from last week's trade are positive.