There are four players on this Los Angeles Kings blue line who average at least 20 minutes per game, and Alec Martinez, at the elder age of 28, is the senior statesman.
"The age isn't anything," said his defensive partner Jake Muzzin, who at 26 is the next oldest blue liner in the top-four.
"It's just he's been here for the ups and the long runs we've had and the Cups and stuff like that, and you know he's mature, he knows how to play every night and to come to the rink every day," Muzzin said. "He's a good pro."
He's a good pro, a good teammate, and if you've set foot in the Kings' room, you've probably heard him needling and going back and forth with teammates while displaying the confident and good-natured jocularity that makes an 82-game schedule all the more tolerable.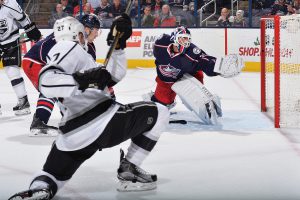 On the ice, his play has taken a step forward this season. That can be said about all Los Angeles defenders who earn at least 20 minutes a game, but when speaking with those in hockey operations and on the coaching staff about the player they've been impressed with the most this season, Martinez's name is referenced quickly.
"I think in the past he'd settle into the fifth defenseman role – that's just the way our team was built – and he became very good at it, and I don't know what kind of contributor he was in that role," Associate Coach John Stevens said of Martinez's growth. "I think he's a player that's taken advantage of an opportunity. We've asked him to move up and take on more minutes, and with his experience he came in extremely well-trained and he's worked on becoming more and more fit, more and more explosive, and it allows him to play bigger minutes against top guys, and I think it's really helped his consistency as a player, so he's really proven through the first half of the year that he's handled that extra responsibility to play against top guys all of the time and do a good job for us, so I'm just happy that he's taken advantage of the opportunity that was presented to him."
Martinez already took a step forward in his minutes last season, when his usage jumped from 15:41 in 2013-14 to 19:56 in 2014-15. This year he's earning 21:38 of ice time per game, nearly a six minute increase in the span of two years.
Interestingly, as his minutes have increased and he has faced other teams' top players, his ability to drive play towards the attacking net has leveled off. Last season was the first in his career in which he posted a negative Corsi relative to his teammates, and that rate has fallen to -5.3% this season. Those numbers should be taken with a grain of salt and are an indication that the possession metrics, while valuable, don't tell a complete story.
"If you look at every player on our team, we're trying to get better in a lot of different areas, and Marty's no different," Stevens said. "We need Marty to be a better defender down low all of the time, get plays sealed off. He's always been a good defender on the rush, he's always been good at getting up the ice, he's probably getting increased minutes on the penalty kill this year as well, so he and Muzz are probably the two guys that have really been asked to do a lot more in those situations, and I think if you'd ask them, they're excited for the opportunity and they're ready for it and they're making the most of it, but he's no different than any other player. Where he's gotten better at all parts of his game – he's become a better defender, a more firmer guy down low, and I think that's attributed to a lot of his consistency."
His teammates have certainly taken notice.
"I think he's underrated to be honest by the league and everyone, but I don't think he looks for attention anyway," Muzzin said. "He's a strong, strong skater, strong in battles, he's physical. That, a lot of people don't see. He moves the puck well, he's got a hard shot, so he's got a lots good stuff and we're just kind of feeding off of each other right now in certain plays and it's been working out."
Jake Muzzin, on Alec Martinez's leadership:
Yeah, you lead on the ice and you lead in the room, and he's been around lots and been through everything, and he's an older guy now, and he's kind of a staple of the D corps here. He's doing it all right now and it's exciting.
Muzzin, on how their roles evolve when playing together:
You know, we've kind of both been doing everything. He's been chipping in on the power play, we've been good on the penalty kill, then I get one on the power play and stuff like that, so I mean it's just been – actually, I haven't scored on the power play – but you chip in offensively and then he chips in offensively. He's just been doing it all. We're feeding off of each other, we've got to be a sturdy pair, you know? And one that coaches can rely on to go out there and get the job done.
-possession metrics via War-on-Ice