Edmonton is a terrific hockey town, and for 449 games between 1987-96 and including the 1999-00 season, Bill Ranford experienced the fervor firsthand from the goal crease.
"I think [the environment is heightened] because it was somewhat of a small market team, a small town," said Ranford, who won Stanley Cups in 1988 and 1990 and was presented with the Conn Smythe Trophy in the latter of those two championship runs. "You're a part of it. You're involved in charities. You're recognized throughout the city. You just a feel a part of it, and the fans are a big part of that."
Next year, the Oilers and Edmonton Oil Kings will move into Rogers Place, which is on the north end of downtown and will accommodate between 18,000 and 19,000 spectators for hockey. Rexall Place faces an unclear future, though there is the possibility of refurbishment. At the moment, it is the second oldest rink in the league, behind only Madison Square Garden. As the Garden recently underwent a $1-billion renovation, only Rexall Place and Detroit's Joe Louis Arena are the current NHL arenas that that give off an atmosphere reflective of a previous era in hockey. Joe Louis Arena is slated to be replaced in the 2017-18 season, which would leave the Scotiabank Saddledome (1983), SAP Center (1993) and the Honda Center (1993) as the oldest rinks in the NHL after Madison Square Garden.
Tonight, the Kings will play in their final regular season game at Rexall Place, née Northlands Coliseum and Skyreach Centre, which is probably their final game ever at Wayne Gretzky's old home, barring some Todd McLellan and Connor McDavid magic in the winter and spring months and the aligning of a few constellations.
Former Smythe Division and current Pacific Division rivals, Los Angeles and Edmonton's histories are linked at certain memorable intersections, and to get more of a perspective on the high-octane affairs from the 1980's, I consulted Jim Fox and Miracle on Manchester hero Daryl Evans. For thoughts on more recent contests between the teams, and on the arena's pristine ice surface, I spoke with Dustin Brown and Marian Gaborik.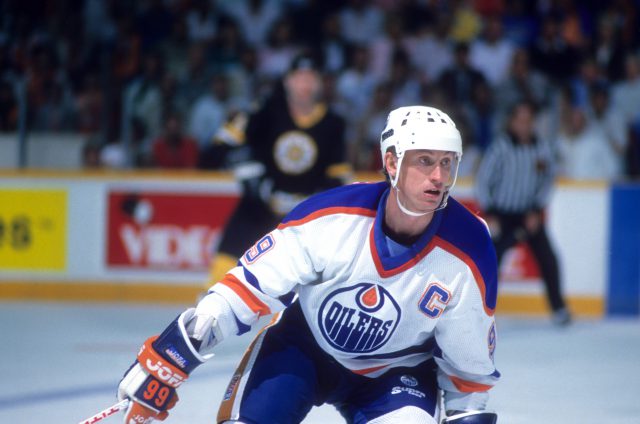 Bill Ranford, on his final regular season visit to Rexall Place:
I've had a lot of good memories here. I played almost 10 full seasons in Edmonton. It's a great hockey city, great fans, and everybody loved playing in Rexall. Always had great ice, lots of excitement, so it's a sad day, but you know what? New traditions are going to start up in the new building.
Ranford, on the sightlines and lighting at Rexall Place from a goaltending perspective:
I think the fact that back in the day it was known for the best ice in the league, from a goalie standpoint, the puck was being shot where it was supposed to be shot, and so I always liked that. The lighting was pretty much the same as it was around all the different buildings, but it's a building I had a lot of fun playing in and enjoyed playing in.
Brown, on whether he takes in the banners and unique histories at opposing arenas:
I think you definitely notice it in certain buildings. Considering how well they did in the 80's, and growing up during that time, I was probably not necessarily an Oiler fan but a Gretzky fan, so it's always neat to look up and see his number and a few of the other guys they have up there.
Brown, on the environment at Rexall Place:
Well, it was really fast ice, and I think a lot of their teams through the years have been based on fast teams. The atmosphere was pretty cool. They haven't had the success that they wanted the last five, six, seven years, but the environment when you come in and play in this barn is always a fun one to play in. They're a young team growing right now and have a lot of high-end skill, so it's important to get after them early.
Marian Gaborik, on the sense of history at Rexall Place:
Definitely there's a lot of history, like you said. The rink, some great players played in that rink, and every time I've played here, it was always full and the atmosphere was always very good, whether their team was good or they weren't good. That's the thing about it here, that it was always full, always packed, and the atmosphere was unbelievable. I really enjoy playing here. So I guess they're going get a new rink, and I don't know if this one will get torn down or what's going to happen with that, but definitely there's a lot of history, and I have some good memories in that rink.
Gaborik, on whether Rexall Place still has one of the best ice surfaces in the league:
I think it is. I think anybody could tell you that, and I think it's one, because it's cold, but the other thing is they take good care of the ice, and it's always been great.