Similar to the game in Montreal, Los Angeles jumped out of the gates in Toronto on Saturday night and through the first five minutes generated high quality scoring opportunities that were turned aside by a goaltender who kept the game even early. Tyler Toffoli nimbly cut to the center of the ice on a three-on-two rush mere seconds after That 70's Line jumped over the boards for their first shift of the game, but Jonathan Bernier made a quality shoulder save on his mid-slot attempt. Bernier also denied Marian Gaborik from in tight on one of his finest saves of the game – out-done only by his second period right pad stop on a Gaborik low-slot redirect that the Kings sniper simply couldn't elevate above the goalie's outstretched right leg – and by the middle of the second period, with the Maple Leafs leading 1-0 despite a majority of chances going the other direction, Toronto found its legs and played its best hockey over the final 30 minutes. A one-nothing lead turned into a two-nothing lead early in the third period, and over the final seven minutes of the game, as the Leafs piled it on, the Kings had one foot on the plane and ultimately lost their most lopsided game of the year to a team that while short on talent and in the throes of a rebuild, has still been producing quality efforts and had established the work ethic necessary to operate under Mike Babcock.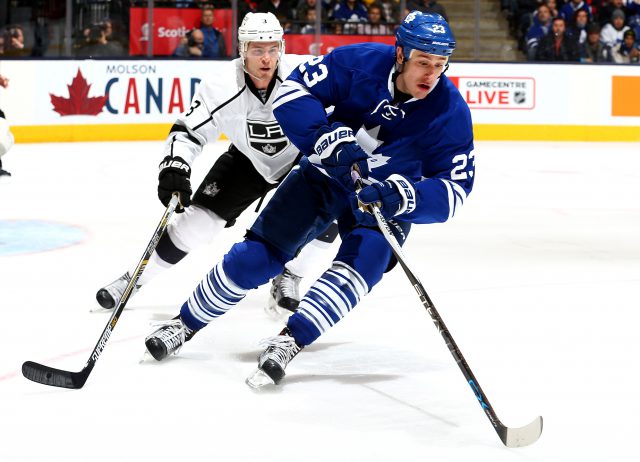 It's interesting. I touched on this a few times yesterday, so forgive any repetition, but of all the teams Los Angeles played on its six-game road trip, Toronto – Toronto! – was probably the team that was feeling the best about its game at the time. Columbus was a fragile group, Pittsburgh was a day away from firing Mike Johnston, Buffalo had returned from a winless Western Canada swing, Ottawa had been called out by Dave Cameron, Montreal had lost five of six, and the Leafs, though they were forced to rely on a winless Jonathan Bernier and were surrendering an amount of goals that keep teams from consistently winning hockey games, were still 2-0-2 in their previous four games. A 3-2-1 trip is fine, and there's a general rule of thumb, as Darryl Sutter pointed out last night, that operating with better than a .500 points percentage on the road will go a ways towards securing a playoff berth. The Kings did so on this trip, but there are still the what-ifs: What if they were able to sneak away from the Sabres with an extra point, or what if they were able to get one or two past Bernier early in Saturday's game and punctuate the trip with a win against a team that isn't exactly gearing up for a playoff run? With losses in three of the last four – a 1-2-1 stretch – Los Angeles has the opportunity to find that exclamation on the first half of the season when San Jose visits on Tuesday. The Sharks will be at the tail end of a four-city, three-time zone trip, so the Kings, should they be able to capitalize on their chances, have an opportunity to take advantage on its opponent's mileage and finish the pre-Christmas slate with a quality win.
Darryl Sutter chose to adjust the lines because of Trevor Lewis' availability, and opted to place Milan Lucic alongside Anze Kopitar and Marian Gaborik once again, sliding Tanner Pearson alongside Jeff Carter and Tyler Toffoli, and dropping Nick Shore with Andy Andreoff and Jordan Nolan. Another impetus for the switch was to continue to cultivate offense from the left side, and when looking at Tanner Pearson, who entered the game with four goals in 31 outings compared to 15 goals in his 67 outings over his prior two seasons in the league, there's certainly another level of production that can be hit. Pearson has most often found that offense alongside Carter and Toffoli, and now that Lucic isn't in the nascent stages of his adjustment to a new coach and a new team, there's the hope that he may be more inclined to develop chemistry alongside the players that management had envisioned he'd play with when the trade was consummated. Lines are often based on opponents and how the players are playing to their capabilities, and it will be interesting to see whether Sutter keeps them intact (he probably will) for Tuesday's game. That the line was a collective minus-12 was more an indication that they had a disastrous third period than any larger issue. Marian Gaborik, who put together an encouraging trip, took eight shots on goal and was the most threatening Los Angeles forward in the game.