Several abbreviated notes before we leave for the rink in Sunrise:
-Though the Kings were an effective five-on-five team on Sunday, they were again plagued by discipline as they took six minor penalties and ceded two power play goals to the league's 30th-ranked unit in a difficult-to-digest 4-3 loss to the Carolina Hurricanes. Darryl Sutter hates those faceoff goals, and with Carolina jumping out in front 3-0 off two goals that directly followed faceoffs and one that followed a faceoff violation penalty to set up an extended five-on-three, Sunday's loss may have been more difficult to digest than most. You can talk about the team's fortitude in battling back to give themselves a chance to earn a better result, but it's tough to find a silver lining when falling behind 3-0 to the team that entered the day with the fewest points in the Eastern Conference. (Carolina, to be fair, is better than their record indicates.)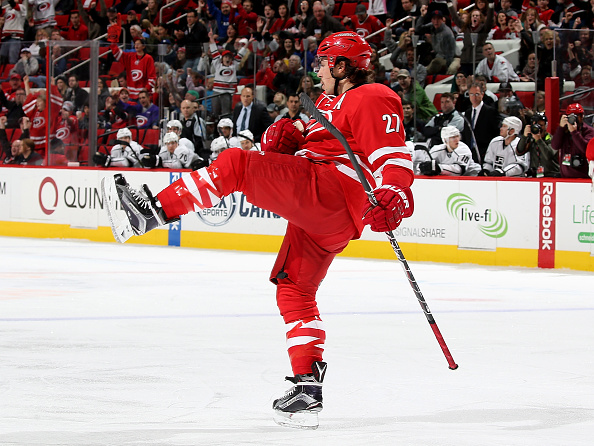 -There are multiple points in any game, but two were the most pivotal. The first came when Noah Hanifin grabbed a puck in or near the crease, corralled it to Cam Ward and was whistled for the rare covering the puck in the crease infraction, which comes with a penalty shot. A more blatant violation of the rule wasn't assessed in the Kings-Coyotes game during the last homestand, nor was one assessed late in the third period of a game Los Angeles ultimately won at Colorado last season. Dustin Brown converted the opportunity by outwaiting Ward and was followed 58 seconds later by an Anze Kopitar interception/snipe off a heavy Marian Gaborik and Milan Lucic forecheck. The second turning point came with the Kings trailing 3-2 and generating quality opportunities late in the second period when Jordan Nolan was rebuffed on a high quality point-blank attempt and subsequently took an offensive zone slashing penalty. On the ensuing power play, Justin Faulk was credited with his second goal by putting a hard shot on net (which followed a nimble job by Hanifin to keep the puck in at the left point) that Quick knocked down before Alec Martinez stepped on the puck and inadvertently put it into his own net. Oy. That's a tough play all around, and you've got to feel for Martinez.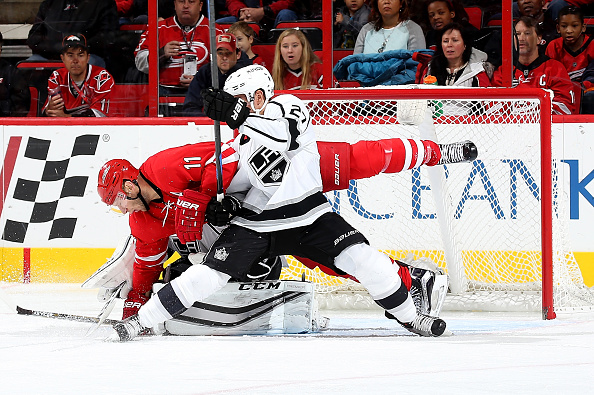 -It'll be interesting to see if Darryl Sutter goes back to Jonathan Quick tonight against Florida, which I expect he will. I agree with Rich Hammond, who said on Twitter that Darryl Sutter was in "full motivating-Quick mode" by replacing Quick with Enroth after 40 minutes. Sutter said that Quick wasn't "good enough," even though only one Carolina goal – the Jeff Skinner bank job from the goal line – was a rough one. Brett Pesce's goal caught a Kings stick and dipped, Justin Faulk's first goal came on a five-on-three bar-down snipe from the top of the right circle, and his second came on the accidental Martinez play. I took Quick's removal from the game after two periods as a means of sparking the team and keeping him fresh for tonight, and his post-game assessment as motivation to stoke a high quality performance that they'll need against Florida.