If the Kings continue their road trip with performances as strong as their Friday night effort at the Joe, they'll probably win at least two of their remaining three games. While Darryl Sutter has memorably said that "It's not always whether you win or lose, it's whether you're winning or losing," – that quote actually followed a well-played loss in Detroit early in the 2012-13 season – "winning" efforts don't automatically equal two points, and against the Red Wings, Petr Mrazek stood out as the game's first star and was one of several reasons Los Angeles couldn't end its road losing streak in the series. There were other reasons: the Kings fell behind by two goals, they dealt with road match-up challenges, they hit posts and crossbars and after controlling the run of play for most of the third period while searching for an equalizer, saw the play even out over a roughly eight-minute stretch prior to pulling Jhonas Enroth. I'm not sure if I've ever seen a "perfect" win, though, and certainly there were more than enough positives to take from Friday that you'd expect Los Angeles to win those types of games, even on the road, more times than not.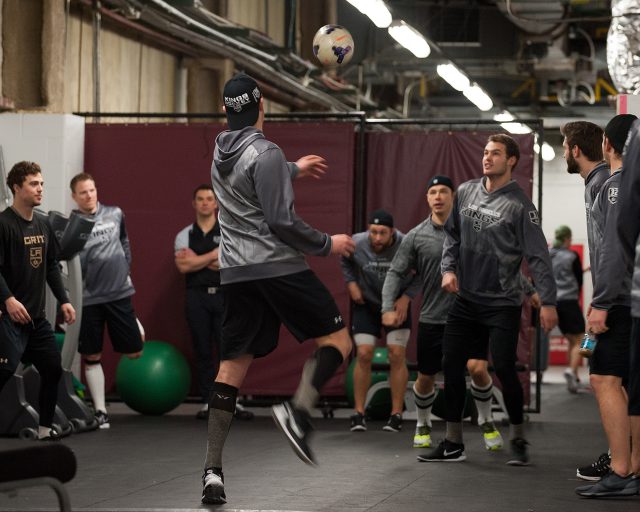 Penalties: Kind of becoming a thing again. Pavel Datsyuk isn't yet up to 100% and Detroit's power play isn't at, say, its 2002 level, but if the Wings are allowed five power plays at home (two technically came on Marian Gaborik's double-minor, and Detroit only registered 5:52 of power play time), there's a pretty good chance they're going to score on one, even if their numbers were suspect entering the game. Gaborik took six minutes of penalties, Drew Doughty took a minor penalty for the sixth consecutive game, and Derek Forbort was whistled for a minor for the second game in a row and drew the type of penalty-related ire from Darryl Sutter after the game that leads one to suspect that Christian Ehrhoff could get a chance in Carolina. There's no real alarm here, just raised attention; there weren't any retaliation penalties, and yesterday morning Sutter provided a nuanced response to a question on discipline that separated neutral zone "hooks and holds" and retaliation from all other infractions.
You didn't need to glance at the scoresheet or any tally of shot attempts or scoring chances to know that Jeff Carter and his line were terrific. Personally, he had two goals, seven shots and eight shot attempts through two periods. The Jake Muzzin-Alec Martinez pairing was also strong, with Muzzin accounting for 11 on-ice scoring chances for and zero against, according to War-on-Ice, and Martinez accounting for nine for and three against. Of all the match-ups that stumbled the most, it was the Kings' fourth line and third defensive pairing, as Jeff Blashill appeared to be intent for two periods on lining up the Henrik Zetterberg and Pavel Datsyuk lines against Andy Andreoff's line, and on consecutive head-to-head match-ups, Zetterberg and Dylan Larkin victimized Andreoff, Jordan Nolan and Derek Forbort with a pair of strikes. That's too bad for Nolan, who appeared to have some good hop in his stride for much of the game.
-advanced stats via War-on-Ice