Thursday's game against the New York Islanders was a hard, even game in which the Los Angeles Kings emerged with a narrow victory because they had the better special teams performance, relied on another standout Jhonas Enroth showing, and scored a grease-covered game-winner off a forecheck that fluttered off Milan Lucic's stick, bounced off Johnny Boychuk's leg and tickled the inside of the post before popping behind Jaroslav Halak. There isn't a great deal much else to add, so I'll just repeat myself: Thursday's game was a hard and even narrow win for the Kings. If you ask Darryl Sutter about the team's goal for this season, it's to be a playoff team, and Los Angeles is now 5-2-0 against teams that made the postseason last spring.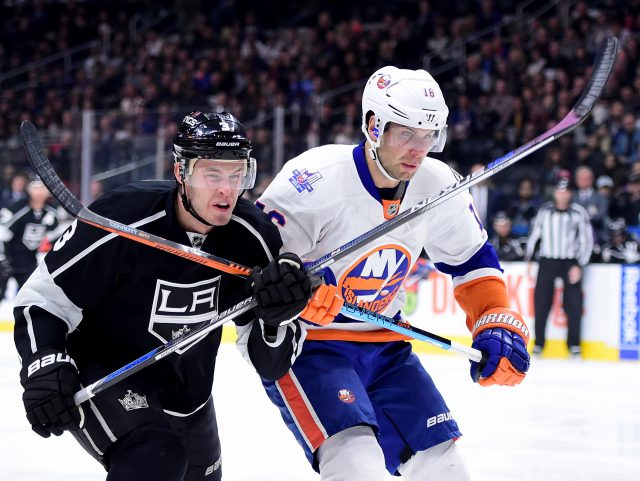 Everything's coming up Milhouse for the Kings' special teams right now. As noted earlier this week, they're getting pucks through on the power play like nobody's business. And that's all well and good, but they're also scoring with the man advantage, which has supplemented a middling five-on-five scoring rate. Los Angeles now ranks eighth on the power play by virtue of a 10-for-29 stretch, while their penalty kill has risen to sixth after having killed off 12 consecutive power plays. Only the Montreal Canadiens, whose 13-2-2 record and plus-29 goal differential are league-bests, rank higher in both the power play and penalty kill totem poles. Also impressive: The Islanders also boasted standout special teams rankings entering Thursday's game – including a third-ranked penalty kill – and the Kings were the clear special teams victors in the win, partly on the back of a third period five-on-three kill.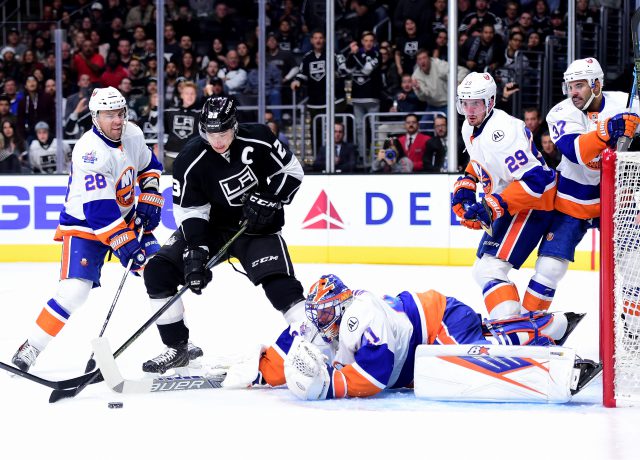 On July 1, Pierre LeBrun reported that Los Angeles made a "strong push" for number two goaltender Thomas Greiss, but Greiss, who has Pacific Division experience, signed with the Islanders. The Kings' Plan B, Jhonas Enroth, is now 3-0-0 and has stopped 94-of-96 shots. That's good. (And, to be fair, Greiss has been good for the Islanders – though Jack Capuano made a classy move to allow J-F Berube to back-up Jaroslav Halak in a game against his former team.) Enroth isn't getting soft starts, either; his three games have come against the rival Sharks, the Blues (both on the road), and the Islanders, who probably emerged from Thursday's game with a sliver of an advantage in five-on-five scoring chances (War-on-Ice gave a narrow advantage to the visitors, with a wider zone-starts discrepancy). It's so important to have two quality options in net in today's game, and even though Jonathan Quick will still get the lion's share of the outings, Thursday's game was the first time Enroth started outside of a back-to-back set, and he produced a 31-of-32 performance. He has given the team a chance to win in all of his preseason and regular season appearances.
There's generally little need for retaliation and getting into situations in which face-punching becomes more likely, but there is A Code in hockey, and it was interesting that the Kings, an experienced, heavy team, didn't respond as retaliatory after Calvin de Haan's cross-check on Tyler Toffoli, or, two weekends ago, Mike Ribeiro's board on Christian Ehrhoff. This is not advocating retaliation, and if anything, is probably the right course of action. In fact, if anything, most teams should probably mimic Los Angeles' response: get a power play, try to make 'em pay. But with such emotion in the game, and with the need to protect teammates and vie to ensure such episodes occur infrequently in the future, it seemed to go against The Code that no white jerseys were grabbed when a player who entered the night tied for the league's goal scoring lead was sent hard into the boards right next to the team's bench. Again, it's just an observation, not a criticism, and anything that jeopardizes players' health should be avoided.