Dustin Brown has played in 785 of a possible 800 games since returning to the Kings full-time after spending 2004-05 in Manchester, so forgive him if he's not as familiar as some with Nick Nickson's radio broadcasts.
"Fortunately enough I haven't had to listen to him work because I've been playing, but from what I gather, it's really enjoyable with him and Darryl," said Brown, who grew up in Ithaca, New York, where Nickson attended college.
"It seems like it would be such a hard thing to do, to describe a game of hockey over the radio."
It is, and Nickson has done so with grace, clarity and consistently appropriate emotion since relocating to Los Angeles to serve on Kings broadcasts beginning in 1981. On Monday the Hockey Hall of Fame presented Nickson with the Foster Hewitt Memorial Award, which annually recognizes those who have "made outstanding contributions to their profession and the game during their career in hockey broadcasting."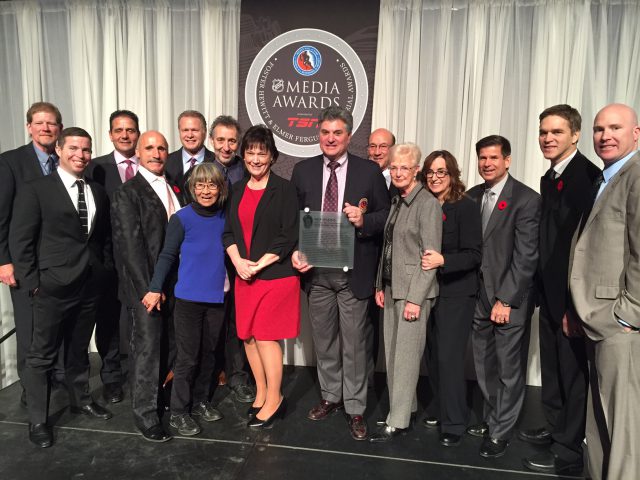 Nickson is the third Kings broadcaster to have been presented with the Foster Hewitt Memorial Award, joining Jiggs McDonald (1990) and Bob Miller (2000). With half of the Kings' play by play and color commentary crew enshrined in the Hall of Fame – 2005 Elmer Ferguson Memorial Award recipient Helene Elliott also pens columns and reports for the LA Times – and with a pair of Stanley Cups hoisted this decade, the Kings, who will celebrate their 50th anniversary next season, have a broadcasting and reporting legacy that has since been accompanied by recent performance zeniths.
"Winning championships helps the guys who travel," Darryl Sutter said. "If you look at the last few years, it does matter. It does resonate."
If players, "builders," broadcasters and athletic trainers are all considered, then Nickson is the 24th person affiliated with the organization whose likeness has been imprinted on a plaque hanging in the Great Hall. It's not quite Montreal, where players don't often wear numbers in the 70's by choice but do so out of necessity, but there are six retired jerseys to go along with the newfound banner collection at Staples Center.
"I think it's one of those milestones that the Original Six are the Original Six, and there's something special about that, but I think every team, every organization is looking to build history, and we've been fortunate enough to do some good things here over the last several years that have kind of created that history about a team that you have something to talk about," Brown said. "From an individual standpoint, you look at those two broadcasters – Nick and Bob – they've been staples of this organization from very early on and have been a part from a fan perspective of how people have gotten to know the Kings, so that goes a long way."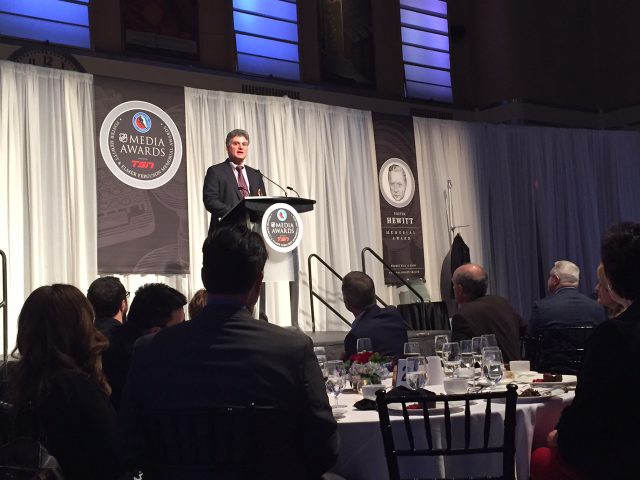 Dustin Brown, on whether he had favorite broadcasters growing up:
Not off the top of my head, no. Everyone talks about Vin Scully, and he comes to mind when you listen to a baseball game. He's also the TV side of it, but I feel like he's one of those guys that you could just put on a radio and he's very good. Growing up, I didn't really listen to a whole lot of radio, or sports on the radio. If I was even [paying attention] to sports, it was probably on the TV. I'm happy for Nick. He went to school in my hometown, the radio broadcasting school at Ithaca. We always chit chat every once in a while about State Diner or some of the other landmarks in the small town that not many people are from.
Brown, on his performance with Tanner Pearson and Anze Kopitar on Saturday:
I think overall our team played really well. Carts' line was very good, and they have been. We're trying to figure out how our other lines can contribute. I think me, Kopi and Tanner, we've had games together where we were really good. It's just trying to continue to build on that and have a consistency level. I think that the main thing was that we had a really good game in Edmonton. I think we had maybe 15, 16 shots on goal as a line. We need more of that consistently. Once we can find and maybe push for that consistency game-in and game-out, you'll start to see everything go the way it should be going.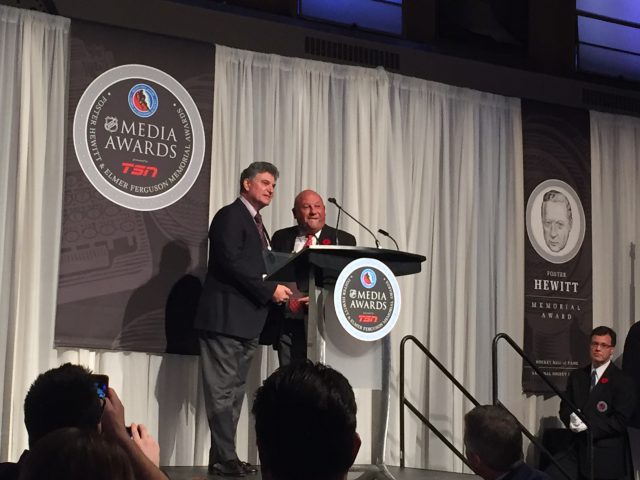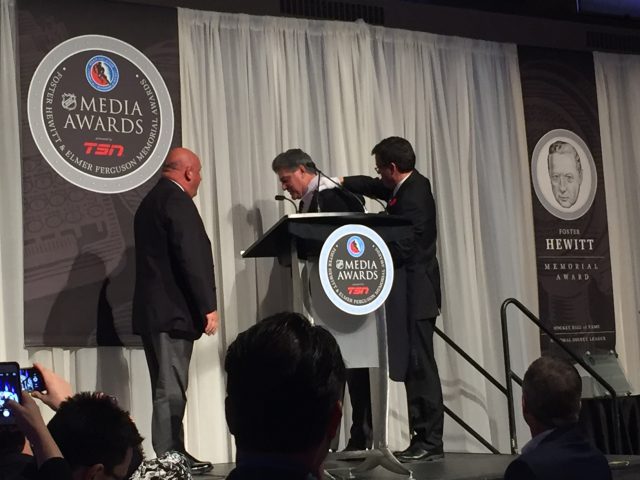 LIVE on #Periscope: Hall-of-Fame for the @LAKings Nick Nickson https://t.co/GmjaXXaeD7

— Jim Fox (@JimFox19) November 9, 2015
-videos and additional multimedia from the Hall of Fame media luncheon and induction ceremony will continue Tuesday.