After a late and nearly off-side first period Panthers rush resulted in a Nick Bjugstad goal, the outcome of Saturday's matinee hinged on a five-minute sequence of events in the second period as Jeff Carter was whistled for a bogus goaltender interference call, followed 45 seconds later by a very real Drew Doughty delay of game infraction. Florida entered with an effective power play that was 5-for-18 over the past five games, but during the 1:15 of five-on-three time had trouble distributing and receiving the puck and never threatened with any Grade-A chances or high-tension second looks, and within three minutes of Los Angeles killing off both halves of the extended power play, the Kings struck on a highly skilled play as Tyler Toffoli stickhandled through the high slot before using his sonar to detect Jeff Carter, who had created space for both as Quinton Howden fell in coverage after light contact. Carter slammed Toffoli's feed past Luongo, and then three and a half minutes later Drew Doughty scored on a power play blast off a Jake Muzzin feed, and 55 seconds after taking the lead Anze Kopitar stuffed a second-chance attempt past Luongo to provide insurance.
The Kings are now 9-5-0, having won nine of their last 11 games. They continue to generate results despite defensive depth that appears to be in the process of being reviewed and a lack of consistent production beyond what has been created by Jeff Carter's line. But Carter's line has been excellent, as you are well aware, and on Saturday it combined for another five points and a plus-five rating, and Milan Lucic stepped up with an important performance by issuing a game-high eight hits, blocking an Alex Petrovic shot that he turned into a clear-cut breakaway chance, and redirecting a Carter feed up high past Luongo in the third period to significantly reduce the doubt of the outcome. Kopitar's line found the scoreboard, and it was good to see Trevor Lewis produce a game-high five shots on goal and eight shot attempts as part of a slightly wider look, even if the lines didn't remain consistent throughout the 60 minutes; by the three-quarter pole of the second period, Dustin Brown was alongside Kopitar and Tanner Pearson, and the trio quickly accounted for a goal.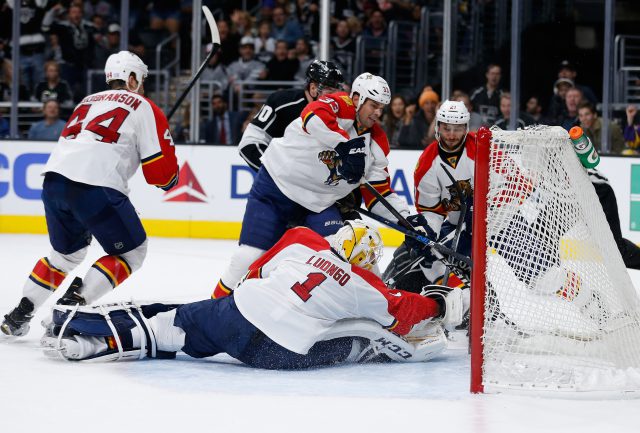 Defensively, Jake Muzzin (23:29), Brayden McNabb (23:07) and Alec Martinez (23:00) accounted for more ice time than Drew Doughty (22:58), totals that were affected by the multiple-goal lead throughout the third period. The Kings won for the seventh time in the eight games Jamie McBain has dressed in this season and are now 22-8-4 in the 34 games he has played with the club, dating back to his November arrival one year ago. Derek Forbort was encouraged by his own performance, which was accompanied by his first career NHL point, and it will be interesting to see if Darryl Sutter returns to the same defensive personnel against Arizona after Christian Ehrhoff didn't dress on Saturday.