Notes and Darryl Sutter quotes from today's morning skate at the MTS Centre:
-The Kings held an optional skate, so there were no real line rushes. Jonathan Quick did not take the ice, but Sutter confirmed he would start in net this evening against the Winnipeg Jets (5:00 p.m. PT / FOX Sports West / KABC 790 / I Heart Radio). Expect the Kings to align the same way as they did in Edmonton and at yesterday's practice: Pearson-Kopitar-Brown, Lucic-Carter-Toffoli, Gaborik-Shore-Lewis, Clifford-Andreoff-Nolan; McNabb-Doughty, Muzzin-Martinez, Ehrhoff-McBain.
-Ondrej Pavelec is expected to start in net for Winnipeg. The Jets are likely to ice a lineup that includes lines of Ladd-Little-Wheeler, Perreault-Scheifele-Ehlers, Burmistrov-Lowry-Stafford and Thorburn-Copp-Peluso, with defensive pairings of Enstrom-Byfuglien, Chiarot-Myers and Stuart-Trouba.
-Dwight King remains on crutches, according to hockey operations. The projected timeline of recovery is still 8-10 weeks.
-I'll have a story coming soon, but Erik Cernak will be reporting to OHL-Erie, hockey operations confirmed. Part of the delay in where he would play centered around educating him and his family about the benefits of playing major junior hockey, and that he'd be surrounded by other top prospects. The Otters were undefeated and the top-ranked CHL team last week but went 0-1-1 this past weekend. He'll join Kings prospect Jake Marchment, who has 12 points (8-4=12) in 11 games and is operating at 67% in the faceoff dot.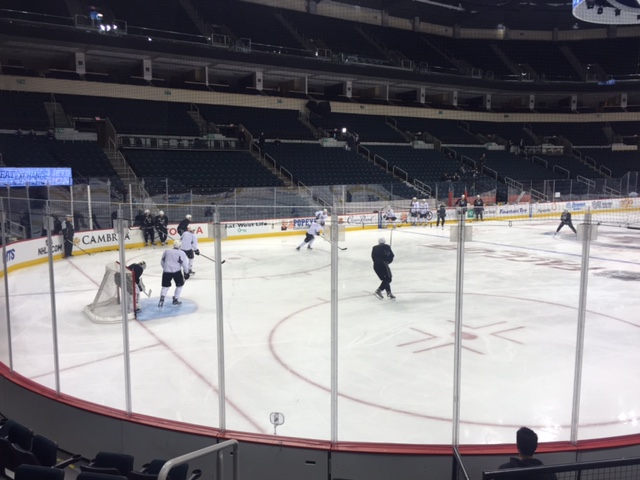 Darryl Sutter, on the team's play during the winning streak:
I think we've scored some big goals, timely goals. I think our special teams have been really good. I think our goaltending has been better now than it was the first couple games. [Reporter: Has there been a big change compared to the first three, or is it just things are starting to go your way?] I think change in personnel. First off, we've used different defensemen. I think we've used nine already, but the opening game we had Schultz and Greene both in, and Greener's played one more since then, and Schultz hasn't played at all. Forbort's played a game. McBain's given us a couple games. Moved Ehrhoff around, changed his role a little bit. It's still about having guys that can move the puck and guys that can compete in your own zone, and I'm not sure that was a staple of our game the first couple.
Sutter, on tonight's game:
I think we're probably similar-type teams. Both teams have really good players up front. Both teams have a top guy on the back end. That's probably the similarities. It's a tough rink to come in to. For sure, we know that. That's one thing they have created over the last couple years is an identity in the building.
Sutter, on Milan Lucic:
He's been really good. Plays a good, solid game, understands how to play. Not easy coming to a different team for the first time. A lot of guys that move around, veteran guys, they're sort of hired guns that move around, but you're talking about a guy that's used to winning, used to playing on one team. He's only had one coach. Pretty much played with the same guys for the most part over his career. I think he's done a good job of adjusting. [Reporter: Toffoli's been able to get six. Is he a big part of that? Does he give them more room out there? Do you see that at all?] No. I think Lucic makes his own room. Jeff Carter makes Tyler Toffoli go. Jeff's speed in the middle of the ice is clearly the big benefit to Tyler. Tyler finishes the job, and you need guys who can do it. He's a guy that can score. If that's a compliment, I mean, Tyler Jeff and Tanner were a really good line for us last year, too, until Tanner got hurt. That really affected our team last year.