Los Angeles Kings (5-3-0) at Winnipeg Jets (5-2-1)
Tuesday, October 27, 2015, 5:00 p.m. PT
MTS Centre, Winnipeg, MB
Referees: #21 TJ Luxmore, #8 Dave Jackson
Linesmen: #89 Steve Miller, #56 Mark Wheler
FOX Sports West, KABC 790 AM, I Heart Radio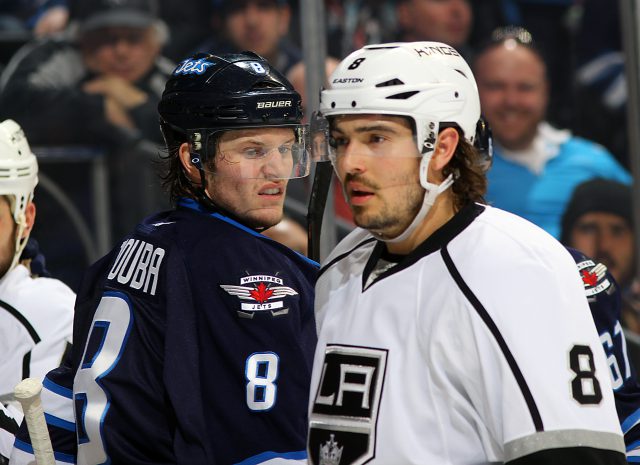 Los Angeles Projected Starting Goaltender – Jonathan Quick
2015-16: 7 GP (7 GS) / 4-3-0 record / 2.14 GAA / .923 Sv% / 1 SHO
Career vs Winnipeg: 8 (8) / 3-3-1 / 3.55 / .871 / 0
Last Game vs Winnipeg: 3/1/15 / 40 MP / 17-21 shots / 2-5 L
2015-16, Away: 1 (1 ) / 1-0-0 / 2.00 / .929 / 0
Winnipeg Projected Starting Goaltender – Ondrej Pavelec
2015-16: 5 GP (5 GS) / 2-2-1 record / 2.82 GAA / .916 Sv% / 0 SHO
Career vs Los Angeles: 5 (4) / 2-2-0 / 2.54 / .933 / 1
Last Game vs Los Angeles: 10/12/14 / 38 MP / 17-18 shots / 1-4 L
2015-16, Home: 3 (3) / 1-1-1 / 3.01 / .902 / 0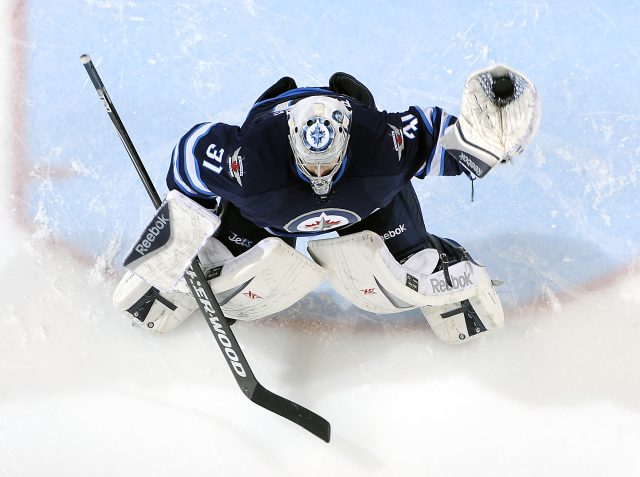 2015-16 Los Angeles Leaders
Total Points: Jeff Carter (3-4=7)
Goals: Tyler Toffoli (6-0=6)
Assists: Jeff Carter (3-4=7), Milan Lucic (1-4=5), Drew Doughty (0-4=4)
Plus/Minus: Tyler Toffoli (+3; 6-0=6)
Penalty Minutes: Andy Andreoff (27; 0-0=0)
Time On Ice: Drew Doughty (26:41; 0-4=4)
Corsi-For Percentage: Christian Ehrhoff (62.4%; 0-2=2)
2015-16 Winnipeg Leaders
Total Points: Blake Wheeler (4-7=11)
Goals: Drew Stafford (5-2=7)
Assists: Blake Wheeler (4-7=11)
Plus/Minus: Jacob Trouba (+4; 0-2=2), Mark Stuart (+4; 1-1=2)
Penalty Minutes: Dustin Byfuglien (12; 2-3=5), Mathieu Perrault (12; 1-6=7)
Time On Ice: Dustin Byfuglien (22:10; 2-3=5)
Corsi-For Percentage: Mathieu Perrault (60.3%; 1-6=7)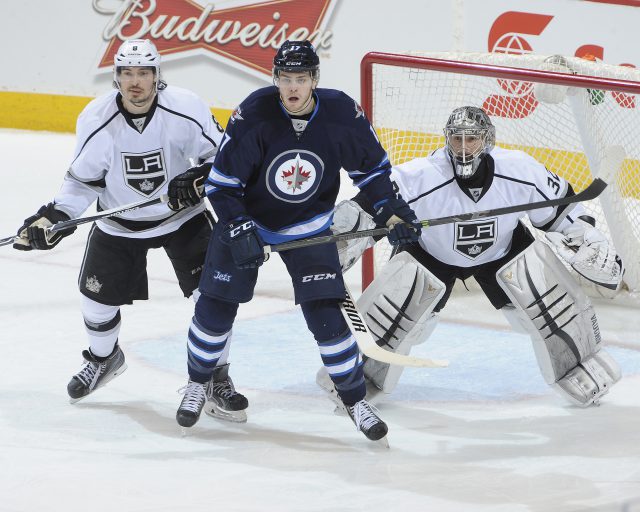 Rankings and Statistics
Goals/Game: LAK – 25 / 2.00; WPG – 4 / 3.50
Goals Against/Game: LAK – t-7 / 2.13; WPG – t-17 / 2.63
Power Play: LAK – t-17 / 17.2%; WPG – 6 / 24.0%
Penalty Kill: LAK – 10 / 86.5%; WPG – 13 / 84.4%
Shots/Game: LAK – t-11 / 30.5; WPG – t-14 / 30.4
Shots Against/Game: LAK – t-15 / 29.6; WPG – 27 / 32.4
Faceoffs: LAK – t-22 / 48.5%; WPG – t-28 / 46.4%
Save Percentage: LAK – 7 / .928; WPG – 14 / .919
Corsi-For Percentage: LAK – 2 / 56.7%; WPG – 10 / 51.1%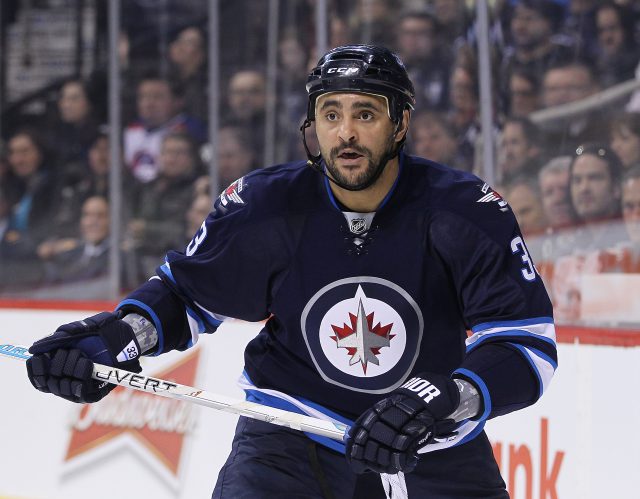 Projected Los Angeles Lineup
Tanner Pearson – Anze Kopitar – Dustin Brown
Milan Lucic – Jeff Carter – Tyler Toffoli
Marian Gaborik – Nick Shore – Trevor Lewis
Kyle Clifford – Andy Andreoff – Jordan Nolan
Brayden McNabb – Drew Doughty
Jake Muzzin – Alec Martinez
Christian Ehrhoff – Jamie McBain
Jonathan Quick
Jhonas Enroth
Notes and milestones: Los Angeles is 11-4-5 against the Winnipeg franchise, a record that includes an away mark of 4-4-2. The Kings have lost all five games that have extended past regulation against the Jets/Thrashers. These teams will also meet at MTS Centre on March 24 and at Staples Center on April 9. … Los Angeles is 4-3-0 against the Western Conference and 2-0-0 against the Central Division. … The Kings are playing the first of four consecutive games against the Central Division. After tonight, Los Angeles plays host to Nashville (10/31) before visiting Chicago (11/2) and St. Louis (11/3). … During their five-game winning streak, the Kings have led for 191:26, while their opponents have led for 1:22. … Milan Lucic has points in three straight games (1-3=4). … Dustin Brown more shots on goal (33) than any player in the league who is yet to score this season. … Marian Gaborik has 27 points (11-16=27) in 25 career games against the Winnipeg franchise. … Anze Kopitar has 11 points (6-5=11) in 11 career games against the Winnipeg franchise.
Projected Winnipeg Lineup
Andrew Ladd – Bryan Little – Blake Wheeler
Mathieu Perreault – Mark Scheifele – Nikolaj Ehlers
Alexander Burmistrov – Adam Lowry – Drew Stafford
Chris Thorburn – Andrew Copp – Nic Petan
Toby Enstrom – Dustin Byfuglien
Ben Chiarot – Tyler Myers
Mark Stuart – Jacob Trouba
Ondrej Pavelec
Michael Hutchinson
Notes and milestones: Winnipeg is 2-1-1 thus far through a six-game homestand. They finished a six-game stretch of playing teams that reached the playoffs last season, going 3-2-1 in those games. … Captain Andrew Ladd is expected to play in his 700th career game tonight. In 699 games, he has totaled 187 goals, 239 assists and 426 points. He has played more NHL games than any other Jets, with Chris Thorburn (612 games played) and Dustin Byfuglien (605) the other two players who have logged at least 600. … Blake Wheeler has points in all eight games (4-7=11) to start the season. … Winnipeg assistant coach Charlie Huddy appeared in 226 games with the Kings between 1991 and 1995, totaling 69 points (11-58=69). … Mark Scheifele was a teammate of Tanner Pearson's with OHL-Barrie from 2010-12. Both players are from Kitchener, ON.