To borrow from Harold Hill, ya got parity, my friend, I say parity right here in River City. You've got parity, which starts with P, which rhymes with C, which stands for Carolina. The Hurricanes were more or less written off before the season as a team looking to emerge from the throes of a rebuild with a scant chance of doing much more than competing for a playoff spot, but their performance on Friday, representative of other recent games in the series, show that the teams projected to be in the fifth quintile of NHL clubs are closer in hockey than any other major professional sport to those harboring championship aspirations. There might be a absence of skill and scoring depth on Carolina, but they make life difficult for the opposition and have shown success in suppressing high quality shots, having done just that at Staples Center. Credit should also go to Los Angeles, who, coming off an emotional win the previous night, were forced to quickly sublimate their previous win and raise their game in an important third period in which their elevated play paid dividends in the form of a pair of late and important insurance goals.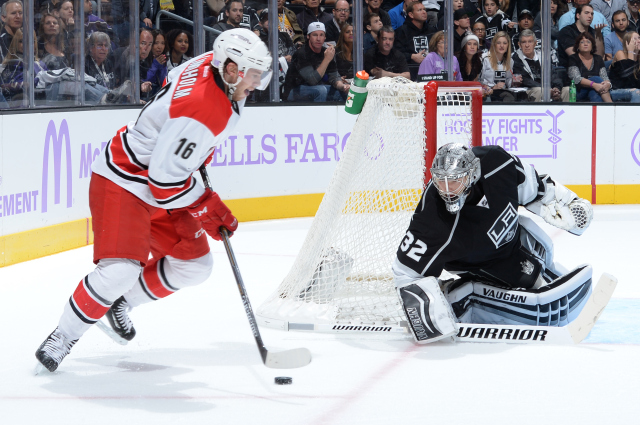 Those searching for a drive-by, shallow analysis of Milan Lucic's game may reference that he's not among the fastest skaters in the league, but his north-south game with the puck is highly effective, and he's capable, like many Kings, of playing up-tempo. He can make plays at top speed while remaining strong on the puck, and his give-and-go with Tyler Toffoli for Los Angeles' final goal represented just that. Noah Hanifin attempted a pinch in an effort to keep the puck in the attacking end, which didn't work out – the Hurricanes were down by two goals and needed aggressive plays from their defense, so that's understandable from Hanifin – and Lucic timed his cross-ice breakout pass perfectly as to turn a forecheck into an odd-numbered rush towards Cam Ward. After receiving the puck back from Toffoli and gaining the zone, he used his long reach to dish the puck through a narrow window between Ryan Murphy's extended stick and a sprawling, reaching Ward as Toffoli shot off the pass and put the puck into a mostly open net for his second goal of the night.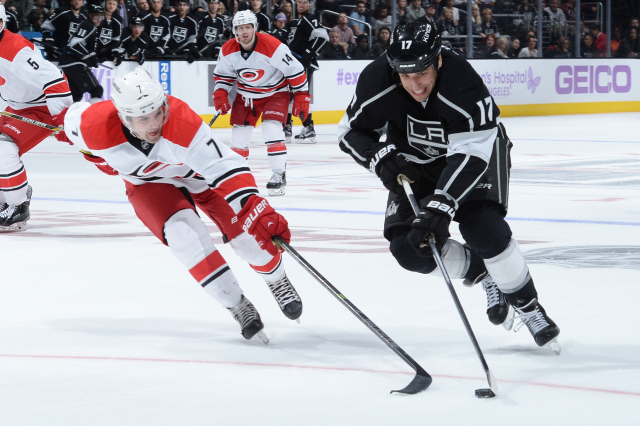 Any team wants to play for as long as possible with the lead, and the Kings have done just that during their four-game winning streak. Over that span, they've played with the lead for 167 minutes and 40 seconds, while their opponents have played with the lead for zero minutes and zero seconds. Darryl Sutter's memorable "six, seven, four, three, zero, one" observation from the 2014 San Jose series is applicable; over the streak Los Angeles has ceded one, one, one and zero goals against. Credit goes to Jonathan Quick and Jhonas Enroth, who have provided excellent goaltending during the mini-run, as well as the personnel that is growing more comfortable with the evolving assignment of responsibilities. But like Enroth the previous night, Quick was terrific – his second period pad save on Nathan Gerbe's backhanded attempt was just sublime – and his play in a tight game allowed the Kings to break free with a very good final period.