It was still summer when Christian Ehrhoff, Milan Lucic and Jhonas Enroth met their new teammates, but on a beautiful early fall evening in the Bay Area, their introductions to the Kings fanbase were pronounced as all three veterans new to the organization contributed significantly to Los Angeles' 4-1 win in San Jose. Virtually the entire lineup contributed – hello, Jeff Carter four-point night – as the Kings won the first game they played outside of Staples Center while avenging an opening night loss that is becoming faint and diminished in the rearview mirror. Enroth, who has posted fine numbers against the Sharks in his career, was sharp early and stemmed the inevitable early-game Shark Tank tide with multiple pad and upper-body saves on key chances that allowed Los Angeles to establish the lead on a gifted skill play by Tyler Toffoli. Providing a major breakthrough, Carter gained the offensive zone on a late first period power play before dishing to Ehrhoff, who crept towards the tops of the circles and unleashed a wristshot that Milan Lucic deflected past Martin Jones for his first goal as a King. The team was sharp as it resumed the second period, as Carter built up a three-goal lead by electing to shoot on a two-on-one after Drew Doughty, only one shift removed from weathering contact that left him hunched over and in pain on the Kings bench, blocked a Joe Pavelski shot and sent a quick outlet to an attacking zone-bound Carter to set the odd-man rush in motion.
If only someone could've foretold an eventual rise in Los Angeles' shooting percentage! (Oh, wait.) Yes, the Sharks had slightly more attempts and sent 40 shots on net, but many of the shots that made their way through were from the perimeter and from distance, whereas the Kings scored twice on rush chances and twice on the power play in a thorough road performance. The physical representation of the team regressing to the mean occurred when Jeff Carter won a faceoff to himself and snapped a quick shot that deflected off the glass, back over the net, off Jones' pad, and past the goal line. Carter said after the game that he believed Jones had deflected the shot with the knob of his stick before it ricocheted off the glass, and if so, that's an awfully tough 0-for-1 for Jones considering he made a quality original save. In the battle of Joner vs Jhoner (or, apparently, Jhoni, as we learned after the game), the soft J was the victor.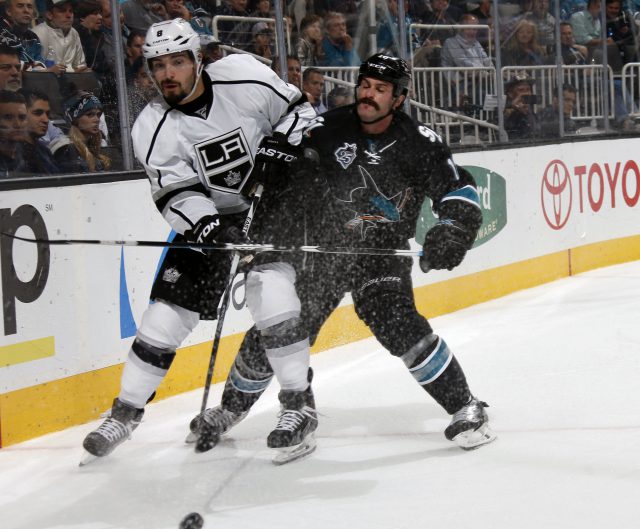 As noted, though the Sharks registered 40 shots on goal, not all were of pristine quality, especially after the first period. There's team-wide credit there, but there were also quality performances from a young defense corps and penalty killers that ably withstood San Jose's terrific top power play unit. Jake Muzzin was especially good defensively – he made a smart, conservative read to prevent and odd-man attack in the first period and ultimately won a 50/50 stick battle with Tommy Wingels – and it's appearing as though the Muzzin-Martinez pairing has been providing dividends. More to come on that topic at today's skate, which is currently underway at TSC.