The alignment from today's 12:00 p.m. practice at Toyota Sports Center:
White: Gaborik-Kopitar-Brown
Blue: Lucic-Carter-Toffoli
Yellow: Pearson-Shore-Lewis-Weal
Purple: Clifford-Andreoff-Nolan
-Defensive pairs didn't change from Sunday's game: McNabb-Doughty, Muzzin-Martinez, Forbort-Ehrhoff. Matt Greene took the ice at 11:30 but was was held out of the thick of practice drills. "He's doing a lot," Darryl Sutter said, but isn't quite game ready. Would the Kings ultimately need an extra defenseman this weekend, they'd be able to call a player from the Ontario Reign, who are in town Friday and Saturday. "It's easier to answer [a Greene question] before we go on the Edmonton-Winnipeg swing," Sutter said. A broader Greene update will come in today's Darryl Sutter quotes.
-After having rotated through Andy Andreoff's line in recent practices, Jordan Weal skated as an extra on Nick Shore's line on Wednesday. Sutter also spoke about Weal in today's media availability; because of the way San Jose matches up down the middle, and because of Andy Andreoff's line's recent play – Sutter spoke highly of both – don't expect a lineup change that gets Weal into Thursday's game.
-The practice included special teams work in which penalty killers gripped their stick blades and kept the handles close to the ice as well as rush drills and pace-type drills that also contained light battle elements.
-Bauer representatives were on hand and were more than happy to show off an array of new wares…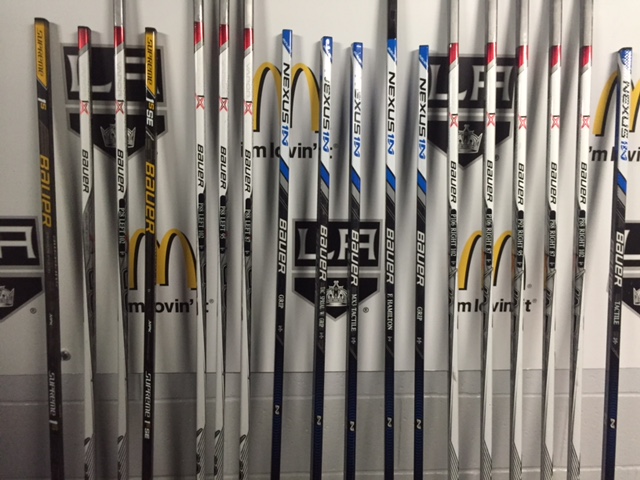 …which included the Bauer 1S prototype, which according to this report won't be released until January. Steven Stamkos, according to the representative, has used the 1S (the black/gold sticks in the photo below):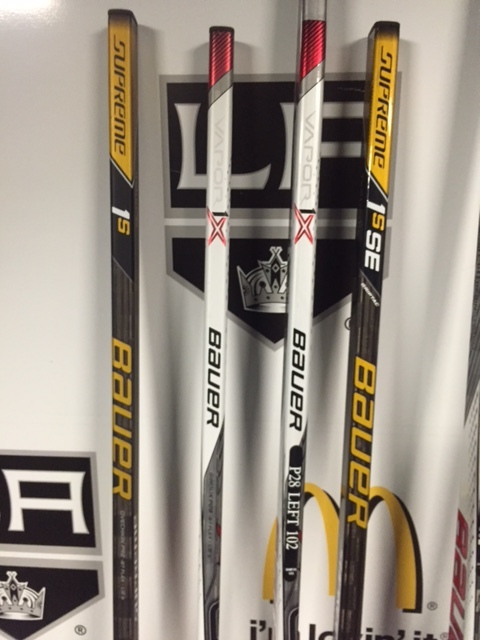 -More to come today, including a story on shooting percentages, some Ontario Reign Insider reports, and Darryl Sutter practice quotes.