Good morning from Denver, where the Kings have returned to the hotel on a warm morning after an early skate at the Pepsi Center.
If you've never been to the home of the Colorado Avalanche, be awed by Mt. Loud, The Peak of Noise: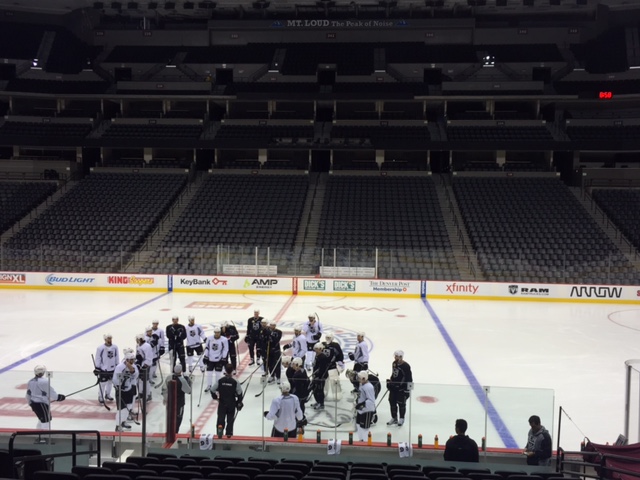 The Kings held an optional morning skate, and several players who didn't participate are expected to be in the lineup. Los Angeles should ice its fair share of regulars; Colorado still has 40 players on its roster and has played only two preseason games, so there are still several guys eligible to play tonight who you probably won't see make the club out of camp. Back to the Kings.
The line rushes shown this morning are below. Again, note it was an optional skate, and several players who took the ice this morning won't play tonight.
Clifford-Kopitar-Gaborik
Pearson-Lewis-Toffoli
Mersch-Andreoff-Nolan
King-Shore-Brown
Clifford-Weal-O'Neill
Martinez-Greene
Schultz-Ehrhoff
McNabb-McBain
Muzzin-LoVerde
Even though your original thought is most likely "There's JR again, proofreading poorly and listing the same player twice in line rushes," Kyle Clifford did, in fact, skate with two different lines. He's likely out tonight. I'm also expecting Trevor Lewis, Jordan Weal and Brian O'Neill to sit this game out, too. I'm banking on Jeff Carter centering Tanner Pearson and Tyler Toffoli, Milan Lucic skating with Anze Kopitar and Marian Gaborik, and Jake Muzzin skating with Drew Doughty. This would mean that Matt Greene and Jordan Nolan are almost certainly in tonight; both players indicated that they were likely to go, and I'll have a story up on Greene shortly. Because J.F. Berube and Jhonas Enroth remained on the ice for extra work, expect Jonathan Quick and Peter Budaj to serve as tonight's goalies. As often noted, it's difficult to project lineups after optional morning skates, and with quite a few extra bodies on the trip during the preseason, there could be a few alterations to what I've projected.
The Avs recently returned from several days of team bonding in Vail, which doesn't sound too awful. Here's what Darryl Sutter thinks of team bonding.
The club returns to action after two days spent in Vail, Colorado. The brainchild of captain Gabriel Landeskog, the team went to work together off the ice, focusing on team bonding and familiarization before the season gets underway on Oct. 8 in Denver.

"It was great. It was a great idea by Landy to do that," said Avs head coach Patrick Roy. "I thought our guys did a really good job. They were involved. They wanted to be part of those drills we did up on the mountain. It was great."

From zip lining to constructing a cart from parts to an intricate ropes course, the Avalanche ran through a series of challenges while paired in groups that also featured a member of the Army Special Forces from nearby Fort Carson. Competing against each other not only for bragging rights, but also for the grand prize of a "get out of mountains" free card—fashioned in the style of a coveted Community Chest card from the board game Monopoly—the players pushed themselves beyond their comfort zone to earn points while working in small teams.
Too bad Blue Sky Basin and the back bowls are still several months away from opening.
Courtesy of the game notes, expect this group of players to suit up for the home team: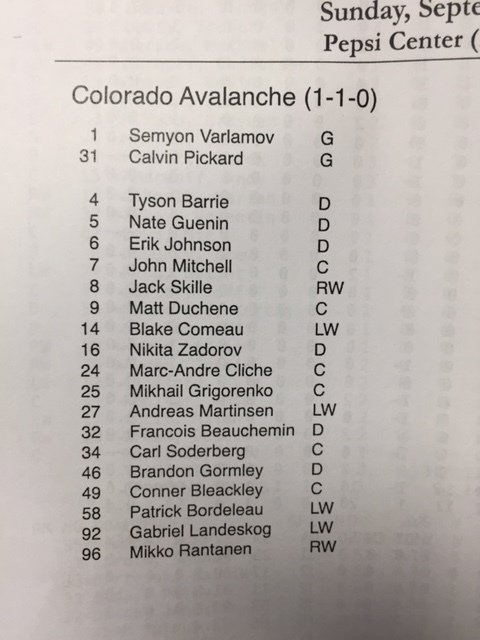 Travel to Denver was a breeze; here's the hyperlapse take-off video from LAX:
During our approach into DEN/DIA, we were treated to a magnificent sunset over the Rockies.
Tonight's game is scheduled for 5:00 p.m. L.A. time. There will be a live blog and a radio broadcast, but no television. Enjoy your Sunday, Insiders.