Los Angeles Kings 3, Arizona Coyotes 2
Final – Overtime
I Heart Radio Live Stream
NHL.com Boxscore
SOG: LAK – 28, ARI – 19
PP: LAK – 0/5, ARI – 1/6
LAK starters: G Jhonas Enroth, D Jake Muzzin, D Drew Doughty, LW Milan Lucic, C Anze Kopitar, RW Marian Gaborik
ARI starters: G Louis Domingue, D Oliver Ekman-Larsson, D Michael Stone, LW Max Domi, C Martin Hanzal, RW Steve Downie
Attendance: 12,996
OVERTIME
5:00 – Kopitar, Gaborik, Doughty versus Boedker, Strome, Ekman-Larsson.
3:22 – Sloppy 3-on-3 with no ++ chances, but it's still a bit too tough to live blog. Now Shore-Brown-Martinez.
2:58 – Brown-Shore-Brown give and go caught a piece of Martinez and sailed high. So much net to work with.
1:23 – GOAL LAK. 3-2. Weal (Ehrhoff, O'Neill). Weal deflection of an Ehrhoff shot. Game.
THIRD PERIOD
20:00 – Period begins. Kings still on the power play.
18:30 – Power play over, but good netfront presence and battling by Mersch.
17:20 – Decent opportunity as Muzzin unleashed a shot from above the circles, but it caught a couple bodies and didn't make it on net.
16:35 – Late-developing ARI two-on-one; Downie's shot stopped by Budaj.
15:15 – Dylan Strome led a two-on-one, pulled the puck around a diving defender, and shot wide. Budaj may have had a piece.
14:08 – PENALTY ARI. Stone off for slashing.
11:30 – PENALTY LAK. Auger for tripping.
10:57 – Brown-Kopitar 2-on-1. Brown dishes across the slot, Kopitar looks for a seam to open up to give it back to Brown, and when none surfaces, he drives behind the net looking for a wraparound. Couldn't stuff it past the goal line as Coyotes skaters backchecked and with Treutle kept the puck out.
9:10 – O'Neill makes a good hit on the forecheck on Grant.
9:04 – PENALTY ARI. Boarding on Dahlbeck.
8:14 – SHORTHANDED GOAL ARI. 2-2. Martinook (Dvorak). Dvorak capitalizes on a turnover and feeds Martinook, who streaks in alone on a breakaway before sniping stick-side past Budaj to tie the game at two.
5:54 – PENALTY LAK. MacDermid for holding.
4:10 – I'm confused. Brown creates a shorthanded breakaway and a Coyote threw a stick in his direction that appeared to affect how he carried the puck deep. No penalty shot assessed. What gives?
3:10 – PENALTY ARI. Lessio for holding.
0:00 – To three-on-three we go.
SECOND PERIOD
20:00 Period two bloggin'.
16:17 PENALTY LAK. Weal whistled for hooking at the end of a long shift. Had previously attempted a slapshot from beyond the tops of the circles on the other end of the ice, but it was knocked down in the slot.
15:32 – PENALTIES LAK and ARI. Forbort for interference, Downie for embellishing. Downie in the Pacific Division – uggh. Also, the referee announcing the penalties referred to the Coyotes as Phoenix before correcting himself. It happens to all of us.
14:17 – Arizona power play over. 5-on-4 penalty killing forward duos used thus far: Andreoff-Shore, Lewis-King, Brown-Kopitar.
12:04 – PENALTY LAK. Ehrhoff for high sticking; offensive zone penalty. Andreoff had made a nice hit in the corner on the forecheck moments prior.
11:12 – PENALTIES LAK and ARI. Domi caught Doughty with a cross-check in LA's zone that was a touch late and in an awkward position near the boards. Not a good hit, but it didn't deserve anything more than the two minutes awarded. Downie and Forbort get roughing minors. The Kings will have a 52 second power play when Ehrhoff's penalty ends.
9:49 – Ehrhoff's power play one-timer was stopped by Domingue. Minor scrum behind Arizona's net involving Mersch.
9:15 – Some exchanges with Lucic and Kopitar on the power play, but the best chance came off the stick of Martinez, who pinched and shot high over the net.
7:29 – Budaj, Treutle in; Enroth, Domingue out. Enroth: 7/8; Domingue: 15/17.
7:25 – Good look from the right circle by Auger, who shot just over Treutle's glove hand and the crossbar. May have been deflected; Treutle may have gotten a piece of it.
5:50 – Lucas Lessio slips past LA's defense for a breakaway but fires wide, stick-side.
1:55 – Nice centering feed from the right corner by Shore, but Auger's point blank attempt was denied by Treutle.
0:34 – PENALTY LAK. Holding on Dahlbeck.
0:00 – Period over.
FIRST PERIOD
20:00 – Kings. Coyotes. Go.
18:36 – PENALTY LAK. Interference on Forbort. There will be a lot of penalties tonight.
17:46 – PENALTY LAK. Ehrhoff for hooking. 5-on-3 for 1:11.
17:35 – Great Muzzin leg block as Ekman-Larsson and Boedker attempted a criss-cross 5-on-3 one-timer from inside the blue line.
16:36 – 5-ON-3 GOAL ARI. 0-1. Strome (Plachta, Ekman-Larsson). Dylan Strome buried a loose puck that had trickled past Budaj and off the post and remained just outside the crease. First preseason goal for the third overall pick in this year's draft.
15:46 – Second penalty killed. Even strength hockey.
10:26 – GOAL LAK. 1-1. Mersch (Forbort, Shore). Mersch buried the rebound of a Forbort shot from the perimeter of the left circle.
9:25 – GOAL LAK. 2-1. O'Neill (Andreoff, Weal). All six players with points thus far played last night, and five of the six players with points won a Calder Cup in June.
4:30 – Marian sprung loose for an angled, contested rush, but Domingue fights off his snapper.
0:00 – Period over. Pardon the delay; was preparing for my radio hit.
New scoreboard numbers are HUMONGOUS BIG:
Whoa whoa whoa. I never agreed to a new scoreboard graphic. pic.twitter.com/WB1J0kBJfw

— Surly Jacob (@surlierthanthou) September 23, 2015
WARM-UPS
Referees: #8 Dave Jackson, #23 Brad Watson
Linesmen: #79 Kiel Murchison, #73 Vaughan Rody
Photos via Alex Kinkopf / LA Kings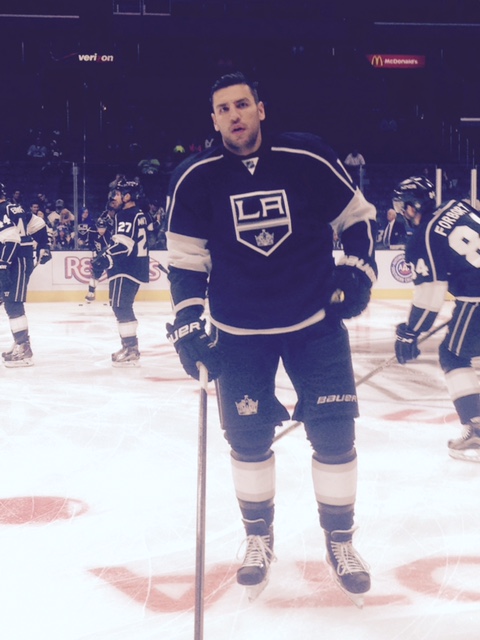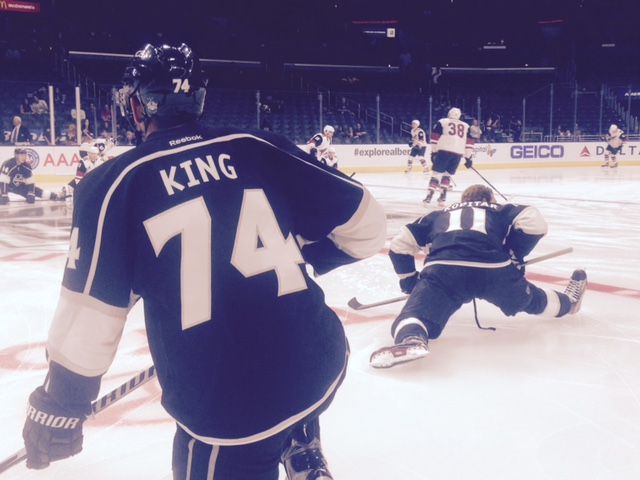 Brown is wearing the C. Kopitar and Doughty are wearing the A.