Assistant Equipment Manager Dana Bryson recently returned from the Ivan Hlinka Memorial Tournament, an annual summer showcase based in the Czech Republic and Slovakia that features some of the best 18-and-under talent amongst the world's top national teams. The tournament boasts an impressive collection of players – many of whom are entering their NHL Draft seasons – and is scouted heavily by NHL clubs.
Though the United States finished in fifth place, the Americans won their final two games against the host Czechs and Slovaks, and former L.A. Junior King Kailer Yamamoto finished tied with teammate Casey Middlestadt for the tournament lead in scoring. I recently caught up with Bryson, who you may recall has been honored for working 1,000 pro games and served as an equipment manager at the NHL All-Star Game, and is always an entertaining interview, to learn more about his debut international assignment.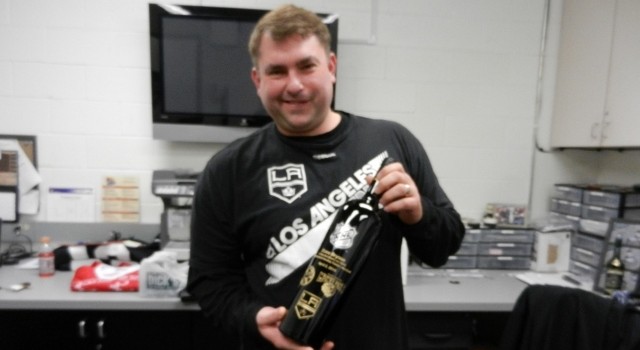 LA Kings Insider: Playing Slovakia and Czech Republic in their own countries – what was that like?
Dana Bryson: It was good. The atmosphere in a European hockey game is more what we would say would be like a soccer game , with drums beating. It was cool for the kids. I don't think they've ever experienced it – I've never experienced anything like that before, so it was fun. [LAKI: You got to do the NHL Premiere. Was it similar to that game against Hamburg?] Yeah, just like that. It was definitely a different atmosphere, but I think the players liked it.
LAKI: In what was working with 17-year-olds different from working with NHL pros?
DB: I've never worked with that group. College was the youngest group I've ever worked with. It's funny what they get excited about, and just how much pure enjoyment of the game comes. Pros are pros, and that's their job. This is fun for these kids. It looked like they had a pretty good time, and they had a lot of fun. [LAKI: They seemed to be coming together at the very end, too.] Yeah, it was almost like they started a little slow. You almost wished it was a five or a six-game tournament versus a three or four, because they started to really come together and play pretty well.
LAKI: What was it like seeing the national team insignias instead of NHL logos?
DB: Yeah, it was my first real international experience. When you look at the ice, and there are no logos on it, and there are no logos on the boards – that rink is huge – it looks so different. It kind of reminded me of when I was a kid and you just played for playing. You play for your country, I know a lot of those kids were excited. I think half of them played for the under-17 team the year before, but for a bunch of guys, and myself included, it was the first time they've ever done anything for their country. When you put on the uniform, you get a little pride. You get excited.
LAKI: How good was Kailer Yamamoto?
DB: He was really good. This kid is five-six, maybe 140 pounds. I think my six year old was almost the same size as him. When I first saw him, I was like, 'no way this kid could play.' But he could play. I was really impressed by him, and there was another kid, Casey Middlestadt, the other leading scorer. And the team didn't score a ton of goals, so for them to have that many points was pretty impressive. [LAKI: Yamamoto – I know he's up in Washington right now, but he's a former Junior King. Did you guys ever talk about that? Is he a Kings fan?] Yeah, I met him – he was at the Pat Brisson camp the week before, so he came in and I said hello to him, and we talked. We did talk about the Junior Kings and stuff a little bit. He grew up around here, so it was good to see a local kid. The two California kids and the Boston, Massachusetts kids were probably the ones I got along with the most. … And then Ben Lown was from Newport Coast, but he grew up in Manhattan Beach. I had a little favoritism for those kids.
LAKI: For you, personally, are you hoping this experience keeps the door open for future assignments with USA Hockey?
DB: Yeah, I'm hoping. I wanted to kind of get my foot in the door. It's hard for trainers to get in, because the only thing you can really do is World Championships, and that means that your team's out usually by Christmas, or in January when they start to pick those staffs. It's kind of hard to get into. This was an opportunity for me, and hopefully it works out. Especially with Dean being the GM of [the World Cup of Hockey] national team, hopefully I can do some more. [LAKI: You ever talk to Darren Granger? Was he ever an influence, just because of what he was doing and how he won gold last year?] Yeah, obviously he's Captain Canada. You hear so many thing good things with Team Canada that obviously I wanted to do some stuff. To some international stuff – because it's a whole different game, a whole different apple – it was good for me to experience. To get away from all the things that the NHL provides and go over there and kind of have it bare bones, and have to figure things out yourself – the NHL provides so much stuff. Teams in the NHL, we take care of each other because you need help. But when you're over there, you're kind of on an island, so it's good to be able to figure things out without having to rely on everybody else. Although translators did help me – a lot.
LAKI: How were the cities and arenas?
DB: Definitely different. Trnava, they had a great set-up. Just kind of an old-school [feel]. I mean, I grew up in Boston, where things are two, three-hundred years old, and you think that's old. When you live in California, 1950's is old. But there, it's thousands of years old, and everything is literally a different world. Hockey is hockey. It's still a rink, [the game] is still the same, but much different and older. I don't know how I could really explain it. It's definitely a whole different world. I loved it. Like I said, it was great. It was something I had never experienced before. It's kind of hard to translate, but just to go down, and you see old castles, old towns. Everything was outdoors. It was hot. It was over 100 degeres every day there, so when it got down to maybe 85 at night by the river, it was nice. It was really cool. It was something I would like to do again.