This is something usually posted at or around training camp, but because I continue to receive questions about the Kings' roster and how it's likely to take shape for the upcoming season, I thought I'd post an update during the summer's slow news cycle. Jesse Cohen and I are also planning on recording a podcast to discuss this very subject later today.
Below, the team is separated into four groups, based on the likelihood that they'll make the Kings in 2015-16. Along with the notes, there's also a lineup template that depicts where the players are likely to slot in the lineup during the upcoming season. Ultimately, of course, the decisions of where roster players align are made by Darryl Sutter and the coaching staff. All of these projections have been based on repeated conversations with those in Los Angeles' hockey operations throughout the spring and summer months.
On the team (18): Brown, Carter, Clifford, Doughty, Enroth, Gaborik, Greene, King, Kopitar, Lewis, Lucic, Martinez, McNabb, Muzzin, Nolan, Pearson, Quick, Toffoli.
Notes: No real surprises here. Gaborik is expected to move back to his natural right wing position with the acquisition of Lucic, who's expected to slot in as a left wing on a line centered by Kopitar. Theoretically, there could be a battle between Enroth and Berube (see below), but the Kings signed Enroth with the intention that he'd be the full-fledged back-up, and some extra seasoning for Berube in the AHL would be fine for his development.
Almost certainly on the team (1): Shore
Notes: Count on Shore making the team and serving as the third line center between King and Brown. He would not have to clear waivers to be assigned to Ontario, though that's likely a moot point.
Battling for spots (6): Andreoff, Forbort, McBain, O'Neill, Schultz, Weal
Notes: Andreoff's very likely making the team, though perhaps to a degree or two of certainty less than Shore. He would have to clear waivers if he did not make the team. It's shaping up that due to Voynov's indefinite suspension and Achilles injury, either McBain or Schultz (or, perhaps less likely, both) will serve as an option with the big club until Voynov's status is finalized. Both McBain and Schultz would have to clear waivers should the club want to assign them to AHL-Ontario, so there is the possibility that they could be claimed by another NHL team. Forbort, on the other hand, remains on his entry level contract and would not have to clear waivers if the team wanted to assign him to Ontario, so that safeguard could mean he'd start the season in the AHL. His play throughout camp will have a significant impact on where he lands; he had a terrific late season and playoff run in Manchester this spring. Both O'Neill (last year's regular season AHL MVP) and Weal (last year's playoff AHL MVP) would have to clear waivers if they weren't to make the team, so the familiar Manchester linemates will be in a battle for a depth forward spot as well. Weal, 23, would almost certainly be claimed if he did not make the Kings; the 27-year-old O'Neill's prospects of being picked up if he were subjected to waivers remain open for debate but are certainly a very strong possibility. I don't have word on who the Kings plan on bringing into training camp on a tryout at this point, but there would be another name or two added to this list should camp invites emerge.
Long shots (7): Berube, Brodzinski, Dowd, Gravel, Kempe, LoVerde, Mersch, Zykov
Notes: None of these players are expected to make the team out of camp, though Mersch, Dowd and Gravel could serve as mid-season call-ups should Kings skaters face an injury binge. Should a goaltender suffer an injury, Berube would be recalled. Because he has not yet gotten into an NHL game, there's not a major level of concern that he'd be claimed off waivers should he be assigned to AHL-Ontario at the completion of training camp. Brodzinski is ticketed for Ontario and could be a mid-season call-up if he impresses, but it's more likely the sniper remains in the AHL for the full season as he continues to acclimate himself to the pro game. Dowd is a responsible and strong skating center with flashes of skill and playmaking ability, and at 25 years of age, his time may come sooner than some would anticipate. Some Kings fans may salivate at the thought of Kempe making the team at some point this season, but he won't even turn 19 until the middle of rookie camp and has a total of 20 regular season and playoff games in North America to his name. Having played against grown men for the last two seasons in the SHL, he should be well equipped to continue his North American transition and should receive a slightly wider AHL workload and more challenging assignments than he received during his productive but eased-in responsibilities with Manchester this past spring. His development will be among the most interesting storylines to accompany the Reign this season. Mersch, a blue paint-driving and net-front embedded forward, is close and could serve as a mid-season call-up if he continues the upward path that saw him post terrific numbers through the second half of his 2014-15 AHL season and through the Calder Cup Playoffs.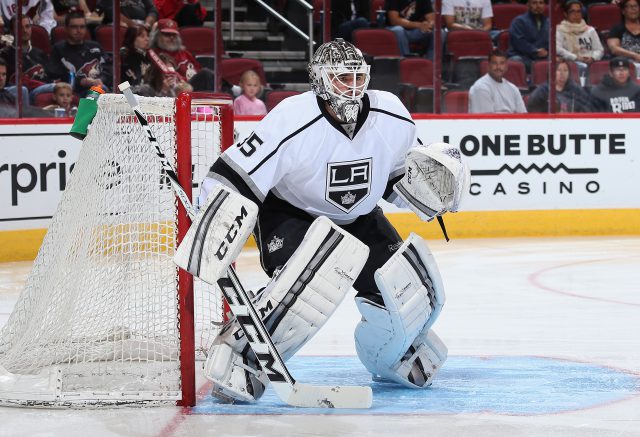 It's complicated (1): Voynov
Notes: There are more legal entanglements with Voynov, though if he is made available by the NHL and isn't held up by his immigration status, the expectation, based on multiple conversations with those in hockey operations, is that he'll be a part of the blue line when he recovers from a ruptured Achilles. There are still major impediments in the way of him putting on a Kings jersey again.
If we're to assume that the Kings will use all 23 spots on the roster (a safe bet) and are more likely to keep two extra forwards and one extra defenseman rather than one extra forward and two extra defensemen (not necessarily a slam dunk), then the template below accurately depicts where the battles throughout training camp and the preseason will take place:
Lucic ($3.25M) – Kopitar ($6.8M) – Gaborik ($4.875M)
Pearson ($1.4M) – Carter ($5.273M) – Toffoli ($3.25M)
King ($1.95M) – Shore ($600K) – Brown ($5.875M)
Clifford ($1.6M) – Lewis ($1.525M) – [Spot Open or Nolan ($950K)]
Extra Forward(s): [Spot Open or Nolan ($950K)], [Spot Open]
Muzzin ($4M) – Doughty ($7M)
McNabb ($650K) – [It's Complicated]
Martinez ($4M) – Greene ($2.5M)
Extra Defenseman (-men): [Spot Open]
Quick ($5.8M)
Enroth ($1.25M)
Total, 19 spots (includes Richards' $1.32M recapture): $63.868M
Total, 20 spots (includes Richards' recapture and Voynov's $4.167M): $68.035M
2015-16 salary cap: $71.4M
Cap hits for job seekers:
Andreoff: $587.5K
Forbort: $863.3K
McBain: $600K
O'Neill: $562.5K
Schultz: $850K
Weal: $632.5K