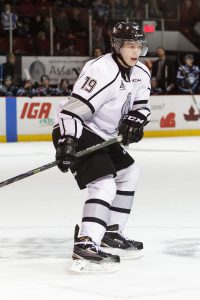 Because the Calder Cup winners aren't taking part, Valentin Zykov is among the "veterans" at this summer's development camp. He's in his third camp since he was drafted in the second round in 2013, and amongst this year's participants, only Joel Lowry, Paul LaDue, Kurtis MacDermid and Alex Roach hold longer tenure.
So it was no surprise to see Zykov, early on a Thursday morning, to be pointing his stick towards the boards while demonstrably directing 2015 third round draft pick Alexander Dergachyov to the intended spot at the beginning of a drill.
"It's the first time for them, so [I'll] help them a little bit," Zykov said of fellow Russians Dergachyov and Damir Sharipzyanov. Mark Yannetti has drawn notice.
"There's a purpose to him," the Kings Director of Amateur Scouting said, referencing the leadership qualities he's seen Zykov absorb this spring. The 20-year-old is often at the front of the line before drills and has impressed the club's hockey operations with another year of maturity beneath his 6-foot-2, 215-pound frame.
There's also a confidence that comes through quite clearly. Off the ice, it materializes in his quick, give-and-take sessions with reporters. Asked whether there's any bit of a language barrier for the Russian players at this year's camp, he joked, "For who? For me?," before adding "No, I think it's fine."
After a 162-game, 84-goal, 184-point junior career with the Baie-Comeau Drakkar and Gatineau Olympiques, he'll now set his sights on making the Ontario Reign this fall. He's only 20, so there's still the junior hockey eligibility as an overager. But in all likelihood, he can start looking for apartments in the Inland Empire, even if that's the last thing on his mind at the moment.
"Well, there's [three months] before the season starts," he said. "I'm not trying to be ahead of things."
Valentin Zykov, on any language barrier for Alex Dergachyov or Damir Sharipzyanov:
No, they're good. It's not about a language barrier. I think it's just about understanding what's going on and I think they did a pretty good job.
Zykov, on whether there is something that makes him good at possessing the puck:
That's why we're here, to get better at possessing mostly, I guess. [Reporter: What makes you a good puck possessor?] Listening to those guys pretty well.
Zykov, on when he began learning English:
I learned it before I came here. [Reporter: Did you learn because you knew you'd have to speak English here?] Yeah, it was my dream to come here, so I learned English before I came here.
Zykov, on how he tries to improve his conversational English:
Mostly, when you hear a lot of English every day it goes by itself. Like you learn it better by itself. [Reporter: And you've found it helps you on the ice or days like today?] I think it's impossible to play here without English. You cannot play well and communicate with the other guys.
Zykov, on whether he speaks English or Russian during tense moments on the ice:
It comes as either Russian or English. I don't know, a little bit of both.
Zykov, on whether it's fun to be playing with future teammates:
To be honest, I didn't think about it. Mostly on ice, you have to be focused on what you're doing.
Zykov, on being injured, traded and spending time in Manchester over the last year:
Well that's experience, I guess. Its good experience, anyway. It's either bad or good.
Zykov, on how long it took to recover from his sports hernia:
Before World Juniors, you mean? [Reporter: Yeah.] Two months. [Reporter: Was it a hernia or an appendectomy?] Hernia.
Zykov, on whether he was disappointed to not play in World Juniors:
Well, injuries happen. It's normal. Of course I was disappointed because I played with a couple of guys since childhood, my good friends. You can't change anything, so just let it be.
Zykov, on whether being traded motivated him:
I think being traded shook me up a bit. I think it helped me a bit. A new coach, Benoit Groulx is a really good coach. He's tough. He makes everyone do the right things the way he wants them. I think we had a good run the second half of the year.
Zykov, on how close he is to the professional game:
I don't know. Ask these guys.
Zykov, on whether he's thinking about taking the next step in his career:
Well, the thing I think about is just getting better and getting closer to the NHL. But like I said, you'd better ask these guys because they know development stuff.
Zykov, on what the coaches say he needs to work on:
There are not special things. I think you can get better on how you're going to be in the NHL. There are no certain things, everything is going to help you.