For those who remember those halcyon late spring days that included a Manchester Calder Cup run and the announcement of various league awards and accolades, you may recall that Alec Dillon, selected in the fifth round in 2015, was named as a USHL first team All-Star and ultimately shifted his commitment from ECAC-RPI to WHL-Edmonton, where he'll draw the majority of the starts upon the expected advancement of 20-year-old entrenched starter Tristan Jarry to the AHL.
"I just wanted to get myself the best chance to play pro hockey, whether that be Manchester or Ontario," Dillon said about joining the Oil Kings. "I think doing that means getting in games, as many games as possible until I'm 20, 21. That's really all I wanted to do, I wanted to show the Kings that I can make my own decisions and show them that I'm serious about playing pro."
It's also an interesting off-season for organizational goaltenders, as Martin Jones was traded to Boston (and subsequently traded to San Jose), while no other goalies were chosen during the NHL Draft two weekends ago (though Jhonas Enroth was signed to a one-year contract).
Dillon, 19, is the only non-invitee to tend goal during this week's development camp. Earlier today he spoke with LA Kings Insider about his style of play, the expectations of his year ahead, and the degree to which he concerns himself with organizational goaltending departures and arrivals.
Alec Dillon, on how he approaches his 19-year-old season in Edmonton:
It's a big season, I'd be lying if I wasn't playing for a contract. I think every kid that doesn't have one in 19 or 20's is playing for one. I know it's a big year. I'm coming into these situations where I haven't played in the league or played for the same team for a while now. Every year is big, but I think this year is really tell-tale for my career.
Dillon, on whether he pays attention to organizational goaltending movement:
No, I think I look forward to just my team and myself. Obviously knowing that there's no one behind me coming into this year is nice, but there is always someone younger coming in and I think you just have to keep your head forward on that.
Dillon, on how this year's development camp is different from last year's:
You know what you're coming into. You know how hard Bill [Ranford] is going to be on you and that's less butterflies, for sure. But I think definitely coming in this year you just [have] a little bit less butterflies, like you said, and a little bit more confidence.
Dillon, on his style of play in net:
I think I'm close to Martin [Jones]. I think we have similarities in our game and I think that coming into Edmonton, it's a big hockey town and I'll obviously get more eyes on me. But I think you just have to be yourself on the ice and whether the fans like you or not, you just have to play your own game.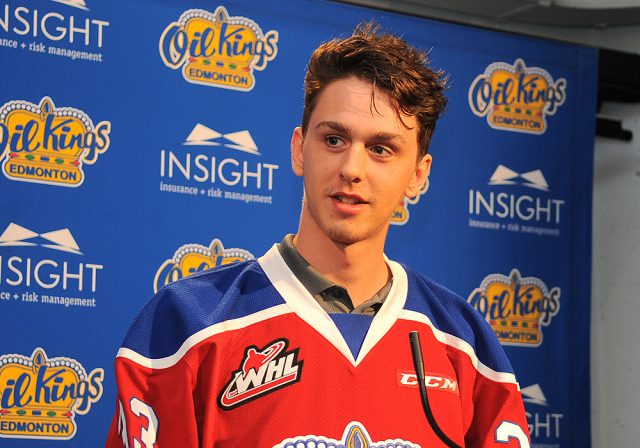 Several Development Camp videos, courtesy of KingsVision:
-photos courtesy of Andy Devlin / Edmonton Oil Kings