Conversations with hockey operations this morning confirmed that goaltender Martin Jones, a restricted free agent, is "close" to agreeing upon a new deal with the Los Angeles Kings. Based on discussions with multiple sources this spring, it was widely expected that Jones' contract would be among the earliest to be finalized. In 15 games in 2014-15, Jones was 4-5-2 with a 2.25 goals-against average, .906 save percentage and three shutouts.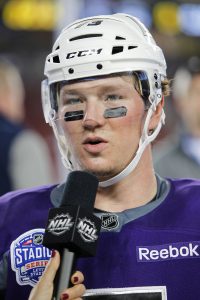 The Kings are also in the "early stage" of discussions with 23-year-old restricted free agent Tyler Toffoli. Toffoli recorded 23 goals and 49 points as part of a 76-game campaign that included a team-best plus-25 rating and five shorthanded goals.
As for a potential contract with Andrej Sekera, I've been told that the Kings are "still trying to figure out space." Sekera totaled one goal, four points and a plus-four rating in 16 games with Los Angeles, averaging 19:13 of ice time per game. Overall, the 29-year-old posted three goals and 23 points in 73 games with the Kings and Hurricanes.
Other unrestricted free agents include veteran forwards Justin Williams and Jarret Stoll. Among the club's restricted free agent group are forwards Nick Shore, Andy Andreoff, Nic Dowd and Jordan Weal.
Los Angeles has roughly $64.15 million allotted to 17 players for the 2015-16 season, a figure that includes Slava Voynov's contract (Los Angeles would have roughly $59.98M spent on 16 players if Voynov's contract is not included). It is expected that next year's salary cap will rise to roughly $71M.