MARIAN GABORIK
This season: 69 games, 27 goals, 20 assists, 47 points, 16 penalty minutes, +7 rating, 16:55 time on ice
The good: Whether or not it was due to a preseason muscle injury or the limited recovery time afforded by a deep Stanley Cup run, Marian Gaborik did not exactly break out of the gates in 2014-15 and totaled just eight points while playing in 18 of the team's first 30 games. Was there some epiphany between games in Montreal on December 12 and Toronto on December 14? After being held without a point for three straight, he scored seven goals over five games and ultimately turned in a very strong second half of the season, totaling 23 goals and 39 points over his final 51 outings. The analytics say he was among the elite possession-drivers of the entire league; his 59.5% Corsi-for in five-on-five play ranked third in the league amongst players with at least 300 minutes played, and his 5.14% Corsi-rel ranked second on the Kings, the league's top possession team. His production rates with familiar top line faces were, for the most part, very good; though he didn't quite reach the 4.05-1.77 GF/60-GA/60 set during last year's small sample size, the Kings scored 2.69 goals per 60 minutes and allowed 1.76 goals per 60 minutes when he was on the ice together with Anze Kopitar at even strength. With Gaborik and Justin Williams on the ice at the same time, the Kings maintained a 63.0% Corsi-for rate and averaged 3.55 goals per 60. A natural and gifted goal scorer, Gaborik scored goals not only off the rush but in a myriad of ways, via deflections, quick releases, rebounds and on breakaways. "He's a smart guy, and over the course of his career, most of his goals come right around the net," Darryl Sutter said in December. "They're like bang-bang hands plays." Gaborik's 15.5% shooting percentage was the second highest rate of his career and boosted his career percentage up to an impressive 13.1%. Playing for a team that struggled away from Staples Center in 2014-15, Gaborik's 13 points at even strength both at home (7-6=13) and on the road (6-7=13) represented a bout of consistency (though he scored only five goals over his last 24 road games). He made 65,000 Sharks fans unhappy.
The bad: Not a ton, other than the injuries that affected a forgettable first half. Darryl Sutter appeared to be put off by Gaborik missing a game in Calgary on December 29 due to a stomach bug, and when he spoke at the hotel the following day in Edmonton, he said, "well, obviously Gaborik couldn't play yesterday. That was his decision, so I'll make the decision today." There are the general concerns about a player hitting a bit of a slope on the aging curve, but there shouldn't be any profound change in the quality of minutes provided by the oldest player under contract to the Kings in 2015-16. It was reassuring to see Gaborik score on 15.5% of his shots after posting a 9.1% shooting percentage over a two-year stretch, but his percentage this past year was two and a half points above his career mark, so there's the chance that his goal total doesn't surpass 27 if he plays in roughly the same amount of games.
Going forward: Gaborik closed the season by playing in 45 consecutive games – and playing well. Though there were the occasional hiccups, he ultimately reacquainted himself with Anze Kopitar as the two emerged as the top special teams threats up front. It is a positive sign that, heading into the second year of a seven-year, $34.125-million contract, that Gaborik hasn't shown any signs or indications that a drop-off in production may be coming. He's not going to be the 40-goal scorer he was earlier in his career or in the Eastern Conference, but he's going to be a productive option on the Kings' power play and attack, and an experienced, character presence in the dressing room. Given the limited options on the left side, that the 33-year-old remains healthy is paramount. His injury history is a requisite mention, and while he was sidelined three separate times due to injury over the first half of the season, he still played in 69 of 82 games – a games played rate (84.1%) that is above his career average (78.9%). It appears to be status quo with Gaborik – and that's not really a bad thing at all.
Player evaluations: #2 MATT GREENE | #3 BRAYDEN MCNABB | #5 JAMIE MCBAIN | #6 JAKE MUZZIN | #7 ANDREJ SEKERA | #8 DREW DOUGHTY | #10 MIKE RICHARDS | #11 ANZE KOPITAR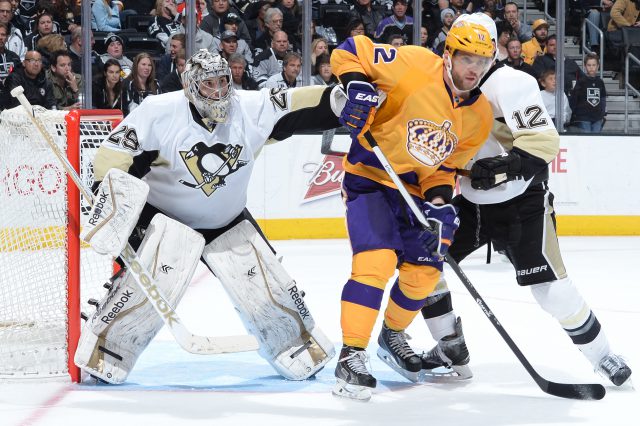 -Advanced stats via stats.hockeyanalysis.com, War-on-Ice