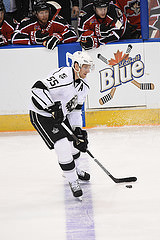 The Manchester Monarchs returned to the ice for practice on Friday in advance of next week's commencement of the Eastern Conference Final. Though the Monarchs know they'll host Games 1 and 2 next Thursday and Saturday, at this point they don't yet know who their opponent will be. Hartford (NYR), which finished with 95 points in the regular season, leads 100-point Hershey (WSH) three games to two in the other semifinal match-up. In each of the Monarchs' two previous conference final appearances, they were defeated by Hershey.
With the long layoff between playoff series, LAKI will continue to chat with Monarchs players and coaches and members of the Kings' hockey operations to relay information and updates from the club's top affiliate. Today, Jeff Schultz spoke about the playoff run, the feeling around Manchester, and watching his former teammates in the recently completed New York-Washington playoff series.
On how Manchester defeated a good Wilkes-Barre/Scranton team in five games:
I think a big part of it was just our depth up front. If you look at our top line in Game 4, they really stood out. A guy like Jordan Weal scoring three goals – it's very unheard of in the playoffs – and then you look at Games 3 and 4, a guy like Kempe scoring big goals for us in those games, too. I think it's just the depth and everybody chipping away and contributing.
On the evolution of his pairing with Colin Miller:
A guy like Colin, looking back from the start of the year, just his confidence level has grown as the year's gone on, and he's had a lot of great opportunities and specialty teams, and I think the power play's really excelled. We rely on him for shots on net and goals and stuff like that. Specialty teams wise, and even the penalty kill, he's been good for us there when needing a big draw to get the puck out at a certain time. So I think just confidence-wise, it's through the roof, and I just try and keep him calm and let him know when it's a good time for him to rush the puck or when he does stuff right.
On Darryl Sutter's value in veteran players who serve as extensions of the coaching staff, and whether he serves in that role with Mike Stothers and the Monarchs:
Yeah, I think so. I know some guys react differently to when the coaches come down on them, and I think Stuts – they kind of know that, so maybe they can come to a guy like me and relay a message, and then I can pass it along in maybe a different manner than they're used to. I think that's a good way that Darryl has put it, and I don't mind doing that. I remember early in my career it was really easier having a player talk to you rather than a coach.
On whether the week off is a good thing for the team, or whether it curtails momentum:
I think it's a good week. There's a bunch of guys with some bumps and bruises, and I think getting away from the rink just for a day or two is good, but practice days are just as important. Come to the rink, be ready to work for your hour, hour and a half, and then go off and do whatever. The coaching staff has really put a lot of emphasis on that. It's when you're at the rink, it's all business, and then what you do away from the rink is all your time.
On how Manchester fans have approached the playoff run with the knowledge that these are the team's final AHL games:
I think there's that base, that fan group that is still excited about what's going on. It seems to be at the games more where people are excited with this team and the last year, the success that the team's had. Talking with some of the arena workers, they're still happy that they have hockey coming here next year, but it kind of won't be the same. They've seen this group over the last two, three, four years and have really watched guys grow. I think still the fan base is excited for hockey, but I think the major core group is sad for the guys that they've watched over the years to see go.
On any preferences of facing Hershey, his former team, or Hartford in the conference final:
No. I think we've just got to be ready for both teams. Both teams are playing well right now, and I'll just leave it at that.
On a great series between the New York Rangers and Washington Capitals:
It was, yeah. From the goalies out, it was great hockey. The goalies battled against each other each game, and the Ovechkin-McDonagh battles were definitely [great]. It was a really exciting series.
On whether he was pulling for the Capitals:
Yes and no. I still have some good friends on that team, and for a lot of them, they've been there for a long time. They haven't made it past the second round, so I was kind of cheering for them that way, and then there's kind of 'do I want them to move on, and do I want to keep cheering for them?' So it was kind of back and forth.
Monarchs are back on the ice for the first time since they won on Tuesday pic.twitter.com/9BgIm0bD8x

— Manchester Monarchs (@MonarchsHockey) May 15, 2015