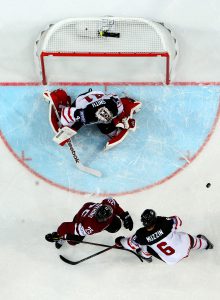 The Preliminary Round of the 2015 IIHF World Championships opened today in the Czech Republic, and all four Kings who participated in today's games opened the tournament with a win. Jake Muzzin, Tyler Toffoli and Martin Jones are a part of a Canadian team that defeated Latvia 6-1, while Trevor Lewis, an assistant captain with the United States, skated to a 5-1 American victory over Finland. Canada will continue the tournament in Prague on Sunday against Germany (7:15 a.m. PT), while the United States will return to action in Ostrava on Saturday against Norway (11:15 a.m. PT).
Toffoli, who logged two shots on goal and a plus-one rating in the win, scored Canada's fourth goal by deflecting a Dan Hamhuis shot past Ervins Mustukovs, a teammate of Anze and Gasper Kopitar with Allsvenskan outfit Mora IK during the 2012 lockout:
GIF: Canada's 4th goal (sorry for delay. Making Krug posts for http://t.co/JiGH8lyLcp!) pic.twitter.com/ADWKSW8Ylx

— Stephanie Vail (@myregularface) May 1, 2015
Toffoli skated as part of a four-forward consortium that also included Ryan O'Reilly, Sean Couturier and Cody Eakin. Muzzin, who registered a plus-two rating in 18:06 of action, saw most of his ice time with Tyson Barrie and Aaron Ekblad. Jones backed up Mike Smith, who stopped 16 of 17 shots in a game in which a deep Canada team relied on standout performances by top-line skaters Nathan MacKinnon (1-2=3), Sidney Crosby (1-1=2) and Jason Spezza (2-1=3).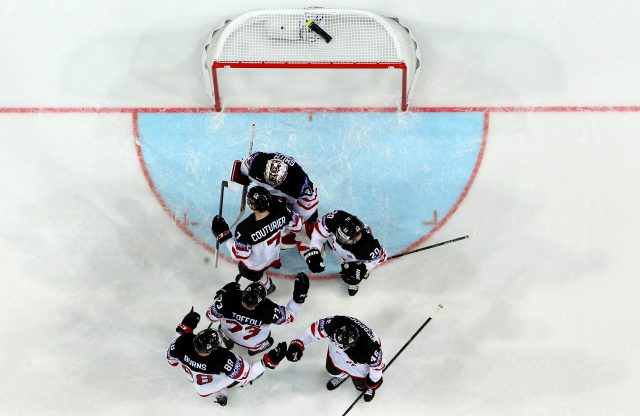 For the United States, Lewis registered one shot on goal and a minus-one rating over 17:48 of ice time, a high amongst team forwards. He saw the most of his even strength ice time alongside collegiate standouts Jack Eichel and Jimmy Vesey. Captain and Edmonton Oilers forward Matt Hendricks scored twice and Winnipeg Jets prospect Connor Hellebuyck stopped 29 of 30 shots in the win.
"Our goaltender was very good and made some keys saves for us at some important times in the game," Head Coach Todd Richards told USAHockey.com. "The penalty kills in the first period were big for us and then we were opportunistic scoring some goals. We got better as the game went on and it was certainly a good start to the tournament for us against a very good Finland team."
Marian Gaborik and Slovakia will open the tournament against Denmark in Ostrava at 3:15 a.m. PT on Saturday, while Anze Kopitar and Slovenia will open the tournament against Belarus in Ostrava at 7:15 a.m. PT on Saturday.
Group A (Prague): Canada, Sweden, Czech Republic, Switzerland, France, Germany, Austria, Latvia
Group B (Ostrava): United States, Russia, Slovakia, Norway, Belarus, Slovenia, Denmark, Finland